The Handmaid's Tale is one of the darkest dystopian series ever made and it has been finding new and inventive ways to torment its characters for five-season now and it is showing no signs of slowing down. The Emmy-winning Hulu drama has been renewed for a sixth season but it will also serve as the final season of the series. So, while you wait for The Handmaid's Tale Season 6 here are some shows you could watch.
---
Also Read: Best Shows Like 'Black Mirror' To Watch While Waiting For Season 6
---
Black Mirror (Netflix)
Synopsis: Black Mirror is an anthology series that taps into our collective unease with the modern world, with each stand-alone episode a sharp, suspenseful tale exploring themes of contemporary techno-paranoia. Without questioning it, technology has transformed all aspects of our lives; in every home; on every desk; in every palm – a plasma screen; a monitor; a Smartphone – a Black Mirror reflecting our 21st Century existence back at us. The series is created and written by Charlie Brooker, and executive produced by Brooker and Annabel Jones.
Alias Grace (Netflix)
Synopsis: The story of Alias Grace follows Grace Marks (Sarah Gadon), a poor, young Irish immigrant and domestic servant in Upper Canada who, along with stable hand James McDermott (Kerr Logan), was convicted of the brutal murders of their employer, Thomas Kinnear, and his housekeeper, Nancy Montgomery (Anna Paquin), in 1843. James was hanged while Grace was sentenced to life imprisonment. Grace became one of the most enigmatic and notorious women of 1840s Canada for her supposed role in the sensational double murder, and was eventually exonerated after 30 years in jail. Her conviction was controversial, and sparked much debate about whether Grace was actually involved in the murder, or merely an unwitting accessory. Alias Grace is written and produced by Sarah Polley (Looking for Alaska, Take this Waltz, Away from Her) and directed by Mary Harron (American Psycho, I Shot Andy Warhol).
---
Also Read: Shows Like 'The Leftovers' To Watch If You Miss the Series
---
The Leftovers (HBO Max)
Synopsis: This enthralling drama series focuses on a suburban town of people whose preconceptions are shattered in the wake of a global event dubbed The Departure, during which, as in the rapture described in the bible, some humans were taken and others left behind. Three years after the fateful October day when 140 million people – two percent of the world's population — disappeared without a trace, the denizens of the town of Mapleton struggle to comprehend and cope. Seen primarily through the eyes of beleaguered police chief Kevin Garvey, the series shows how ordinary folks react to inexplicable events that can unite or divide families and communities, revealing how the strain of an unprecedented calamity can turn people's faith into cynicism, paranoia, madness or cultlike fanaticism. Created by Damon Lindelof, Emmy Award winner for Lost, and acclaimed novelist Tom Perrotta.
---
Also Read: Epic Shows Like 'Game of Thrones' To Watch If You Miss the Series
---
Game of Thrones (HBO Max)
Synopsis: Trouble is brewing in the Seven Kingdoms of Westeros. For the driven inhabitants of this visionary world, control of Westeros' Iron Throne holds the lure of great power. But in a land where the seasons can last a lifetime, winter is coming…and beyond the Great Wall that protects them, an ancient evil has returned. Based on the bestselling book series 'A Song of Ice and Fire' by George R.R. Martin comes this epic HBO drama series set in a fantastic realm where noble families engage in a deadly fight for control.
---
Also Read: Shows Like 'The Man in the High Castle' To Watch If You Miss the Series
---
The Man in the High Castle (Prime Video)
Synopsis: Based on Philip K. Dick's Hugo Award-winning 1962 alternate history novel, one-hour drama series The Man in the High Castle explores what would have happened if the Allied Powers had lost World War II. While Germany controls much of the East Coast and Japan controls the West Coast, the Rocky Mountains have become a "neutral zone" — and ground zero for a resistance, led by a mysterious figure known only as "the Man in the High Castle." While some citizens struggle against the fear, oppression and inequality, others accept their lives, as compromised and unfulfilling as they might be. But after a series of enigmatic films surface depicting a world vastly different from their own, some begin to question the very nature of their reality.
3% (Netflix)
Synopsis: A world divided into progress and devastation. The link between the two sides is a cruel Process, and there's only a 3% chance of making it through. "3%" takes place in a world where most of the population lives in "Inland": a decadent, miserable, corrupt place. When people reach 20 years of age, they go through the "Process", the only chance to get to "Offshore" – the better place, with opportunities and promises of a dignified life. Only three percent of the applicants are approved by the Process that will take the applicants to their limit, putting them in terrifying, dangerous situations and testing their convictions through moral dilemmas.
---
Also Read: Best Shows Like 'The Americans' To Watch If You Miss the Series
---
The Americans (Hulu)
Synopsis: The Americans is a period drama about the complex marriage of two KGB spies posing as Americans in suburban Washington D.C. during the Reagan administration. The arranged marriage of Philip (Matthew Rhys) and Elizabeth Jennings (Keri Russell) grows more passionate and genuine by the day, but as the pressures and demands of the job grow heavier, the personal toll becomes almost too exhausting to bear. Having revealed their true identities to their teenage daughter Paige (Holly Taylor), Philip and Elizabeth's ability to protect their cover and their family's safety deteriorates. After a particularly fraught mission, Philip and Elizabeth decide to end their tour and take their family home to Russia. However, a game-changing development in one of their ongoing cases forces them to abandon those plans for the sake of the motherland. Now, Paige delves deeper into the family business, even as Philip takes a step back from it. The Jennings struggle to maintain a smokescreen of normalcy, especially around their son, Henry (Keidrich Sellati), who remains blissfully ignorant of the spies in his midst. Their neighbor and Philip's best friend, FBI Agent Stan Beeman (Noah Emmerich), has also yet to discover their true identities. Although he's transferred divisions, Stan remains their greatest threat since his friend and former partner, Agent Dennis Aderholt (Brandon J. Dirden), leads the force tasked with uncovering the Soviet Illegals hiding in plain sight. With Gorbachev in power in the Soviet Union, the winds of change are sweeping through both Russia and America, creating new perils. A growing rift within the KGB draws disillusioned former officer Oleg Burov (Costa Ronin) back into the fray, and may set Philip and Elizabeth on opposing sides as the Cold War reaches its boiling point.
Harlots (Hulu)
Synopsis: Set against the backdrop of 18th century Georgian London, Harlots is a powerful family drama offering a brand new take on the city's most valuable commercial activity – sex. Based on the stories of real women, the series follows Margaret Wells (Morton) and her daughters, as she struggles to reconcile her roles as mother and brothel owner. When her business comes under attack from Lydia Quigley (Manville), a rival madam with a ruthless streak, Margaret will fight back, even if it means putting her family at risk. Brown Findlay will star as Charlotte, Margaret's eldest daughter and the city's most coveted courtesan who begins to grapple with her position in both society and her immediate family. Written by acclaimed playwright and screenwriter, Moira Buffini (Jane Eyre, Tamara Drewe) and based upon an original idea by Moira Buffini and Alison Newman, Harlots is the first commission for Monumental Pictures, the independent company founded by Oscar nominated producers Alison Owen (Suffragette, Tulip Fever) and Debra Hayward (Bridget Jones's Baby, Les Misérables).
---
Also Read: Best Shows Like 'Mad Men' To Watch If You Miss The Series
---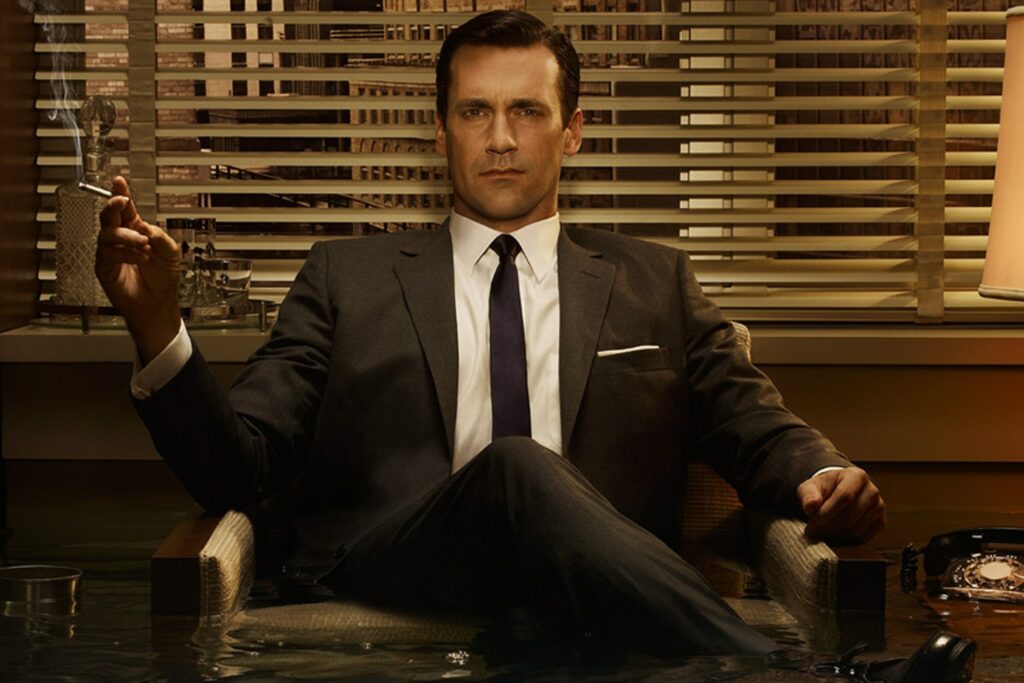 Synopsis: Set in 1960-1970 New York, the sexy, stylised and provocative AMC drama Mad Men follows the lives of the ruthlessly competitive men and women of Madison Avenue advertising. The indefatigable Don Draper (Jon Hamm) is the top ad executive, but there are plenty of young guns eager to topple him from his perch, in the Golden Globe-winning TV drama from 'Sopranos' writer Matthew Weiner.
Synopsis: Colony is a 1 hour drama for USA Network that centers on a family torn by opposing forces and making difficult decisions as they balance staying together with surviving the struggle of the human race. Set in the near future, the story takes place in Los Angeles, which exists in a state of occupation by a force of outside intruders. Some people choose to collaborate with the authorities and benefit from the new order, while others rebel and suffer the consequences.
---
Also Read: Best Shows Like 'Mr. Robot' to Watch If You Miss the Series
---
Synopsis: Young antisocial computer programmer Elliot works as a cybersecurity engineer during the day, but at night he is a vigilante hacker. He is recruited by the mysterious leader of an underground group of hackers to join their organization. Elliot's task? Help bring down corporate America, including the company he is paid to protect – which presents him with a moral dilemma. Although he works for a corporation, his personal beliefs make it hard to resist the urge to take down the heads of multinational companies that he believes are running – and ruining – the world.