Black Mirror is one of the most inventive and fascinating anthology series about technology and human nature. The series comments on rapidly advancing technology and how it could affect people's lives sometimes in a bad way and other times in a good way (but mostly bad). The sci-fi series has created some of the most memorable sci-fi content for all the fans out there with every season they bring out something new and force the audience to think about how this could affect them. Black Mirror recently concluded its sixth season after a break of nearly four years. So, while you wait for the next season to come out here are some more shows you could watch while waiting.
---
Also Read: Shows Like 'The Big Door Prize' To Watch While Waiting For Season 2
---
The Big Door Prize (Apple TV+)
Synopsis: Based on M.O. Walsh's novel of the same name, "The Big Door Prize" tells the story of a small town that is forever changed when a mysterious machine appears in the general store, promising to reveal each resident's true life potential.
Synopsis: Inspired by the wondrous paintings of Simon Stålenhag, Tales from the Loop explores the mind-bending adventures of the people who live above the Loop, a machine built to unlock and explore the mysteries of the universe – making things previously relegated to science fiction, possible.
---
Also Read: Shows Like 'Room 104' To Watch If You Like the Series
---
Room 104 (Max)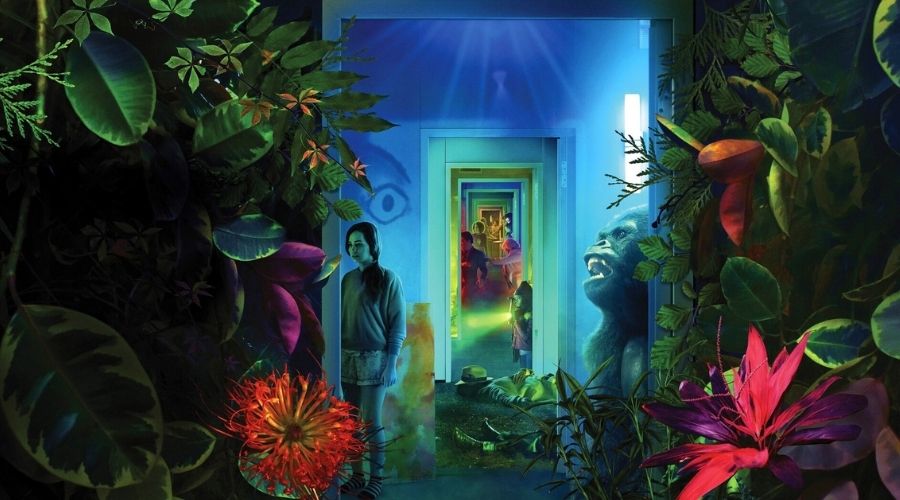 Synopsis: Tap your inner voyeur and prepare to see something totally unexpected in this electrifying HBO anthology series–created by Jay and Mark Duplass ('Animals.,' 'Togetherness')–that peeks inside a room at an average American corporate motel, exploring the stories of the characters who pass through it on any given night.
---
Also Read: Shows Like 'Made for Love' To Watch If You Miss the Series
---
Made for Love (Max)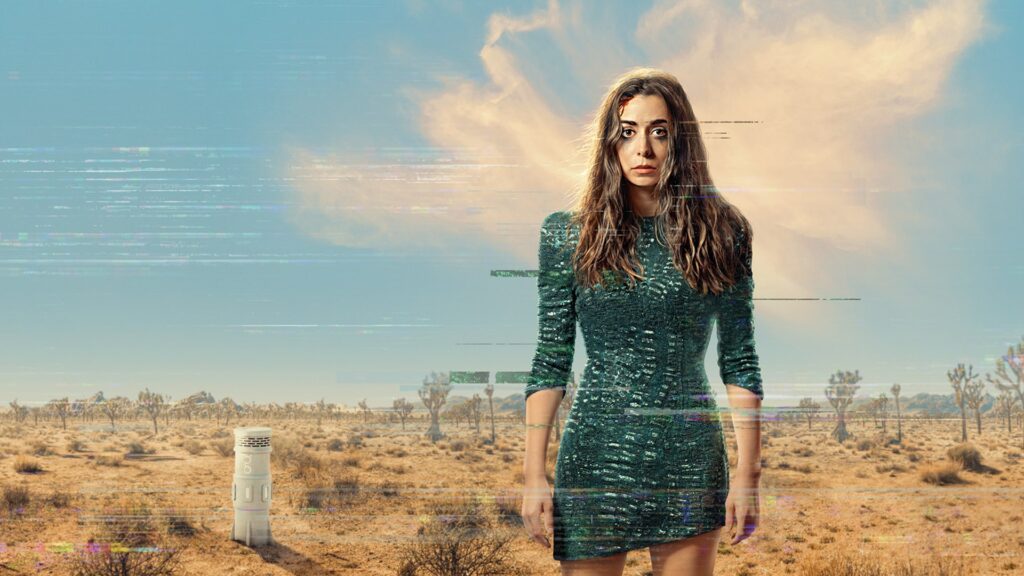 Synopsis: The comedy series is a darkly absurd and cynically poignant story of love and divorce. It follows Hazel Green (Cristin Milioti), a thirty-something woman on the run after 10 years in a suffocating marriage to Byron Gogol (Billy Magnussen), a controlling tech billionaire. Soon she discovers that her husband has implanted a monitoring device – the Made for Love chip – in her brain, allowing him to track her, watch her, and know her "emotional data" as she tries to regain her independence. Through the chip, Byron's able to watch Hazel's every move as she flees to her desert hometown to take refuge with her aging widower father Herbert (Ray Romano) and his synthetic partner, Diane.
---
Also Read: Sci-Fi Shows Like 'Altered Carbon' To Watch If You Miss the Series
---
Altered Carbon (Netflix)
Synopsis: Based on the classic cyberpunk noir novel by Richard K. Morgan, Altered Carbon is an intriguing story of murder, love, sex, and betrayal, set more than 300 years in the future. Society has been transformed by new technology: consciousness can be digitized; human bodies are interchangeable; death is no longer permanent. Takeshi Kovacs is the lone surviving soldier in a group of elite interstellar warriors who were defeated in an uprising against the new world order. His mind was imprisoned, "on ice", for centuries until Laurens Bancroft, an impossibly wealthy, long-lived man, offers Kovacs the chance to live again. In exchange, Kovacs has to solve a murder … that of Bancroft himself.
---
Also Read: Movies & Shows Like 'Maniac' To Watch If You Miss the Series
---
Maniac (Netflix)
Synopsis: Set in a world somewhat like our world, in a time quite similar to our time, Maniac tells the stories of Annie Landsberg (Emma Stone) and Owen Milgrim (Jonah Hill), two strangers drawn to the late stages of a mysterious pharmaceutical trial, each for their own reasons. Annie's disaffected and aimless, fixated on broken relationships with her mother and her sister; Owen, the fifth son of wealthy New York industrialists, has struggled his whole life with a disputed diagnosis of schizophrenia. Neither of their lives have turned out quite right, and the promise of a new, radical kind of pharmaceutical treatment—a sequence of pills its inventor, Dr. James K. Mantleray (Justin Theroux), claims can repair anything about the mind, be it mental illness or heartbreak—draws them and ten other strangers to the facilities of Neberdine Pharmaceutical and Biotech for a three-day drug trial that will, they're assured, with no complications or side-effects whatsoever, solve all of their problems, permanently. Things do not go as planned. Maniac is created by Patrick Somerville, and directed by Cary Joji Fukunaga.
Synopsis: Inside No. 9 is a black comedy series written by and starring Reece Shearsmith and Steve Pemberton (The League of Gentlemen, Psychoville). An anthology of tales of the genuinely unexpected, each 30-minute episode tells a stand-alone story: from a murder on a French train to a burglary in a modernist mansion; from a séance in a Victorian villa to a crisis in a volunteer call centre.
---
Also Read: Shows Like 'Upload' To Watch If You Have Already Binged Season 3
---
Synopsis: From Emmy-Award winning writer Greg Daniels (The Office, Parks and Recreation) comes Upload, a new sci-fi comedy series set in a technologically advanced future where hologram phones, 3D food printers and automated grocery stores are the norm. Most uniquely, humans can choose to be "uploaded" into a virtual afterlife. The series follows a young app developer, Nathan Brown (Robbie Amell), who winds up in the hospital following a self-driving car accident, needing to quickly decide his fate. After a rushed deliberation with his shallow girlfriend Ingrid (Allegra Edwards), he chooses to be uploaded to her family's luxurious virtual afterlife, the Horizen company's "Lakeview." Once uploaded in Lakeview, Nathan meets his customer service "Angel" Nora Anthony (Andy Allo), who at first is his charismatic concierge and guide, but quickly becomes his friend and confidante, helping him navigate this new digital extension of life.
Phillip K. Dick's Electric Dreams (Prime Video)
Synopsis: Based on various writings from author Philip K. Dick, Philip K. Dick's Electric Dreams will consist of ten standalone episodes, each set in a different and unique world–some which lay in the far reaches of the universe and time, and others which are much, much closer to home. While the stories may be worlds apart, central to each is the poignant and warm exploration of the importance and significance of humanity. From five to 5000 years in the future, each compelling tale will both illustrate Philip K. Dick's prophetic vision and celebrate the enduring appeal of the prized sci-fi novelist's work.
Weird City (YouTube Originals)
Synopsis: Weird City is an anthology set in the not-too-distant future metropolis of Weird. All the citizens in Weird are divided into two segregated classes: Those who are Above The Line (the haves) and those who are Below The Line (the have nots). Told through the prism of sci-fi and comedy, each episode is an exploration of issues that pertain to present day life—from online dating to smart house to gym culture.
---
Also Read: Shows Like 'The Twilight Zone' To Watch If You Miss the Series
---
Synopsis: The Twilight Zone was the brainchild of Emmy Award-winner Rod Serling, who served as host and wrote over 80 episodes of the original show's 150-plus episode run. It's a strange mix of horror, science-fiction, drama, comedy and superstition. Serling introduced each episode, and many of the black and white hours concluded with a surprise ending. Actors such as Burt Reynolds, Roddy McDowell and Robert Redford made appearances in some of the more well-known stories.