Altered Carbon is one of the best sci-fi thriller series ever made at least the first season has to be. The Netflix series follows Takeshi Kovacs who wakes up 300 years into the future in a new body. As he later finds out that in the future a new technology has transformed the entire world, this technology allows human beings to have interchangeable bodies which makes death pretty much irrelevant as the rich can live on forever. Kovacs is the last surviving member of the interstellar warriors and now he has been allowed to wake up to solve a murder of a rich businessman. While Altered Carbon didn't really impress many people with its Season 2, the initial series is still one of the best sci-fi experiences many people have ever had. So, if you also miss Altered Carbon here are some shows you could watch after the series.
---
Also Read: Shows Like 'Black Mirror' To Watch While Waiting For Season 6
---
Black Mirror (Netflix)
Synopsis: Black Mirror is an anthology series that taps into our collective unease with the modern world, with each stand-alone episode a sharp, suspenseful tale exploring themes of contemporary techno-paranoia. Without questioning it, technology has transformed all aspects of our lives; in every home; on every desk; in every palm – a plasma screen; a monitor; a Smartphone – a Black Mirror reflecting our 21st Century existence back at us. The series is created and written by Charlie Brooker, and executive produced by Brooker and Annabel Jones.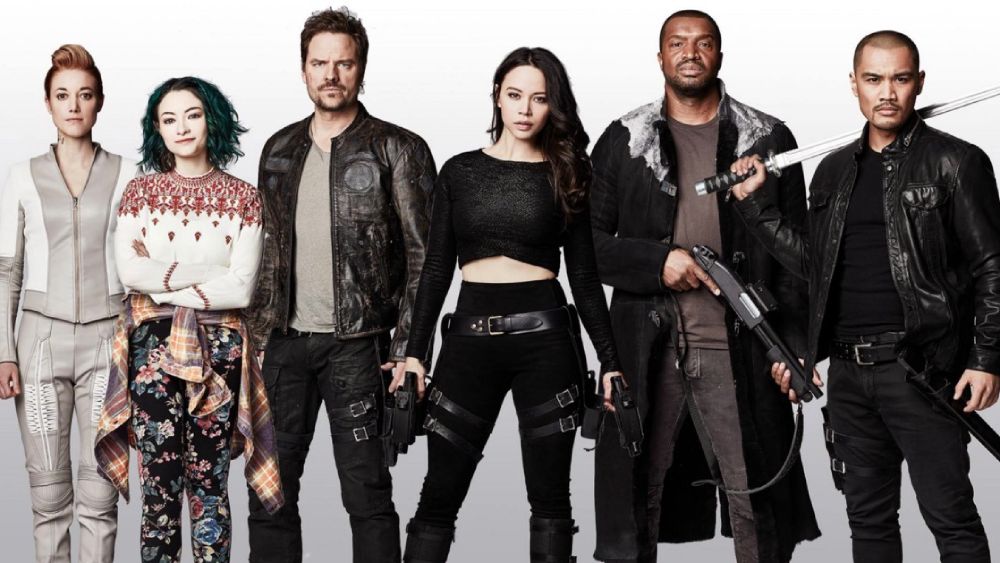 Synopsis: The crew of a derelict ship awakens from stasis with no memories of who they are or how they got onboard. Their search for answers only leads to more questions, as they discover how their own sordid pasts inform an increasingly dangerous future.
---
Also Read: Shows Like 'The Handmaid's Tale' To Watch While Waiting For Season 6
---
The Handmaid's Tale (Hulu)
Synopsis: "The Handmaid's Tale" is the story of the dystopian Gilead, a totalitarian society in what was formerly part of the U.S. Facing a plunging birthrate, Gilead is ruled by a fundamentalism regime that treats women as property. As one of the few remaining fertile women, Offred is a Handmaid, one of the caste of women forced into sexual servitude as an attempt to repopulate a devastated world. Offred navigates between Commanders, their wives, domestic Marthas, and her fellow Handmaids.
Dollhouse (Hulu)
Synopsis: Dollhouse follows Echo (Eliza Dushku) an "Active," a member of a highly illegal and underground group who have had their personalities wiped clean so they can be imprinted with any number of new personas. Confined to a secret facility known as the "Dollhouse," Echo and the other Actives including Sierra and Victor carry out engagements assigned by Adelle, one of the Dollhouse leaders. The engagements cater to the wealthy, powerful and connected, and require the Actives to immerse themselves in all manner of scenarios – romantic, criminal, uplifting, dangerous, comical and the occasional "pro bono" good deed. After each scenario, Echo, always under the watchful eye of her handler Boyd, returns to the mysterious Dollhouse where her thoughts, feelings and experiences are erased by Topher, the Dollhouse's genius programmer. Echo enters the next scenario with no memory of before. Or does she?
---
Also Read: Sci-Fi Shows Like 'Westworld' To Watch If You Miss the Series
---
Synopsis: Have you ever questioned the nature of your reality? In this dark odyssey about the dawn of artificial consciousness and the future of sin, a malfunction creates havoc and terror for vacationers at a futuristic adult-themed amusement park for forbidden fantasies. Oscar winner Anthony Hopkins (The Silence of the Lambs, Amistad, Nixon) plays Dr. Robert Ford, the brilliant, taciturn and complex creative director, chief programmer and chairman of the board of Westworld, who has an uncompromising creative vision — and unorthodox methods of achieving it. Four-time Oscar nominee Ed Harris (Apollo 13, A Beautiful Mind) portrays The Man in Black, the distillation of pure villainy into one man. And Emmy Award winner Evan Rachel Wood (The Wrestler, True Blood) appears as Dolores Abernathy, the quintessential Western farm girl, who is about to discover that her entire idyllic existence is an elaborately constructed lie. Westworld is inspired by the film of the same name written and directed by Michael Crichton.
---
Also Read: Shows Like 'Travelers' To Watch If You Miss the Series
---
Travelers (Netflix)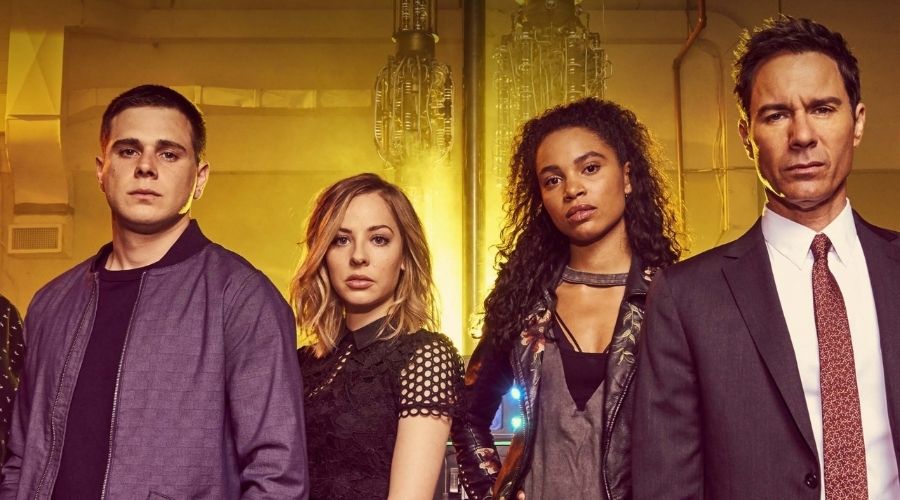 Synopsis: Hundreds of years from now, the last surviving humans discover the means of sending consciousness back through time, directly into people in the 21st century. These "travelers" assume the lives of seemingly random people, while secretly working as teams to perform missions in order to save humanity from a terrible future. These travelers are: FBI Special Agent Grant MacLaren (Eric McCormack), the team's leader; Marcy (Mackenzie Porter), a young, intellectually disabled woman in the care of her social worker, David (Patrick Gilmore); Trevor (Jared Paul Abrahamson), a high school quarterback; Carly (Nesta Marlee Cooper), a single mom in an abusive relationship; and Philip (Reilly Dolman), a heroin-addicted college student. Armed only with their knowledge of history and an archive of social media profiles, the travelers discover that 21st century lives and relationships are as much a challenge as their high-stakes missions.
---
Also Read: Shows Like 'Sense8' To Watch If You Miss the Series
---
Sense8 (Netflix)
Synopsis: One moment links 8 minds in disparate parts of the world, putting 8 strangers in each other's lives, each other's secrets, and in terrible danger. From the unparalleled creative minds of The Wachowskis ("The Matrix" trilogy, "Cloud Atlas") and J. Michael Straczynski (Clint Eastwood's "Changeling," "World War Z"), as well as Grant Hill ("The Matrix" trilogy, "Cloud Atlas").
---
Also Read: Shows Like 'Severance' To Watch While Waiting For Season 2
---
Severance (Apple TV+)
Synopsis: In Severance, Mark Scout (Scott) leads a team at Lumon Industries, whose employees have undergone a severance procedure, which surgically divides their memories between their work and personal lives. This daring experiment in 'work-life balance' is called into question as Mark finds himself at the center of an unraveling mystery that will force him to confront the true nature of his work… and of himself.
---
Also Read: Shows Like 'Orphan Black' To Watch If You Miss the Series
---
Synopsis: Orphan Black is a Sci-Fi thriller starring Tatiana Maslany in the lead role of Sarah, an outsider and orphan whose life changes dramatically after witnessing the suicide of a woman who looks just like her. Sarah hopes that cleaning out the dead woman's bank account will solve all of her problems. Instead, her problems multiply – and so does she.
---
Also Read: Shows Like 'Upload' To Watch If You Have Already Binged Season 2
---
Synopsis: From Emmy-Award winning writer Greg Daniels (The Office, Parks and Recreation) comes Upload, a new sci-fi comedy series set in a technologically advanced future where hologram phones, 3D food printers and automated grocery stores are the norm. Most uniquely, humans can choose to be "uploaded" into a virtual afterlife. The series follows a young app developer, Nathan Brown (Robbie Amell), who winds up in the hospital following a self-driving car accident, needing to quickly decide his fate. After a rushed deliberation with his shallow girlfriend Ingrid (Allegra Edwards), he chooses to be uploaded to her family's luxurious virtual afterlife, the Horizen company's "Lakeview." Once uploaded in Lakeview, Nathan meets his customer service "Angel" Nora Anthony (Andy Allo), who at first is his charismatic concierge and guide, but quickly becomes his friend and confidante, helping him navigate this new digital extension of life.