Prime Video's hit series Upload is a quirky comedy about the afterlife. The series follows an app programmer named Nathan Brown, who dies under mysterious circumstances, and after his death, his consciousness is uploaded to a virtual reality world specially created for dead people. Upload delves deeply into the topic of death but it never loses its touch of humor. Prime Video has renewed Upload for a third season and while you wait for it to come out here are some shows to keep you busy until then.
Synopsis: Married couple June (Maya Rudolph) and Oscar (Fred Armisen) live a comfortable but predictable life in suburban Riverside, California. For 12 years they've had the same conversations, eaten the same meals and taken pleasant vacations at the same rented lake house. But after June talks Oscar into shaking things up with a ski trip, the pair suddenly find themselves in completely unfamiliar territory. Forever is an utterly original, insightful and poignant comedy about love, commitment, and marriage, created by Emmy Award-winning writers Alan Yang (Master of None, Parks and Recreation) and Matt Hubbard (30 Rock, Parks and Recreation).
---
Also Read: Shows Like 'Pushing Daisies' To Watch If You Miss the Series
---
Pushing Daisies (HBO Max)
Synopsis: This forensic fairytale follows Ned (Emmy and Golden Globe nominee Lee Pace ??? The Good Shepherd), a young man with a very special gift. As a boy, Ned found that he could return the dead briefly back to life with just one touch. Now a pie maker, Ned puts his ability to good use, not only touching dead fruit and making it ripe with everlasting flavor, but working with a private investigator to crack murder cases by raising the dead to name their killers.
---
Also Read: Shows Like 'Miracle Workers' To Watch While Waiting For 'End Times'
---
Miracle Workers (HBO Max)
Synopsis: Miracle Workers stars Steve Buscemi as God, who is ready to move on to his next project. To prevent Earth's destruction, low-level angels Craig (Daniel Radcliffe) and Eliza (Geraldine Viswanathan) must answer a seemingly impossible prayer: help two humans fall in love.
---
Also Read: Comedy Shows Like 'Dead Like Me' To Watch If You Miss the Series
---
Synopsis: Centers on a disaffected young woman who is suddenly killed when a piece of the MIR space station hurtles to Earth and hits her in the head. Georgia (George) Lass is surprised to discover that an afterlife does exist, and that she's already been assigned a job. Her new boss is Rube, a "reaper" — one of the many who pluck the souls of the living and escort them to their eternal reward.
Drop Dead Diva (Fubo TV & Philo)
Synopsis: When beautiful-but-vapid model wannabe, Deb, has a fatal car accident, she suddenly finds herself in front of heaven's gatekeeper, Fred, who declares her a self-centered "zero." Outraged, she attempts to persuade Fred to return her to her shallow existence, but is accidentally reincarnated in the body of the recently deceased Jane Bingham. A brilliant, thoughtful and plus-size attorney with a loyal assistant, Teri. Jane has always lived in the shadow of her more attractive colleagues whereas Deb has always relied on her external beauty. Now, by a twist of fate and a bolt of divine intervention, Deb must come to terms with inhabiting Jane's curvier frame in the ultimate showdown between brains and beauty.
---
Also Read: Quirky Shows Like 'Russian Doll' To Watch If You Already Binged Season 2
---
Russian Doll (Netflix)
Synopsisl: Set four years after Nadia (Natasha Lyonne) and Alan (Charlie Barnett) escaped mortality's time loop together, season two of Russian Doll will continue to explore existential thematics through an often humorous and sci-fi lens. Discovering a fate even worse than endless death, this season finds Nadia and Alan delving deeper into their pasts through an unexpected time portal located in one of Manhattan's most notorious locations. At first they experience this as an ever-expanding, era-spanning, intergenerational adventure but they soon discover this extraordinary event might be more than they bargained for and, together, must search for a way out.
---
Also Read: Shows Like 'The Good Place' To Watch If You Miss the Series
---
The Good Place (Netflix)
Synopsis: What happens when we die? It's a question everyone has asked since the beginning of time. But when Eleanor Shellstrop (Kristen Bell) dies tragically she finds out that the afterlife is amazing; full of frozen yogurt soulmates and wonderful people who have done incredible things with their lives. It is absolutely perfect. The only problem is Eleanor isn't supposed to be in The Good Place. In fact her life decisions wouldn't have even gotten her close. But due to a clerical error, she's been given someone else's reward and now has to struggle with being good in order to make sure her secret isn't discovered.
---
Also Read: Shows Like 'Six Feet Under' To Watch If You Miss the Series
---
Six Feet Under (HBO Max)
Synopsis: When death is your business, what is your life? The hit series from Oscar(R)-winning screenwriter Alan Ball takes a darkly comic look at a dysfunctional L.A. family that runs a funeral business. In Season 1, the death of the Fisher patriarch leads to big changes for the rest of the family.
---
Also Read: Shows Like 'iZombie' To Watch If You Miss the Series
---
iZombie (Netflix)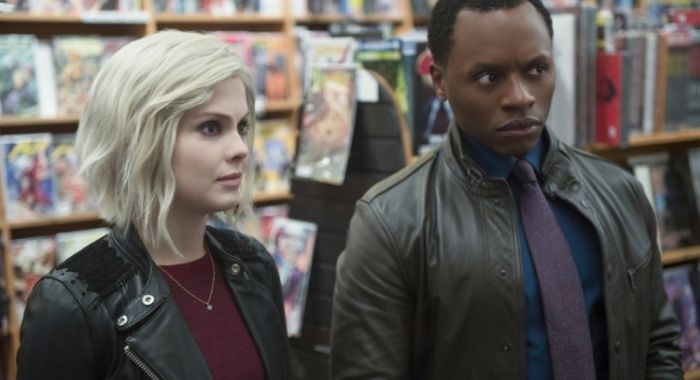 Synopsis: Rose McGiver (Masters of Sex) stars in iZombie as a young medical resident turned zombie who works in the coroner's office to access the brains she must reluctantly eat—but with each brain she consumes, she inherits the corpse's memories. With her medical examiner boss and a police detective, she now solves homicides to quiet the voices in her head. How many people can say that satisfying their munchies helps solve murders? Meet Olivia "Liv" Moore (Rose McGiver, Masters of Sex), a medical resident on the fast track to a perfect life… until she's turned into a zombie.
Stuck between half-alive and undead, Liv transfers to Seattle's morgue to access the only thing that allows her to maintain her humanity—human brains. But there are side effects to Liv's new diet: flashes of the corpse's memories—including clues as to how they were killed. Liv works with an eccentric Medical Examiner and a rookie detective to help solve the murders… it's the least a good citizen zombie can do! Based on characters published by DC Entertainment's Vertigo imprint from the executive producers of Veronica Mars.
---
Also Read: Shows Like 'Good Omens' To Watch While Waiting For Season 2
---
Synopsis: Good Omens is based on the beloved book by Terry Pratchett & Neil Gaiman which follows an unlikely duo, a fussy Angel (Michael Sheen, Masters of Sex) and a loose-living Demon (David Tennant, Doctor Who) who've become overly fond of life on Earth are forced to form an unlikely alliance to stop Armageddon. But they have lost the Antichrist, an 11-year-old boy unaware he's meant to bring upon the end of days, forcing them to embark on an adventure to find him and save the world before it's too late.