The world of television is not perfect and in many people's opinion, the biggest victim of that is Bryan Fuller. Fuller is unlike any other creator in the television world, the brilliant creator started out as a writer on shows like Star Trek: Deep Space Nine and Star Trek: Voyager, but he quickly made his own mark on the industry with his complex and fantastical human stories. While Fuller's every series could be one of the greatest television series ever put on the screen, we all know that's not the case because almost all of Fuller's work is known for early cancellations. These cancellations came from many reasons such as low viewership figures, Network's executive decision, and others.
Fuller has made a name for himself as one of those storytellers that never got to finish his stories because almost all of his shows were canceled after two or three seasons. Some of Fuller's work never even got a single season on television like his pilot of The Munsters titled Mockingbird Lane and the animated pilot based on Mike Mignola's The Amazing Screw-On Head. While, Fuller's shows get so much love from the fans because they were short-lived and never got the chance to disappoint the fans but really, every fan of the creators just wants another season of their favorite series.
So, in this article, we are going to discuss the stories of some of his shows that need more episodes to tell and finish their stories and also why they were canceled.
Wonderfalls
Wonderfalls is the most short-lived show even by Fuller's standards as the series only got 13 episodes on Fox in 2004 and despite Fuller's best efforts to get it picked up by another network the series ended after its first season. Wonderfalls follows Jaye Tyler (Caroline Dhavernas), a caustic 24-year-old who after earning a degree in philosophy from Brown University decides to work as a sales clerk at a Niagra Falls souvenir shop and lives in a trailer at the High and Dry Trailer Park.
Jaye is black sheep of the family and takes great pride in it. She is from a family of overachievers with her sister Sharon (Katie Finneran), being an immigration attorney and a closeted lesbian, her brother Aaron (Lee Pace), pursuing a doctorate in comparative religion who is an avowed atheist, Jaye's mother Karen (Diana Scarwid) being an award-winning travel guide author, and her father Darrin (William Sadler) being a respected physician, who is also meddling in Jaye's life. Even with all of these problems, there are more problems to come as Jaye's life is completely thrown into chaos one day when she begins to hear inanimate objects, who give her advice and the more weird thing is when she listens to them she betters the life of people around her.
While we could just mention Fox as the number one reason for the series cancellation and that would be true, it wouldn't be enough as there were multiple reasons that led the series to its early cancellation. The other reason for the series cancellation was its timing with there so many shows being with the same premise of young women developing powers (while there were so many shows that weren't nearly as good as Wonderfalls) like Tru Calling and Joan of Arcadia. Which contributed to the show's less and less viewership.
Dead Like Me
Dead Like Me aired on Showtime for only two seasons and Fuller left the series after only five episodes in the first season because of creative differences. The series has the Fuller effect throughout its run and maybe that's why most of the people who see it think it's a Fuller series. Dead Like Me follows Georgia (Ellen Muth) on the day she dies and is recruited to become a grim reaper, whose job it is to remove souls from people's bodies before they die and usher them into their next life.
Dead Like Me is a brilliant dry comedy with brilliant characters with rich backstories. The series tackles the topic of grief and death in its own beautiful and comedic way that makes you see the real meaning and emotions behind these complex topics. The Showtime series was canceled after two seasons because of a loss of quality in the content and the network sensed that the problem would continue. While the series was canceled the fans were so mad that to placate them a TV movie called Dead Like Me: Life After Death was released in 2009.
---
Also Read: Best Shows Like 'American Gods' To Watch If You Miss the Series
---
American Gods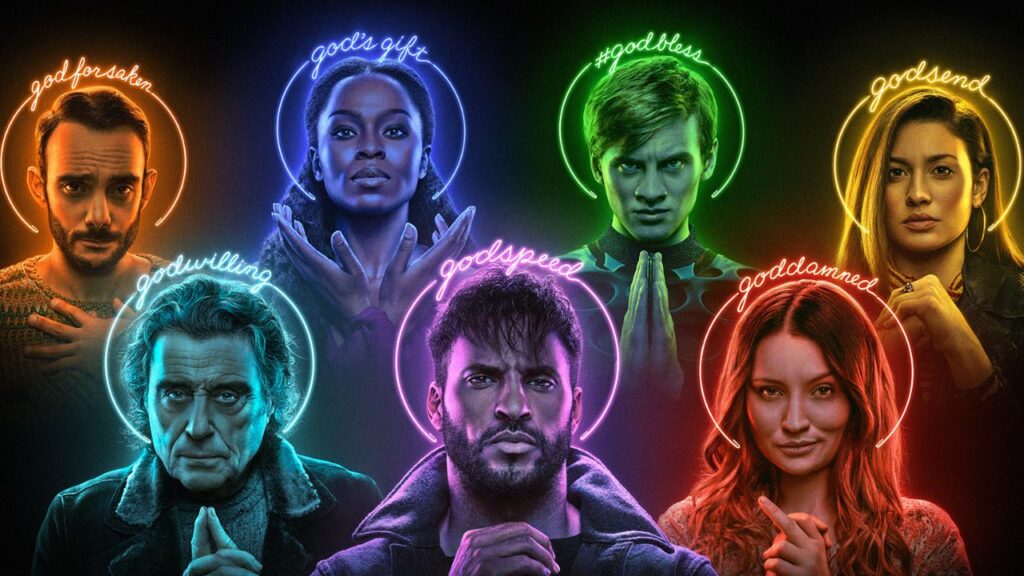 American Gods are one of the most fascinating adaptations of Neil Gaiman's works, as the series is filled with brilliant characters and their unique motivations. While American Gods is one of the most unique shows based on an even more unique novel series. The series follows Shadow Moon (Ricky Whittle) who meets the mysterious Mr. Wednesday (Ian McShane) after being released from prison. After meeting Mr. Wednesday our protagonist Shadow Moon is pulled into a conflict between the Old Gods and the New Gods. The Starz series premiered in 2017 with its first season being showered with rave reviews from critics and audiences.
While Fuller was the perfect fit for the series behind-the-scenes conflict led the series to lose its showrunners with Fuller and the other co-creator and some actors Michael Green departing from the series alongside Kristen Chenoweth (who played Easter) and Gillian Anderson (who played Goddess Media) after its first seasons. While the series would go on for two more seasons it never quite lived up to its first season and then the series was canceled by the network after its third season.
Pushing Daisies
Pushing Daisies was pitched as a forensic fairy tale and it tells the story of a pie maker named Ned (Lee Pace) who has the extraordinary ability to bring anyone back from the dead just by touching them, but there is a catch and that is that if he touches them for a second time they die permanently. There is also another catch and that is if he doesn't touch the reanimated person in under one minute someone else will die and take the place of the reanimated person. Ned begins to help a detective in order to solve his cases by reanimating the dead for a minute. Everything was going as smoothly as it could when Ned learns that his childhood crush died and in his grief, he touches her and lets somebody else die in her place (don't worry the person who died wasn't exactly a saint), and then both of them start a relationship despite never being able to touch.
From the get-go Pushing Daisies stands out from any other shows we have seen and it lets the audience know that they are in for a ride that they will never forget. The series deals with many complex situations and themes while also respecting them in its very own colorful way. Pushing Daisies was canceled by ABC only after two seasons because the ratings of the series declined after its first season. So, the execs at the network decided to cancel the series after only two seasons.
---
Also Read: Best Shows To Watch If You Miss 'Hannibal' Or You Could Just Rewatch The Series
---
Hannibal
Hannibal first aired on NBC in 2013, it aired for three successful seasons,s and then it was canceled to everybody's surprise. Hannibal stars Mads Mikkelsen as the title character, who is a forensic psychiatrist and also a cold-blooded cannibalistic serial killer the other lead character is Will Graham (Hugh Dancy), who has a damaged psyche and he is an FBI profiler. Will is also a patient of Hannibal. The series is based on Thomas Harris' novels, the other adaptation of the novels include Sir Anthony Hopkins' 1991 film The Silence of the Lambs and Brian Cox's 1986 film Manhunter.
Hannibal is definitely the definitive take on the character as almost everybody remembers the character from the series and the brilliant performance of Mikkelsen. The series was canceled after three seasons and the main reason for that was the low viewership figures. While Hannibal had a great run and since then has enjoyed a new life on streaming. Hannibal explored many of the storylines throughout its three-season run but Fuller still regrets that he couldn't explore the intimate side of the relationship between Hannibal Lecter and Will Graham and that is one of the main reasons that the fans of the series want to get just one more season of the series..