Elite is a Spanish teen drama created by Carlos Montero and Darío Madrona. The Netflix original series has been hugely popular amongst the teen audience. Elite is choke full of teenage drama, murder mystery, erotic scenes, and everything you want out of a soap opera. The teen drama recently concluded its seventh season and has been renewed for its eighth and final season. So, if you love the Netflix series, here are some similar shows you could watch while waiting for Season 8.
Synopsis: The smash hit drama series following the lives and loves of a group of raucous friends in Bristol. Tony, Nicholas Hoult, is a smart 17-year-old. He undermines his dad, Harry Enfield, on a daily basis and effortlessly covers up for his little sister's, Kaya Scodelario, covert delinquency.
Synopsis: Dare Me is an unflinching exploration of volatile female friendships, jealousy, loyalty and the dynamics of power in a small Midwestern town. Peering behind the all-American façade, the series dives into the cutthroat world of competitive high school cheerleading, following the fraught relationship between two best friends after a new coach arrives to bring their team to prominence. Part coming-of-age story, part small-town drama, part murder mystery, Dare Me exposes the physical and psychological extremes that some young women are willing to endure in order to get ahead.
Synopsis: Provocative, authentic and unforgettable. Based on the groundbreaking Israeli series, this intense HBO drama puts a fresh spin on the coming-of-age narrative. Serving as a guide through the teenage landscape of substance-enhanced parties and anxiety-ridden daily life is 17-year-old Rue Bennett (multimedia star Zendaya), a drug addict fresh from rehab, who's struggling to stay clean and make sense of her future. Her life changes drastically when she meets Jules Vaughn (Hunter Schafer), a trans girl who recently moved to town following her parents' divorce, and, like Rue, is searching for where she belongs. The supporting cast includes Jacob Elordi, Alexa Demie, Algee Smith, Sydney Sweeney, Maude Apatow and Barbie Ferreira.
Who Killed Sara? (Netflix)
Synopsis: Hell-bent on exacting revenge and proving he was framed for his sister's murder, Alex sets out to unearth much more than the crime's real culprit.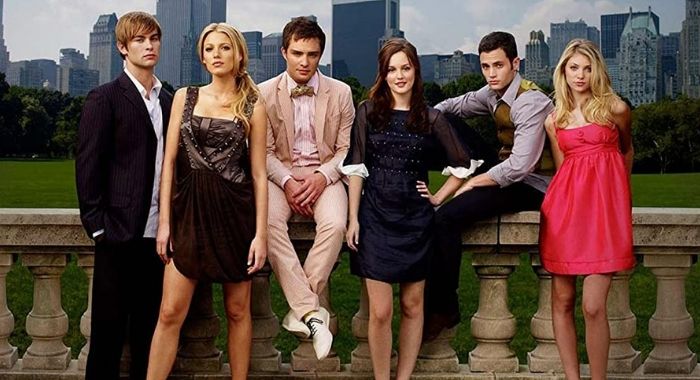 Synopsis: Based on the best-selling series of young-adult novels by Cecily von Ziegesar and executive produced by Josh Schwartz ("Chuck," "The O.C.") & Stephanie Savage ("The O.C."), "Gossip Girl" is a one-hour drama based on the lives of privileged Manhattan prep school teens. The students first learn that Serena van der Woodsen, once the Upper East Side's most notorious party girl, is back in town the way they learn all the important news in their lives: from the blog of the all-knowing albeit ultra-secretive Gossip Girl.
Baby (Netflix)
Synopsis: Baby is a coming-of-age story that explores the unseen lives of Roman high schoolers. Loosely inspired by a true story, the series follows a group of Parioli teenagers as they defy society in their search for identity and independence against the backdrop of forbidden love, family pressures, and shared secrets.
Outer Banks (Netflix)
Synopsis: Outer Banks is a coming of age story that follows a tight-knit group of local teens (aka the Pogues) in the Outer Banks of North Carolina. When a hurricane kills the power for the summer season, it sets off a chain of illicit events that force the friends to make life-altering decisions. The search for their ringleader's missing father, forbidden romances, a high-stakes treasure hunt, and the escalating conflict between the Pogues and their rivals turn their summer into one filled with mystery and adventure they'll never forget.
Synopsis: Rosewood is a perfect little town. So quiet and pristine, you'd never guess it holds so many secrets. Some of the ugliest ones belong to the prettiest girls in town: Aria, Spencer, Hanna and Emily, four friends whose darkest secrets have been unraveling since Alison, the Queen Bee of their group disappeared. As the mystery surrounding Ali's disappearance resurfaces, the girls begin getting messages from a mysterious "A," who they quickly realize is out to get them. Now, after years of tormenting and numerous shocking revelations, the Liars are united and ready to kick some "A" and uncover the truth! No longer just wanting to sit by and wait for "A's" latest cruel attack, Aria, Emily, Hanna and Spencer take matters into their own hands and try to finally put a stop to their tormentor. As relationships are put to the test, new and old secrets are revealed and the stakes are raised higher than ever before as the Liars come closer to the truth. Will all of their sacrifices be worth it in the end?
Young Royals (Netflix)
Synopsis: When Prince Wilhelm (Edvin Ryding) arrives at the prestigious boarding school Hillerska he finally gets an opportunity to explore his true self and find out what kind of life he really wants. Wilhelm starts dreaming of a future filled with freedom and unconditional love far away from the royal obligations – but when he unexpectedly becomes next in line for the throne his dilemma is heightened as he has to make a choice. Love or duty.
13 Reasons Why (Netflix)
Synopsis: 13 Reasons Why is a Netflix series adapted from the best-selling books by Jay Asher. It follows teenager Clay Jensen (Dylan Minnette) as he returns home from school to find a mysterious box with his name on it lying on his porch. Inside he discovers cassette tapes recorded by Hannah Baker (newcomer Katherine Langford) —his classmate and crush—who tragically committed suicide two weeks earlier. On tape, Hannah explains that there are thirteen reasons why she decided to end her life. Will Clay be one of them? If he listens, he'll find out how he made the list. Through Hannah and Clay's dual narratives, 13 Reasons Why weaves an intricate and heart wrenching story of teenage life that will deeply affect viewers.