HBO's True Detective is one of the best-ever series ever made. It is a dark ride into the film noir style of a murder mystery. The first season of True Detective was one of the biggest hits for HBO which was loved by critics and audiences alike and even though Season 2 didn't really hit the mark Season 3 got back up and delivered what the fans wanted. True Detective has been off the air for a while now and if you miss the series, we have prepared a list of shows that you can watch while waiting for Season 4.
---
Also Read: Shows Like 'The Outsider' To Watch If You Miss the Series
---
The Outsider (HBO Max)
Synopsis: The gruesome murder of an 11-year-old boy in the Georgia woods leads a local detective into a disturbing search for the truth in Season 1 of this drama series based on Stephen King's bestselling novel. When an insidious supernatural force edges its way into the case, it leads a seasoned cop (Ben Mendelsohn) and an unorthodox investigator (Cynthia Erivo) to question everything they believe in. The stellar supporting cast includes Bill Camp, Mare Winningham, Paddy Considine, Julianne Nicholson, Yul Vazquez, Jeremy Bobb, Marc Menchaca and Jason Bateman.
Top of the Lake (Hulu)
Synopsis: A powerful and haunting mystery from Academy Award® winning writer/director Jane Campion. While visiting her dying mother, Detective Robin Griffin begins investigating the disappearance of Tui Mitcham, the twelve-year-old pregnant daughter of the local drug patriarch. As Robin finds out more about Tui, her world starts to unravel uncovering difficult secrets from her past.
The Killing (Hulu)
Synopsis: Based on the Danish series Forbrydelsen, THE KILLING follows various murder investigations led by homicide detectives "Sarah Linden" (Mireille Enos) and "Stephen Holder" (Joel Kinnaman). Seasons one and two chronicled the "Rosie Larsen case," with Linden and Holder investigating the murder of a teenage girl. Picking up one year after the close of that investigation, season three followed the detectives on their search for a runaway girl, leading them to discover a gruesome string of murders that connected to a previous investigation by Linden.
---
Also Read: Shows Like 'Sharp Objects' To Watch If You Miss the Series
---
Sharp Objects (HBO Max)
Synopsis: For Camille Preaker, it's a dark path down memory lane. Based on the bestselling novel by Gillian Flynn ("Gone Girl") and directed by Emmy(R) winner Jean-Marc Vallee (HBO's "Big Little Lies"), this thrilling limited series stars five-time Oscar(R) nominee Amy Adams as a city journalist with a history of psychiatric issues who returns to her rural hometown to cover the apparent murders of two preteen girls. Trying to put together a psychological puzzle from her past, Camille finds herself clashing with her overbearing mother, Adora (Patricia Clarkson), falling back into a dangerous series of self-destructive habits, and identifying with the young murder victims a bit too closely. The supporting cast includes Chris Messina, Eliza Scanlen, Elizabeth Perkins, Matt Craven and Miguel Sandoval.
I Am The Night (Hulu)
Synopsis: From executive producer Patty Jenkins (Wonder Woman), I Am the Night tells the incredible story of Fauna Hodel (India Eisley) who was given away at birth. As Fauna begins to investigate the secrets to her past, she follows a sinister trail that swirls ever closer to an infamous Hollywood gynecologist, Dr. George Hodel (Jefferson Mays), a man involved in the darkest Hollywood debauchery. Chris Pine plays Jay Singletary, a former Marine-turned-hack-reporter/paparazzo.
---
Also Read: Shows Like 'Hannibal' To Watch If You Miss the Series
---
Hannibal (Hulu)
Synopsis: FBI Agent Will Graham (Hugh Dancy) hunts the most notorious serial killers. Graham is both gifted and cursed with an extraordinary ability: he can think like his prey, seeing what they see and feeling what they feel. While pursuing an especially troubling, cannibalistic murderer, Special Agent Jack Crawford (Laurence Fishburne) teams Graham with a highly respected psychiatrist – a man with a taste for the criminally minded: Dr. Hannibal Lecter (Mads Mikkelsen).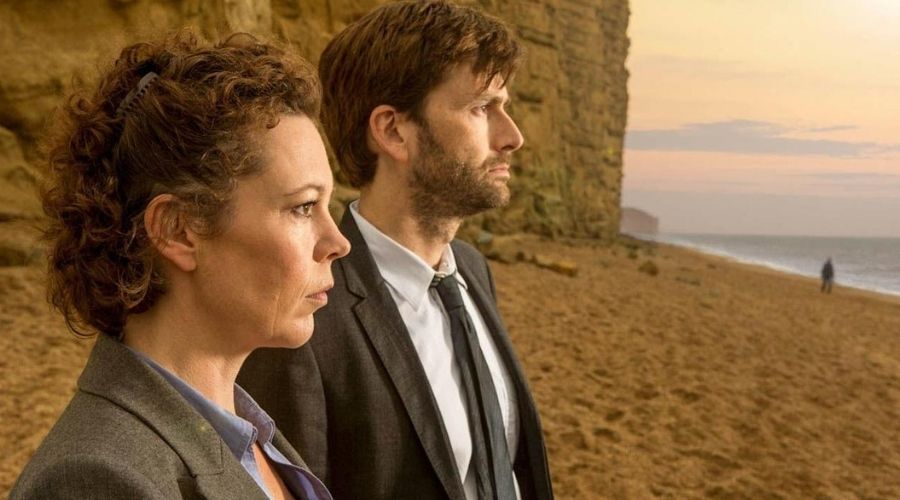 Synopsis: Critically acclaimed, BAFTA award-winning drama Broadchurch explores what happens to a small community when it suddenly becomes the focus of a police investigation, following the tragic and mysterious death of an eleven year- old boy. Police officers DI Alec Hardy (David Tennant) and DS Ellie Miller (Olivia Colman) were called in to investigate the case, and found that the killer was closer to home than they could ever have imagined.
---
Also Read: Best Shows Like 'Mindhunter' To Watch If You Miss the Series
---
Mindhunter (Netflix)
Synopsis: In the late 1970s two FBI agents expand criminal science by delving into the psychology of murder and getting uneasily close to all-too-real monsters. Mindhunter features Jonathan Groff (Looking), Holt McCallanay (Sully), Anna Torv (Fringe) and Hannah Gross (Unless). The series is directed by David Fincher (Gone Girl, The Social Network, Zodiac), Asif Kapadia (Amy, Senna), Tobias Lindholm (A War, A Hijacking) and Andrew Douglas (The Amityville Horror, U Want Me 2 Kill Him?). Fincher, Joshua Donen (Gone Girl, The Quick and the Dead) Charlize Theron (Girlboss, Hatfields & McCoys) and Cean Chaffin (Gone Girl, Fight Club) are Executive Producers.
---
Also Read: Shows Like 'Twin Peaks' To Watch If You Miss the Series
---
Synopsis: "She's dead. Wrapped in plastic." Date: Friday, February 24, 1989: Homecoming Queen Laura Palmer is found dead, washed up on a riverbank, and wrapped in plastic sheeting. FBI Special Agent Dale Cooper is called in to investigate the murder of this young woman in the small, Northwestern town of Twin Peaks. What he doesn't know is that in Twin Peaks, no one is innocent.
---
Also Read: Shows Like 'Under the Banner of Heaven' To Watch If You Loved the Series
---
Under the Banner of Heaven (Hulu)
Synopsis: FX's Under the Banner of Heaven, the original limited series inspired by the true crime bestseller by Jon Krakauer, follows the events that led to the 1984 murder of Brenda Wright Lafferty (Daisy Edgar-Jones) and her baby daughter in a suburb in the Salt Lake Valley, Utah. As Detective Jeb Pyre (Andrew Garfield) investigates events which transpired within the Lafferty family, he uncovers buried truths about the origins of the LDS religion and the violent consequences of unyielding faith. What Pyre, a devout Mormon, unearths leads him to question his own faith.