The Walking Dead has been a very long journey for many of the fans of the series, with it premiering in 2010 and running for 11 seasons. Based on the comic book series of the same name by Robert Kirkman, Tony Moore, and Charlie Adlard, the survival zombie horror series follows a group of survivors who try to survive in a post-apocalyptic zombie-filled world. While many people checked out of the series after its fifth or seventh season, some stuck around and we finally got the ending that we all wanted. So, if you also miss the series here are some more shows you could watch next.
The Strain (Hulu)
Synopsis: The Strain is FX's high concept thriller that tells the story of Dr. Ephraim Goodweather, former head of the Center for Disease Control, Canary Team in New York City. After he and his team were called upon to investigate a mysterious viral outbreak with hallmarks of an ancient and evil strain of vampirism, Eph and an assembly of everyday New Yorkers waged war for the fate of humanity itself.
Z Nation (Netflix)
Synopsis: A group of survivors must cross the country with a possible cure for the zombie apocalypse. The holder of the cure, a zombie-human hybrid named Murphy, may not be so cooperative.
Fear the Walking Dead (Hulu)
Synopsis: Set in a city where people come to escape, shield secrets, and bury their pasts, a mysterious outbreak threatens to disrupt what little stability high school guidance counselor Madison Clark and English teacher Travis Manawa have managed to assemble.
Dead Set
Synopsis: Flesh eating zombies have taken over Britain and are multiplying as quickly as they kill. Cocooned in the safety of their "Big Brother" house, fame-seeking contestants of this hit reality TV show are safe and blissfully unaware-until "eviction night".
The Rain (Netflix)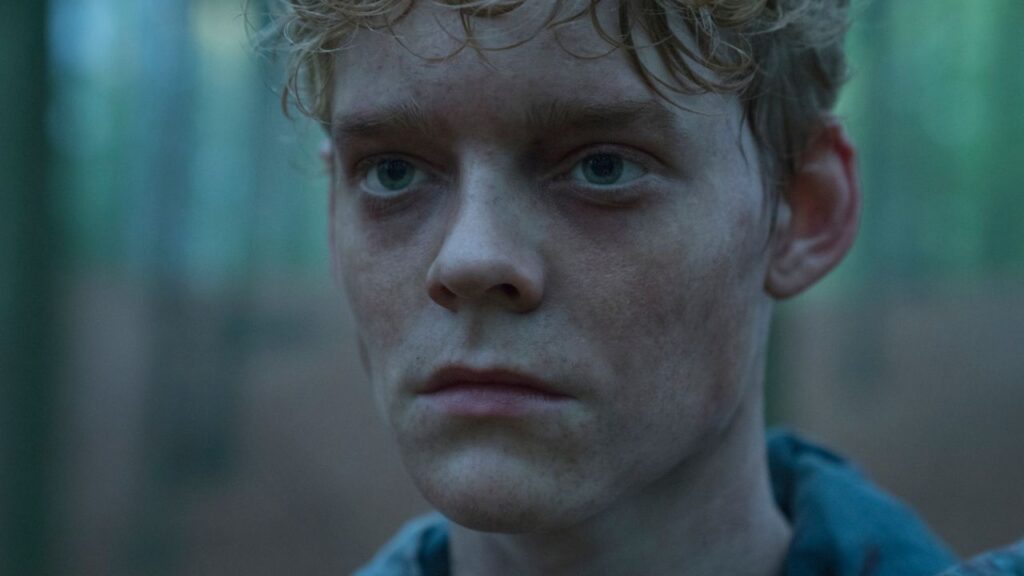 Synopsis: The world as we know it has ended. Six years after a brutal virus wiped out almost all humans in Scandinavia, two siblings join a group of young survivors set out to find out whether a new world has begun somewhere else. They all hope that the siblings' father is somewhere out there with answers. Set free from the rules of civilized society, each of the young members of the group has the freedom to be who they want to be. But they all struggle with their own selves, and the fact that even in a post-apocalyptic world there's love, jealousy, coming of age, and every problem they thought they'd left behind with the disappearance of the world as they knew it.
Kingdom (Netflix)
Synopsis: In a kingdom defeated by corruption and famine, a mysterious rumor of the king's death spreads, as does a strange plague that renders the infected immune to death and hungry for flesh. The crown prince, fallen victim to a conspiracy, sets out on a journey to unveil the evil scheme and save his people.
Black Summer (Netflix)
Synopsis: Set in the dark, early days of a zombie apocalypse, BLACK SUMMER stars Jaime King as Rose, a mother torn from her daughter who embarks upon a harrowing journey to find her. Thrust alongside a small group of American refugees, these complete strangers must find the strength they need to fight their way back to loved ones. But in order for Rose and her team to brave this hostile new world, they will need to make brutal decisions to contend with zombies – and each other.
---
Also Read: Shows Like 'All of Us Are Dead' To Watch While Waiting For Season 2
---
All of Us Are Dead (Netflix)
Synopsis: The zombie thriller series All of Us Are Dead is packed with bone-crunching action and tear-jerking drama, with a lot of gore. The series primarily focuses on a group of students trapped in a school that is overrun by a zombie horde. The first season of All of Us Are Dead has been getting a lot of positive reviews from both audience and critics alike.
Into the Badlands (Netflix)
Synopsis: Centuries from now, a feudal society has emerged in the wake of civilisation's destruction. This area is now called the Badlands and is uneasily divided among seven rival Barons. Each Baron enforces their iron rule with the aid of loyal armies of trained assassins known as Clippers. The most lethal of the Badlands' Clippers is Sunny (Daniel Wu) — the Regent (Head Clipper) and most trusted advisor of Baron Quinn (Marton Csokas). For decades, Quinn has been unchallenged as the Badlands' most powerful Baron; however, the territory's newest Baron, The Widow (Emily Beecham), has begun testing his appetite for a fight. One day, Sunny rescues M.K. (Aramis Knight), a teenage boy who has survived a deadly ambush. Sunny soon comes to understand that the teen harbours a dark secret and has a hefty bounty on his head. Together, they will embark on an odyssey that could mean the difference between chaos and enlightenment for everyone in the Badlands.
The Last Of Us (Premiering on HBO Max on Jan. 15)
Synopsis: The Last of Us takes place 20 years after modern civilization has been destroyed. In this action-adventure series, Joel (Pedro Pascal), a hardened survivor, is hired to smuggle Ellie (Bella Ramsey), a 14-year-old girl, out of an oppressive quarantine zone. What starts as a small job soon becomes a brutal and heartbreaking journey as they traverse the U.S. and depend on each other for survival.