Prime Video's The Boys is one of the best superhero series with a very gory and violent story. Based on The New York Times best-selling comic of the same name by Garth Ennis and Darick Robertson, The Boys follows Hughie who loses his girlfriend because of a reckless supe, and because of that, he joins Billy Butcher with a team of vigilantes who are trying to get justice against the supes, who are backed by their very violent leader Homelander and an evil corporation Vought. The Boys concluded its third season recently with a banger of a finale and now everyone is excited for the next season which will definitely be another brilliant and gory season. So, while you are waiting for The Boys Season 4 here are some shows you could watch to pass the time.
---
Also Read: Best Offbeat Superhero Shows Like 'Invincible' To Watch While Waiting For Season 2
---
Synopsis: From The Walking Dead creator Robert Kirkman, and based on the Skybound/Image comic of the same name by Kirkman, Cory Walker, and Ryan Ottley, Invincible is an hour-long, adult animated superhero show that revolves around seventeen-year-old Mark Grayson (Steven Yeun), who's just like every other guy his age — except that his father is the most powerful superhero on the planet, Omni-Man (J.K. Simmons). But as Mark develops powers of his own, he discovers that his father's legacy may not be as heroic as it seems.
Happy! (Netflix)
Synopsis: HAPPY! is based on New York Times best-selling author Grant Morrison and Darick Robertson's graphic novel of the same name. The series follows Nick Sax (Christopher Meloni, Law & Order: SVU) – an intoxicated, corrupt ex-cop turned hit man – who is adrift in a world of casual murder, soulless sex and betrayal. After a hit gone wrong, his inebriated life is forever changed by a tiny, relentlessly positive, imaginary blue winged horse named Happy (Patton Oswalt).
---
Also Read: Shows Like 'Doom Patrol' To Watch While Waiting For Season 4 Part 2
---
Doom Patrol (HBO Max)
Synopsis: Doom Patrol reimagines one of DC's most beloved groups of Super Heroes: Robotman aka Cliff Steele (series star Brendan Fraser), Negative Man aka Larry Trainor (series star Matt Bomer), Elasti-Woman aka Rita Farr (series star April Bowlby) and Crazy Jane (series star Diane Guerrero), led by modern-day mad scientist Niles Caulder aka The Chief (series star Timothy Dalton). Each member of the Doom Patrol suffered a horrible accident that gave them superhuman abilities, but also left them scarred and disfigured. Traumatized and downtrodden, the team found their purpose through The Chief, coming together to investigate the weirdest phenomena in existence. Following the mysterious disappearance of The Chief these reluctant heroes will find themselves in a place they never expected to be, called to action by none other than Cyborg (series star Joivan Wade), who comes to them with a mission hard to refuse. Part support group, part Super Hero team, the Doom Patrol is a band of superpowered freaks who fight for a world that wants nothing to do with them. Based on the characters created for DC by Arnold Drake, Bob Haney and Bruno Premiani.
---
Also Read: Shows Like 'Preacher' To Watch If You Miss the Series
---
Preacher (Hulu)
Synopsis: Based on the hit comic book series, Preacher is the edgy story of Jesse Custer, a conflicted preacher in a small Texas town who is inhabited by a mysterious entity that allows him to develop a highly unconventional power. With his fearless sidekicks, Tulip and Cassidy, he embarks on a wild, dark journey that is unlike any other.
---
Also Read: Shows Like 'Peacemaker' To Watch While Waiting For Season 2
---
Peacemaker (HBO Max)
Synopsis: Peacemaker explores the continuing story of the character that John Cena reprises in the aftermath of executive producer James Gunn's 2021 film The Suicide Squad – a compellingly vainglorious man who believes in peace at any cost, no matter how many people he has to kill to get it! The series stars John Cena as Peacemaker, Danielle Brooks as Adebayo, Freddie Stroma as Vigilante, Jennifer Holland as Harcourt, Chukwudi Iwuji as Murn, Steve Agee as Economos and Robert Patrick as Auggie Smith.
---
Also Read: Best Shows Like 'Watchmen' To Watch If You Miss the Series
---
Watchmen (HBO Max)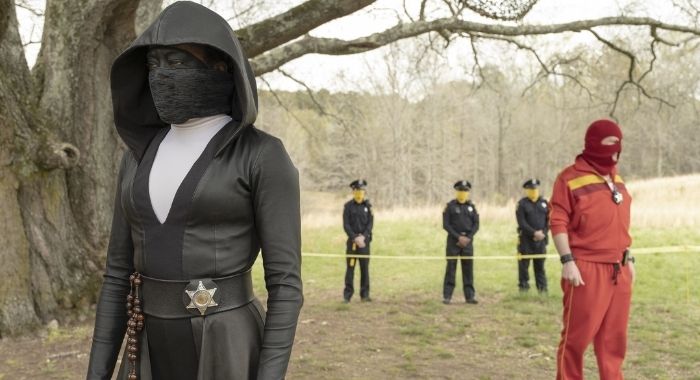 Synopsis: Set in an alternate history where masked vigilantes are treated as outlaws, this epic series from executive producer Damon Lindelof (Lost; HBO's The Leftovers) embraces the nostalgia of the original groundbreaking graphic novel of the same name, while attempting to break new ground of its own. Regina King (HBO's The Leftovers) leads the cast as Angela Abar, who wears two masks; one as a lead detective in The Tulsa Police Force and another as wife and mother of three. The cast also includes Jeremy Irons, Don Johnson, Jean Smart, Tim Blake Nelson, Louis Gossett Jr., Yahya Abdul-Mateen II, Tom Mison, Frances Fisher and Sara Vickers.​
---
Also Read: Best Shows Like 'The Umbrella Academy' To Watch After Season 3
---
The Umbrella Academy (Netflix)
Synopsis: On the same day in 1989, forty-three infants are inexplicably born to random, unconnected women who showed no signs of pregnancy the day before. Seven are adopted by a billionaire who creates The Umbrella Academy and prepares his "children" to save the world. Now, the six surviving members reunite upon the news of their father's passing and must work together to solve a mystery surrounding his death. But the estranged family begins to come apart due to their divergent personalities and abilities, not to mention the imminent threat of a global apocalypse. The Umbrella Academy is based on the comic book series created and written by Gerard Way, illustrated by Gabriel Bá, and published by Dark Horse Comics.
The Boys: Diabolical (Prime Video)
Synopsis: From some of the most unhinged and maniacal minds in Hollywood today comes Diabolical, a collection of eight irreverent and emotionally shocking animated short films. Featuring stories by Seth Rogen, Kumail Nanjiani, Aisha Tyler, and more, each episode plunges elbow-deep into unseen crevices of The Boys Universe.
Synopsis: Awarded the BAFTA for best drama series, Misfits follows a group of ASBO teenagers who develop strange powers after they are caught in a freak storm. This comedy drama series first aired in the UK in November 2009 to massive critical acclaim and went on to receive a host of awards and nominations.
---
Also Read: Best Shows Like Marvel's 'Legion' If You Miss The Series
---
Legion (Hulu)
Synopsis: Legion follows the story of "David Haller," a man who believed he was schizophrenic but discovered he might be the most powerful mutant in the world. With help from a team of specialists, David harnessed his unique abilities and learned he'd been haunted by a malicious parasite. Now, David is all that stands in the way of "Amahl Farouk" from attaining infinite and world-ending power.