Yellowstone is back with another brilliant spin-off starring Hollywood heavyweights like Harrison Ford and Helen Mirren. The new Yellowstone series 1923 is set in the titular year nearly 40 years after Yellowstone's first spin-off series 1883. While in 1923, it's not the wild west anymore, it is still the Dutton family, and where this family goes trouble follows. So, if you like 1923 here are some more shows you should watch next.
---
Also Read: Shows and Movies Like 'Yellowstone' You Should Watch
---
Synopsis: "Yellowstone" chronicles the Dutton family, led by John Dutton, who controls the largest contiguous cattle ranch in the United States. Amid shifting alliances, unsolved murders, open wounds, and hard-earned respect – the ranch is in constant conflict with those it borders – an expanding town, an Indian reservation, and America's first national park.
---
Also Read: Shows To Watch If You Like Paramount+'s '1883'
---
Synopsis: 1883 follows the Dutton family as they embark on a journey west through the Great Plains toward the last bastion of untamed America. It is a stark retelling of Western expansion, and an intense study of one family fleeing poverty to seek a better future in America's promised land – Montana.
Frontier (Netflix)
Synopsis: The series is an action-packed adventure drama following the chaotic and violent struggle to control wealth and power in the North American fur trade in the late 18th century. Told from multiple perspectives, the series takes place in a world where business negotiations might be resolved with close-quarter hatchet fights, and where delicate relations between Native tribes and Europeans can spark bloody conflicts.
Godless (Netflix)
Synopsis: Notorious criminal Frank Griffin (Jeff Daniels) and his gang of outlaws are on a mission of revenge against Roy Goode (Jack O'Connell), a son-like protégé who betrayed the brotherhood. While on the run, Roy seeks refuge with hardened widower Alice Fletcher (Michelle Dockery), an outcast herself, in a worn-down, isolated mining town of La Belle, NM — governed mainly by women. When word reaches La Belle that Griffin is headed their way, the town bands together to defend against the murderous gang in a lawless western frontier.
---
Also Read: Shows Like 'Boardwalk Empire' To Watch If You Miss the Series
---
Boardwalk Empire (HBO Max)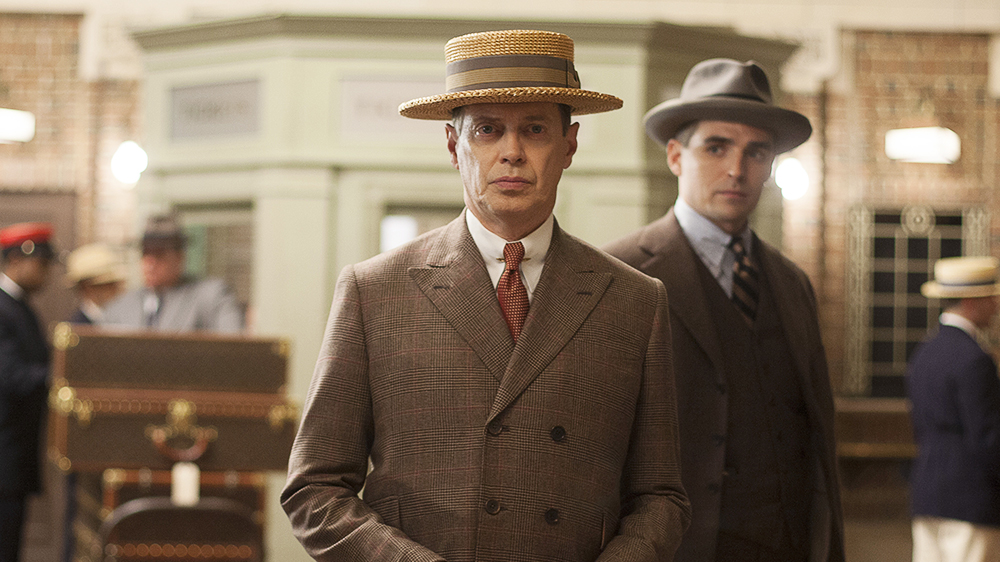 Synopsis: Atlantic City, 1920. When alcohol was outlawed, outlaws became kings. This epic drama series follows the birth and rise of organized crime in 'the world's playground' at the dawn of Prohibition. Steve Buscemi heads up the cast as Enoch 'Nucky' Thompson, the city's undisputed czar who is equal parts politician and gangster. With illegal alcohol opening up lucrative opportunities, Atlantic City becomes a major hub of bootlegging activity as Nucky and his inner circle preside over notorious backroom politics, vicious power struggles, a constant onslaught by the Feds, and Nucky's own insatiable appetite for women, profits and power.
The Son (Hulu)
Synopsis: A multi-generational epic telling of the story of America's birth as a superpower through the bloody rise and fall of one Texas oil empire.
Synopsis: A story over eight long days describes the encounter and clash between two men: McCoy, an apparently incorruptible sheriff with a dark past, and Red Bill, a dirty, taciturn bounty killer trapped in a desire for vengeance that cannot be fulfilled.
---
Also Read: Gritty Shows Like 'Peaky Blinders' To Watch If You Miss the Series
---
Peaky Blinders (Netflix)
Synopsis: Britain in 1919 is a tumultuous mix of despair and hedonism, a nation cleaned out by the extravagances of the Great War. Returning soldiers, newly minted revolutionaries and criminal gangs all fight for survival in an industrial landscape gripped by economic upheaval. Based on a true story, this drama follows a gang in Birmingham as they rise to become the most feared and powerful in town.
Synopsis: Based on the New York Times bestselling novel by Pulitzer Prize winner Annie Proulx, BARKSKINS follows a disparate group of outcasts and dreamers battling to escape their pasts while navigating the brutal frontier hardships, competing interests and tangled loyalties at the crossroads of civilization: the New World.=
The Pinkertons
Synopsis: The Pinkertons TV Series is a one hour detective series set in the wild west of 1865. It draws from the real cases of Pinkerton'sNational Detective Agency founder Allan Pinkerton, his son, William, and America's first female detective, Kate Warne, as they solved crimes and brought justice to the wild frontier.