Burning Betrayal is a Brazilian erotic thriller film directed by Diego Freitas, from a screenplay by Sue Hecker. The Netflix film revolves around Babi after she finds out that her long-term partner has been cheating on her. This shock sends Babi on a new adventure in her life and in her journey she meets Judge Marco, and a surge of sexual tension takes over both of them. Burning Betrayal stars Giovanna Lancelloti, Bruno Montaleone, and Leandro Lima. So, if you loved the Netflix film here are some similar erotic movies you could watch next.
Synopsis: From the director of Fatal Attraction comes a steamy thriller about physical passion so intense, it consumes everything – and everyone – in its path. Edward and Connie Summer (Richard Gere, Diane Lane) have the perfect life: a happy marriage, an eight year old son, and a beautiful house in the suburbs. But when Connie's chance encounter with a handsome stranger (Olivier Martinez) erupts into a full-blown affair, desire becomes obsession, and the true price of betrayal takes a shattering toll. Pulsing with heart-pounding suspense and erotic thrills, Unfaithful is sexy, stylish and seductive!
Synopsis: A young woman finds herself involved in a dangerous love triangle when she gets involved with the writer of a popular steamy novel.
Synopsis: Jennifer Lopez (Maid in Manhattan, Out of Sight, Monster-in-Law, The Wedding Planner) stars as Claire Peterson, a high school literature teacher struggling to get back in the dating game after separating from her cheating husband (John Corbett, TV's Parenthood and United States of Tara). When handsome and charismatic 19-year-old Noah (Ryan Guzman, Step Up series, TV's Pretty Little Liars) moves in next door, Claire has a moment of weakness that leads to an extremely intense and intimate night together. Noah's attraction quickly turns into a dangerous, violent obsession, forcing Claire to her limits as she protects her world from being torn apart.
365 Days: This Day (Netflix)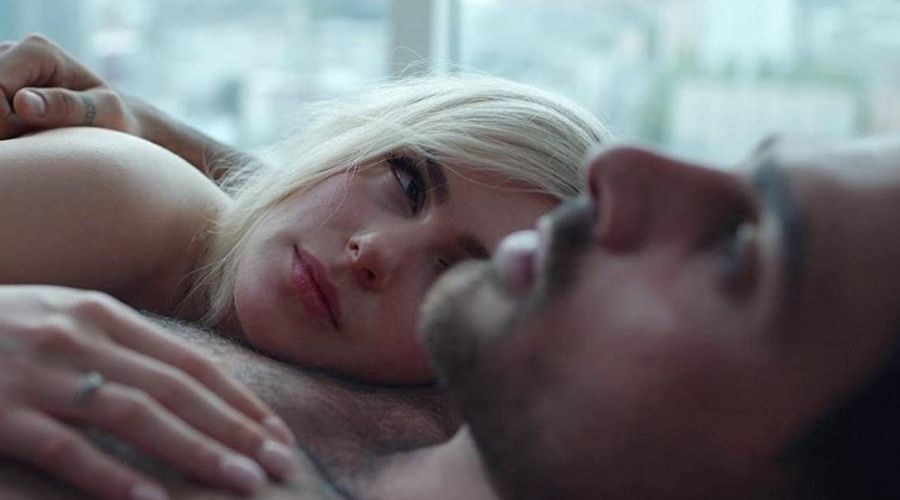 Synopsis: Laura and Massimo are back and hotter than ever. But the reunited couple's new beginning is complicated by Massimo's family ties and a mysterious man who enters Laura's life to win her heart and trust, at any cost.
Fallacy (Tubi & Plex)
Synopsis: David is a family man and aspiring lawyer with a secret: he moonlights as a sex worker and he's about to get entangled in a dangerous political game.
Synopsis: Adrian Lyne buffs the premise of Honeymoon in Vegas to a fine gloss in this yuppie melodrama that poses the conundrum of whether the loving husband of an equally loving wife will accept $1 million to allow his wife to spend one night with a billionaire who looks like Robert Redford. All the cynics please take a number and form a line at the right. Demi Moore and Woody Harrelson play Diana and David Murphy, high-school sweethearts who marry and who are doing very well — Diana is a successful real-estate agent, and David is an idealistic architect who has built a dream house by the ocean — until the recession hits. Suddenly, David loses his job, and they can't make the mortgage payments. Dead broke, they borrow $5000 from David's father and head to Las Vegas to try to win money to pay the mortgage on their house. At first, they get $25,000 ahead — but inevitably the house always wins, and they end up losing it all. While Diana is in the fancy casino boutique trying to lift some candy, she is spotted by billionaire John Gage (Robert Redford), who is immediately attracted to her. John invites Diana and David to an opulent party, and it is there that John offers David $1 million for a night with his wife. David is wracked by this moral dilemma, but Diana finally makes the decision on her own, with ensuing consequences for their ideal marriage and their bank account.
Synopsis: Stylish and sexy, Fatal Attraction took audiences to terrifying new heights with its thrilling story of a casual encounter gone terribly awry. This box-office smash was nominated for six Academy Awards, including Best Picture and Best Director (Adrian Lyne, Indecent Proposal, Flashdance). Michael Douglas plays Dan Gallagher, a New York attorney who has a tryst with seductive Alex Forrest (Glenn Close) while his wife (Anne Archer) is away. Dan later shrugs off the affair as a mistake and considers it over. But Alex won't be ignored. Not now, not tomorrow, not ever…even if it means destroying Dan's family to keep him.
Synopsis: An investigator seeking the truth behind the death of a noted art dealer uncovers a web of sexual deception in this erotic thriller. David Caruso plays David Corelli, a San Francisco District Attorney who faces a potential conflict of interest when he learns that the prime suspect in the murder is psychologist Katrina Gavin (Linda Fiorentino), an old flame who eventually married Corelli's close friend (Chazz Palminteri). Despite this, he continues on the case and discovers that the dealer owned a series of photographs showing prominent public figures in compromising positions with an enigmatic prostitute known only as Jade. As Corelli searches for the identity of this unknown woman, believing she holds the key to the murder's solution, he uncovers further secrets that ultimately threaten his own life.
Synopsis: Successful businesswoman Zoe Reynard (Sharon Leal) appears to have attained it all — the dream husband she loves (Boris Kodjoe), two wonderful children and a flourishing career. As perfect as everything appears from the outside, Zoe is still drawn to temptations she cannot escape or resist. As she pursues a secretive life, Zoe finds herself risking it all when she heads down a perilous path she may not survive.
Synopsis: Jamie Dornan and Dakota Johnson return as Christian Grey and Anastasia Steele in Fifty Shades Freed, the climactic chapter based on the worldwide bestselling Fifty Shades phenomenon. Believing they have left behind shadowy figures from their past, newlyweds Christian and Ana fully embrace an inextricable connection and shared life of luxury. But just as she steps into her role as Mrs. Grey and he relaxes into an unfamiliar stability, new threats could jeopardize their happy ending before it even begins.