Prime Video's new take on the iconic character of Jack Reacher created by Lee Child, recently dropped on the streaming service as an eight-episode series and it has fans raving about the new source material accurate Reacher. The series has been a definite hit with critics and audiences alike and it is sure to be renewed for a second season, as there is so much more story to tell, but if renewed the second season won't come out for at least a year and until we have created a list of the 10 best shows that are similar to Reacher in one aspect or another. So, take a look and decide for yourself which series are you willing to invest your time in. The shows on this list are not ranked.
---
Also Read: Shows Like 'Justified' To Watch While Waiting For the Sequel Series
---
Justified (Hulu)
Synopsis: Based on Elmore Leonard's novella "Fire in the Hole," Justified was developed by Graham Yost and stars Timothy Olyphant as Deputy US Marshal Raylan Givens, a lawman who finds himself drawn back to his home state of Kentucky. In Justified's final season, the long brimming conflict between Raylan and Boyd Crowder (Walton Goggins) will finally come to a head. The series co-stars Walton Goggins as 'Boyd Crowder;' Nick Searcy as 'Chief Deputy Art Mullen;' Jacob Pitts as 'Deputy Marshal Tim Gutterson;' Erica Tazel as 'Deputy Marshal Rachel Brooks;' Joelle Carter as 'Ava Crowder;' and Jere Burns as 'Wynn Duffy.' Yost wrote the pilot and serves as Executive Producer/Writer on the series. Executive Producers on the series include Carl Beverly, Sarah Timberman, Michael Dinner, Fred Golan, Dave Andron, Don Kurt, Taylor Elmore, Timothy Olyphant, and the late Elmore Leonard. Justified is produced by Sony Pictures Television and FX Productions.
---
Also Read: Shows Like 'Jessica Jones' To Watch While Hoping For a Revival Series
---
Marvel's Jessica Jones (Disney+)
Synopsis: When a tragedy puts an the end to her short-lived career as a superhero, Jessica settles in NYC and opens her own detective agency, called Alias Investigations, which seems to be called into cases involving people who have special abilities. Suffering from post-traumatic stress syndrome, Jessica wants to do good, but her primary interest isn't in saving the world, it's saving her apartment and getting through each day. Based on a graphic novel intended for adults, this is not a superhero story for the kids.
Synopsis: Based on Michael Connelly's best-selling novels, Harry Bosch (Titus Welliver), an LAPD homicide detective, stands trial for the shooting of a serial murder suspect – just as a cold case involving the remains of a boy forces Bosch to confront his past. As daring recruit, Julia Brasher (Annie Wersching), catches his eye, and departmental politics heat up, Bosch will pursue justice at all costs.
---
Also Read: Shows Like 'Bodyguard' To Watch While Hoping For Season 2
---
Bodyguard (Netflix)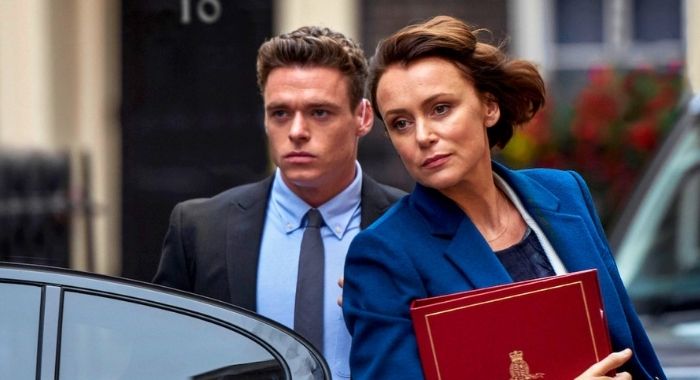 Synopsis: Set in and around the corridors of power, Bodyguard tells the fictional story of David Budd (Richard Madden), a heroic but volatile war veteran now working as a Specialist Protection Officer for the Royalty and Specialist Protection Branch (RaSP) of London's Metropolitan Police Service. When he is assigned to protect the ambitious and powerful Home Secretary Julia Montague (Keeley Hawes), whose politics stand for everything he despises, Budd finds himself torn between his duty and his beliefs. Responsible for her safety, is he actually her biggest threat?
---
Also Read: Shows Like 'Tom Clancy's Jack Ryan' To Watch While Waiting For Season 3
---
Tom Clancy's Jack Ryan (Prime Video)
Synopsis: When CIA analyst Jack Ryan stumbles upon a suspicious series of bank transfers his search for answers pulls him from the safety of his desk job and catapults him into a deadly game of cat and mouse throughout Europe and the Middle East, with a rising terrorist figurehead preparing for a massive attack against the US and her allies.
Shooter (Netflix)
Synopsis: The series follows the courageous journey of Bob Lee Swagger, a highly-decorated ex-marine sniper who is coaxed back into action after he learns about a plot to kill the President.
Blindspot (Hulu)
Synopsis: Sullivan Stapleton stars as hardened FBI agent Kurt Weller, who is drawn into a complex conspiracy when a mysterious woman (Jaime Alexander), is found in Times Square covered in a series of cryptic tattoos … including his name on her back. As Weller and his teammates at the FBI — among them, wartime vet Edgar Reed, the secretive Tasha Zapata and Assistant Director Mayfair (Marianne Jean-Baptiste) — begin to investigate Jane Doe's tattoos, they are drawn into a high-stakes underworld that twists and turns through a labyrinth of secrets and revelations — and the information they uncover might ultimately change the world. With every passing day, Jane unveils a new skill or a hidden talent without understanding its origin, while Weller is drawn deeper into his troubled, complicated relationship with this enigmatic woman. They both strive to make a connection, unaware of the dangerous blindspot that threatens them.
---
Also Read: Shows Like 'Hanna' To Watch If You Miss the Series
---
Synopsis: Raised in total seclusion in the remote woods of Eastern Europe, 15-year-old Hanna (Esmé Creed-Miles) has spent her entire young life training to fight those who hunt her and her mercenary father, Erik Heller (Joel Kinnaman). Her survivalist skills are finally tested when she and Erik are separated upon their discovery by a rogue CIA operative, Marissa Wiegler (Mireille Enos) and her team of agents. Hanna has no choice but to embark on a perilous journey alone across Europe as she seeks to reunite with her father and evade – and ultimately take down – the dangerous agents who target them. Hanna's isolated upbringing leads her to face particularly daunting physical and emotional challenges along the way, as she navigates an ever-deepening conspiracy – one that could be the undoing of both her and her father. Based on Joe Wright's acclaimed 2011 film, Hanna's eight-episode first season was written by David Farr (The Night Manager), who co-wrote the original feature. It was produced by NBCUniversal International Studios, Working Title Television and Amazon Studios. Director Sarah Adina Smith (Legion, Room 104) helmed episodes one and two of the series, which filmed entirely on-location in Germany, Hungary, Slovakia, Morocco, Spain and the U.K.
---
Also Read: Shows Like 'The Punisher' To Watch If You Miss the Series
---
Marvel's Punisher (Disney+)
Synopsis: Frank Castle, also known as "The Punisher", believes he has exacted revenge on the criminals responsible for the tragic murder of his family. However, he soon uncovers a larger, deeper conspiracy behind the events that occurred, involving his time serving in the Marine Corps. Alongside run-ins with law enforcement, his ex-best friend Billy Russo, and former NSA analyst Micro, Frank seeks to uncover the truth once and for all.
---
Also Read: Shows Like 'The Terminal List' to Watch While Waiting For Season 2
---
Synopsis: Navy SEAL Commander James Reece turns to vengeance as he investigates the mysterious forces behind the murder of his entire platoon. Free from the military's command structure, Reece applies the lessons he's learned from nearly two decades of warfare to hunt down the people responsible.