Tom Clancy's Jack Ryan is one of the best action-thriller series and it is also arguably the best adaptation of Tom Clancy's iconic character. The Prime Video series premiered in 2018 with its first season and blew everyone away with its bombastic action sequences and thrilling storylines of espionage. The second season of the series became even bigger and better, and after that, the fans had to wait for nearly three years for the third season, we finally got it and it is one of the best seasons yet and there is also another good and bad news which is that the third and fourth season of the series were shot back to back so we don't have to wait for much longer for Season 4, but the bad news is that Season 4 of Jack Ryan will be its last one. So, while you wait for Season 4 here are some shows you could watch.
---
Also Read: Shows Like 'Bodyguard' To Watch While Hoping For Season 2
---
Bodyguard (Netflix)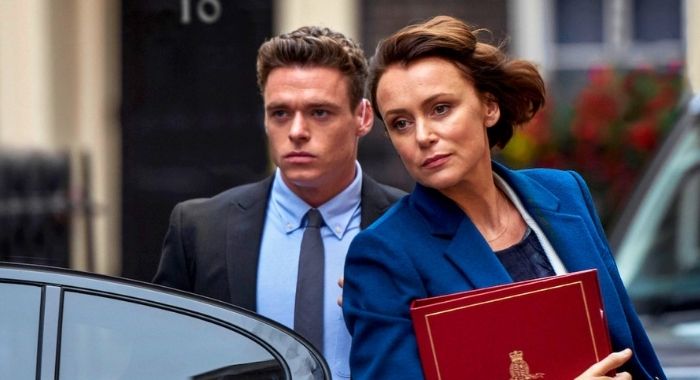 Synopsis: Set in and around the corridors of power, Bodyguard tells the fictional story of David Budd (Richard Madden), a heroic but volatile war veteran now working as a Specialist Protection Officer for the Royalty and Specialist Protection Branch (RaSP) of London's Metropolitan Police Service. When he is assigned to protect the ambitious and powerful Home Secretary Julia Montague (Keeley Hawes), whose politics stand for everything he despises, Budd finds himself torn between his duty and his beliefs. Responsible for her safety, is he actually her biggest threat?
Shooter (Netflix)
Synopsis: Shooter is an uncompromising exploration of the definition and evolution of a hero. Ryan Phillippe ("Secrets and Lies") is a producer on the project and will star as Bob Lee Swagger, an expert marksman living in exile who is coaxed back into action after learning of a plot to kill the president. Omar Epps ("House") plays Isaac Johnson, an ex-Marine and former commanding officer of Swagger. Now a Secret Service Agent, he solicits Swagger's expertise for a clandestine operation that has disastrous results.
---
Also Read: Best Shows Like 'Reacher' To Watch After Binging Season 1
---
Synopsis: Reacher follows Jack Reacher, a veteran military police investigator who has just recently entered civilian life. Reacher is a drifter, carrying no phone and the barest of essentials as he travels the country and explores the nation he once served. When Reacher arrives in the small town of Margrave, Georgia, he finds a community grappling with its first homicide in 20 years. The cops immediately arrest him and eyewitnesses claim to place Reacher at the scene of the crime. While he works to prove his innocence, a deep-seated conspiracy begins to emerge, one that will require Reacher's keen mind and hard-hitting fists to deal with. One thing above all is for sure: They picked the wrong guy to take the fall.
---
Also Read: Best Shows Like 'Condor' To Watch If You Loved the Spy Series
---
Synopsis: Based on the novel "Six Days of the Condor" by James Grady and screenplay "Three Days of the Condor" by Lorenzo Semple Jr. and David Rayfiel, Condor follows CIA analyst (Max Irons) who stumbles onto a plan that threatens the lives of millions. Joe Turner has always been conflicted about his work for the CIA. But when something he's discovered gets his entire office killed, leaving Joe as the only survivor and forcing him to go on the run, the theoretical reservations he's harbored turn into all-too-real moral dilemmas. Under pressure, Joe will be forced to redefine who he is and what he's capable of in order to discover the truth and to stop a plot that threatens the lives of millions. Starring Max Irons, William Hurt, Leem Lubany, Angel Bonnani, Kristen Hager, with Mira Sorvino and Bob Balaban and special guest star Brendan Fraser.
---
Also Read: Shows Like 'Homeland' To Watch If You Miss the Series
---
Synopsis: Homeland is an edge-of-your-seat sensation. CIA officer Carrie Mathison (Claire Danes) is tops in her field despite being bipolar, which makes her volatile and unpredictable. With the help of her long-time mentor Saul Berenson (Mandy Patinkin), Carrie fearlessly risks everything, including her personal well-being and even sanity, at every turn. You won't be able to turn away from this gripping, emotional thriller in which nothing short of the fate of our nation is at stake.
Strike Back
Synopsis: An unlikely alliance between two crack special agents fuels the breakneck action and heart-pounding suspense of this action series. As members of a top-secret anti-terrorist organization known as Section 20, British sergeant Michael Stonebridge and disgraced Delta Forces operative Damian Scott undertake a series of adventures while criss-crossing the globe on the trail of an international terrorist who is planning the ultimate attack with a cache of WMD's. Philip Winchester and Sullivan Stapleton star.
Synopsis: Berlin Station is a contemporary spy series that follows Daniel Miller (Richard Armitage), an undercover agent who has just arrived at the CIA station in Berlin, Germany. Miller has a clandestine mission: to determine the identity of a now-famous whistleblower masquerading as "Thomas Shaw." Guided by jaded veteran Hector DeJean (Rhys Ifans) Daniel learns to contend with the rough-and-tumble world of the field officer – agent-running, deception, danger and moral compromises. As he dives deeper into the German capital's hall of mirrors and uncovers the threads of a conspiracy that leads back to Washington, Daniel wonders: Can anyone ever be the same after a posting to Berlin?
---
Also Read: Spy Shows Like 'The Night Manager' To Watch If You are Still Hoping For Season 2
---
Synopsis: A contemporary interpretation of John le Carré's espionage novel, "The Night Manager" follows former British soldier Jonathan Pine (Tom Hiddleston) who is recruited by intelligence operative Angela Burr (Olivia Colman) to infiltrate the inner circle of international businessman Richard Onslow Roper (Hugh Laurie) and detonate the unholy alliance he has ministered between the intelligence community and the secret arms trade. To reach the heart of Roper's vast empire, Pine must withstand the suspicious interrogations of his venal chief of staff, Major Corkoran (Tom Hollander) and the allure of his beautiful girlfriend Jed (Elizabeth Debicki). In his quest to do the right thing, Pine must first become a criminal himself. Executive producers include John Le Carré, Simon Cornwell, Stephen Cornwell and Stephen Garrett. Writer David Farr also serves as an executive producer as does Academy Award® winner Susanne Bier, who serves as director.
---
Also Read: Best Shows Like 'Burn Notice' To Watch If You Miss the Series
---
Synopsis: Michael Westen is a trained spy who receives a "burn notice" for an unstated reason & effectively is fired. Penniless, he returns to his hometown in Miami and freelances while trying to find who burned him.
Quantico (Hulu)
Synopsis: Synopsis: A diverse group of recruits has arrived at the FBI Quantico Base for training. They are the best, the brightest, and the most vetted, so it seems impossible that one of them is suspected of masterminding the biggest attack on New York City since 9/11. Stars Yasmine Al Massri (Nimah Amin), Johanna Braddy (Shelby Wyatt), Priyanka Chopra (Alex Parrish), Jake McLaughlin (Ryan Booth), Aunganue Ellis (Miranda Shaw), Tate Ellington (Simon Asher), Graham Rogers (Caleb Haas).