Bosch is definitely one of the most thrilling and long Prime Video original series. The brilliant series is based on a book series by Michael Connelly and adapted for television by  Eric Overmyer. Bosch is a police procedural and it follows the title character as he takes on some of the darkest crimes Hollywood has to offer. Bosch ran for seven brilliant seasons ending its run in 2021 and it also has a spin-off titled Bosch: Legacy. So, if you liked the series here are some more shows you could watch next.
Synopsis: Harry Bosch, retired homicide detective turned Private Investigator, fights to work cases without the authority his former job provided. Attorney Honey "Money" Chandler, having survived an attempted murder, struggles to maintain her faith in the justice system. And Maddie Bosch discovers the possibilities and challenges of being a rookie patrol cop on the streets of Los Angeles.
Synopsis: In early 1990s Boston, Assistant DA Decourcy Ward (Aldis Hodge) forms an unlikely alliance with a corrupt yet venerated FBI veteran, Jackie Rohr (Kevin Bacon). Together, they take on a case that ultimately changes the city's entire criminal justice system.
---
Also Read: Shows Like 'Reacher' To Watch While Waiting For Season 2
---
Synopsis: When retired Military Police Officer Jack Reacher is arrested for a murder he did not commit, he finds himself in the middle of a deadly conspiracy full of dirty cops, shady businessmen and scheming politicians. With nothing but his wits, he must figure out what is happening in Margrave, Georgia. The first season of Reacher is based on the international bestseller, Killing Floor by Lee Child.
Ray Donovan (Paramount+ & Showtime)
Synopsis: Set in the sprawling mecca of the rich and famous, Ray Donovan does the dirty work for LA's top power players. The one-hour series stars Emmy® and Golden Globe® Award nominee Liev Schreiber in his first lead television role as the go-to guy who makes the problems of the city's celebrities, superstar athletes, and business moguls disappear. This powerful drama unfolds when his father, played by Oscar® winner Jon Voight, is unexpectedly released from prison, setting off a chain of events that shakes the Donovan family to its core.
Bloodlands (The Roku Channel)
Synopsis: In this gripping thriller, James Nesbitt is a detective investigating a series of disappearances from Northern Ireland's dark past-including his own wife's 20 years ago.
---
Also Read: Shows Like 'Luther' To Watch While Waiting For 'The Fallen Sun'
---
Luther (Hulu & Pluto TV)
Synopsis: On a moral crusade, with only his convictions for company, John Luther (Idris Elba) is a deeply troubled man, a philosophical cop possessed by the insoluble problem of evil and justice in a Godless world, who gets pulled to the very edge of temptation.
---
Also Read: Shows Like 'The Wire' To Watch If You Miss the Series
---
The Wire (HBO Max)
Synopsis: In the city of Baltimore, there are good guys and there are bad guys. Sometimes you need more than a badge to tell them apart. This highly realistic and totally unvarnished drama series chronicles the vagaries of crime, law enforcement, politics, education, and media in Baltimore as it follows a team of cops and the criminals they are after.
The Lincoln Lawyer (Netflix)
Synopsis: ​Mickey Haller (Manuel Garcia-Rulfo), an iconoclastic idealist, runs his law practice out of the back seat of his Lincoln, as he takes on cases big and small across the expansive city of Los Angeles. Based on the series of bestselling novels by renowned author Michael Connelly, the first season is based on the second book in The Lincoln Lawyer series, The Brass Verdict. The Lincoln Lawyer also stars Neve Campbell, Becki Newton, Jazz Raycole and Angus Sampson. Connelly is an executive producer and writer on the series. The series was developed for television by Ted Humphrey who serves as showrunner, executive producer and writer. Ross Fineman and Kelley are also executive producers.
Synopsis: Set in the fictional police anti-corruption unit AC-12, "Line of Duty" is a cat-and-mouse thriller that takes a probing look into modern policing and corruption. The British drama features an all-star cast including Keeley Hawes, Vicky McClure, Martin Compston, Adrian Dunbar, Lennie James, Neil Morrissey and Gina McKee.
---
Also Read: Shows Like 'Broadchurch' To Watch If You Miss the Series
---
Broadchurch (The Roku Channel)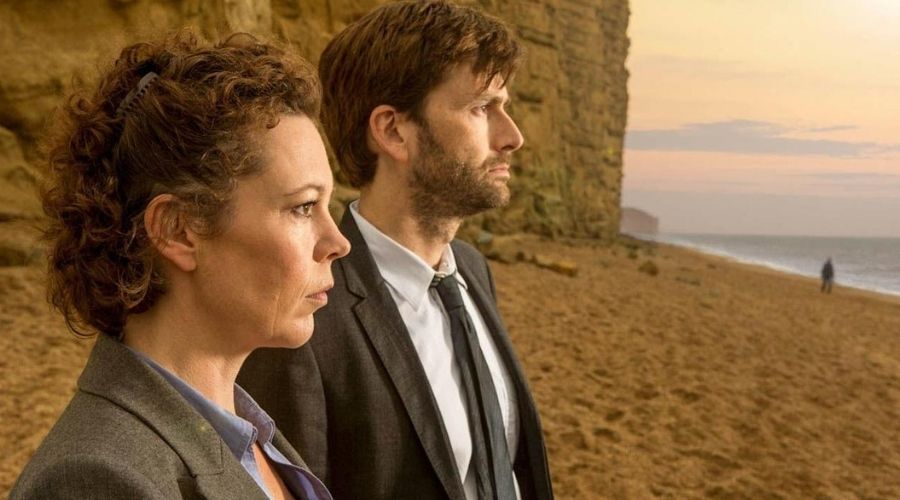 Synopsis: Critically acclaimed, BAFTA award-winning drama Broadchurch explores what happens to a small community when it suddenly becomes the focus of a police investigation, following the tragic and mysterious death of an eleven year- old boy. Police officers DI Alec Hardy (David Tennant) and DS Ellie Miller (Olivia Colman) were called in to investigate the case and found that the killer was closer to home than they could ever have imagined.
Southland (Tubi)
Synopsis: From the beaches of Malibu to the streets of East L.A., this fast-moving drama takes viewers inside the lives of cops, criminals, victims and their families. John Cooper (Band of Brothers' Michael Cudlitz) is a seasoned Los Angeles cop assigned to train young rookie Ben Sherman (The O.C.'s Ben McKenzie).
Cardinal (Hulu & The Roku Channel)
Synopsis: In this atmospheric thriller, demoted Detective John Cardinal (Billy Campbell) is brought back into Homicide when the hunch he wouldn't let go is proven correct. Now, as he relentlessly tracks a serial killer, he must keep a watchful eye on his new partner, Detective Lise Delorme (Karine Vanasse), who he believes may have a secret agenda, while managing dark secrets of his own.
Longmire (Netflix & Peacock)
Synopsis: Based on the Walt Longmire mystery novels by Craig Johnson, Longmire stars Australian actor Robert Taylor as Walt Longmire, the dedicated and unflappable sheriff of Absaroka County, Wyoming. A man in psychic repair after the murder of his wife, Longmire buries his loss behind a brave face and dry wit. At the urging of his daughter, Cady (Cassidy Freeman), and close friend and confidant Henry Standing Bear (Lou Diamond Phillips), he sets out to rebuild his personal and professional life one step at a time. But with his county in turmoil, Sheriff Longmire relies on his loyal deputies Vic Moretti (Katee Sackhoff), Branch Connally (Bailey Chase), and the Ferg (Adam Bartley). At the end of the day, it's Longmire's job to keep the peace in Big Sky Country in this contemporary crime thriller.