Fargo is one of the most brilliant and weird series probably ever made. While the series is brilliant and gets better with every season, the wait between each season is very long because the series creator Noah Hawley is attached to many projects, and he doesn't have much time to create new seasons every year. So, if you also like the FX original series Fargo here are some brilliant shows you should watch to fill in your time.
---
Also Read: Shows Like Marvel's 'Legion' If You Miss The Series
---
Legion (Hulu)
Synopsis: Legion follows the story of "David Haller," a man who believed he was schizophrenic but discovered he might be the most powerful mutant in the world. With help from a team of specialists, David harnessed his unique abilities and learned he'd been haunted by a malicious parasite. Now, David is all that stands in the way of "Amahl Farouk" from attaining infinite and world-ending power.
The Killing (Hulu)
Synopsis: Based on the Danish series Forbrydelsen, THE KILLING follows various murder investigations led by homicide detectives "Sarah Linden" (Mireille Enos) and "Stephen Holder" (Joel Kinnaman). Seasons one and two chronicled the "Rosie Larsen case," with Linden and Holder investigating the murder of a teenage girl. Picking up one year after the close of that investigation, season three followed the detectives on their search for a runaway girl, leading them to discover a gruesome string of murders that connected to a previous investigation by Linden.
---
Also Read: Shows Like 'Twin Peaks' To Watch If You Miss the Series
---
Synopsis: "She's dead. Wrapped in plastic." Date: Friday, February 24, 1989: Homecoming Queen Laura Palmer is found dead, washed up on a riverbank, and wrapped in plastic sheeting. FBI Special Agent Dale Cooper is called in to investigate the murder of this young woman in the small, Northwestern town of Twin Peaks. What he doesn't know is that in Twin Peaks, no one is innocent.
---
Also Read: Shows Like 'Dexter' To Watch If You Miss the Series
---
Synopsis: He's smart, he's good looking, and he's got a great sense of humor. He's Dexter Morgan, everyone's favorite serial killer. As a Miami forensics expert, he spends his days solving crimes, and nights committing them. But Dexter lives by a strict code of honor that is both his saving grace and lifelong burden. Torn between his deadly compulsion and his desire for true happiness, Dexter is a man in profound conflict with the world and himself. Golden Globe winner Michael C. Hall stars in the hit SHOWTIME Original Series.
---
Also Read: Shows Like 'Black Mirror' To Watch While Waiting For Season 6
---
Black Mirror (Netflix)
Synopsis: Black Mirror is an anthology series that taps into our collective unease with the modern world, with each stand-alone episode a sharp, suspenseful tale exploring themes of contemporary techno-paranoia. Without questioning it, technology has transformed all aspects of our lives; in every home; on every desk; in every palm – a plasma screen; a monitor; a Smartphone – a Black Mirror reflecting our 21st Century existence back at us. The series is created and written by Charlie Brooker, and executive produced by Brooker and Annabel Jones.
---
Also Read: Shows Like 'Broadchurch' To Watch If You Miss the Series
---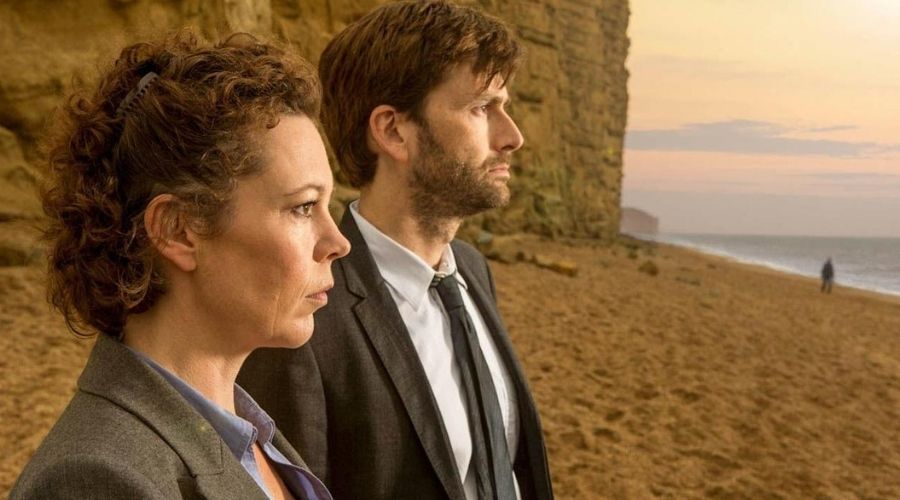 Synopsis: Critically acclaimed, BAFTA award-winning drama Broadchurch explores what happens to a small community when it suddenly becomes the focus of a police investigation, following the tragic and mysterious death of an eleven year- old boy. Police officers DI Alec Hardy (David Tennant) and DS Ellie Miller (Olivia Colman) were called in to investigate the case, and found that the killer was closer to home than they could ever have imagined.
---
Also Read: Shows Like 'Mr. Robot' to Watch If You Miss the Series
---
Synopsis: Enter the captivating world of "Mr. Robot," following Elliot Alderson (Emmy®-winner Rami Malek), a young computer programmer turned vigilante hacker. Elliot suffers from social anxiety, and hacking people is his primary means of human connection. Disillusioned with modern society, Elliot's world suddenly changes when he meets Mr. Robot (Golden Globe®-winner Christian Slater), the mysterious leader of an underground hacktivist group that wants to recruit Elliot to help take down the "one percent" and trigger a worldwide revolution.
---
Also Read: Shows Like 'True Detective' To Watch If You Miss The Series
---
True Detective (HBO Max)
Synopsis: Touch darkness and darkness touches you. From creator/executive producer Nic Pizzolato comes this searing crime drama series that follows troubled cops and the intense investigations that drive them to the edge. Each season features a star-studded new cast involved in cases that will have you on the edge of your seat. In Season 1, it was Matthew McConaughey and Woody Harrelson as two polar opposite cops on the hunt for a serial killer in Louisiana. In Season 2, a bizarre murder case brings together three law-enforcement officers (Colin Farrell, Rachel McAdams, Taylor Kitsch) and a career criminal (Vince Vaughn). Season 3 of the hit series stars Mahershala Ali as a retired detective who has been tormented for 35 years by a case involving the disappearance of a 12-year-old boy and his 10-year-old sister.
---
Also Read: Shows Like 'The Twilight Zone' To Watch If You Miss the Series
---
Synopsis: "The Twilight Zone" was the brainchild of Emmy Award-winner Rod Serling, who served as host and wrote over 80 episodes of the original show's 150-plus episode run. It's a strange mix of horror, science-fiction, drama, comedy and superstition. Serling introduced each episode, and many of the black and white hours concluded with a surprise ending. Actors such as Burt Reynolds, Roddy McDowell and Robert Redford made appearances in some of the more well-known stories.
---
Also Read: Shows Like 'Better Call Saul' To Watch If You Miss the Series
---
Better Call Saul (Netflix)
Synopsis: Before Saul Goodman met Walter White, he was struggling attorney Jimmy McGill (Bob Odenkirk). In this prequel to the Emmy-winning series Breaking Bad, Jimmy teams up with Mike Ehrmantraut (Jonathan Banks) and begins his transformation from optimistic underdog into Albuquerque's most notorious legal legend. Michael McKean stars as Jimmy's brilliant, uncompromising brother, Chuck.