Dark Winds is a crime thriller series created by Graham Roland. The AMC series is based on a Leaphorn & Chee novel series written by Tony Hillerman. Dark Winds is set in the 1970s Southwest and it follows the story of two Navajo police officers Joe Leaphorn (Zahn McClarnon) and Jim Chee (Kiowa Gordon) as they go up against their dark past and evil forces to maintain peace in their community. Dark Winds recently aired its second season and while you wait for Season 3 to come out here are some similar shows you could check out.
The Chestnut Man (Netflix)
Synopsis: The Chestnut Man is set in a quiet suburb of Copenhagen, where the police make a terrible discovery one blustery October morning. A young woman is found brutally murdered in a playground and one of her hands is missing. Next to her lies a small man made of chestnuts. The ambitious young detective Naia Thulin (Danica Curcic) is assigned to the case, along with her new partner, Mark Hess (Mikkel Boe Følsgaard). They soon discover a mysterious piece of evidence on the chestnut man – evidence connecting it to a girl who went missing a year earlier and was presumed dead – the daughter of politician Rosa Hartung (Iben Dorner).
The Valhalla Murders (Netflix)
Synopsis: The past comes back to haunt detectives Kata and Arnar. In the desolate darkness of Iceland, a serial killer has links to horrendous crimes from years before.
Longmire (Netflix)
Synopsis: Based on the Walt Longmire mystery novels by Craig Johnson, Longmire stars Australian actor Robert Taylor as Walt Longmire, the dedicated and unflappable sheriff of Absaroka County, Wyoming. A man in psychic repair after the murder of his wife, Longmire buries his loss behind a brave face and dry wit. At the urging of his daughter, Cady (Cassidy Freeman), and close friend and confidant Henry Standing Bear (Lou Diamond Phillips), he sets out to rebuild his personal and professional life one step at a time. But with his county in turmoil, Sheriff Longmire relies on his loyal deputies Vic Moretti (Katee Sackhoff), Branch Connally (Bailey Chase) and the Ferg (Adam Bartley). At the end of the day, it's Longmire's job to keep the peace in Big Sky Country in this contemporary crime thriller.
True Detective (Max)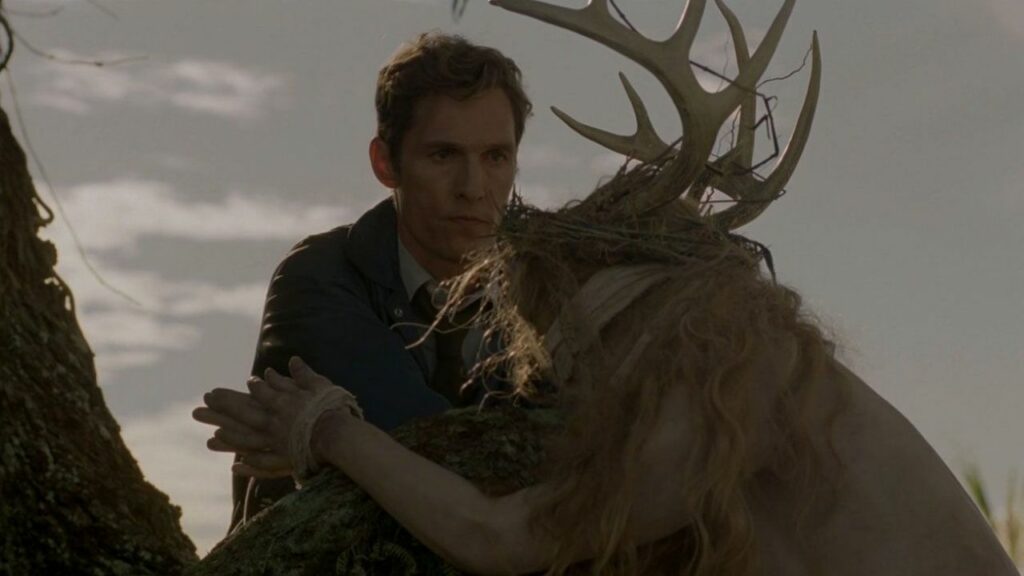 Synopsis: Touch darkness and darkness touches you. From creator/executive producer Nic Pizzolato comes this searing crime drama series that follows troubled cops and the intense investigations that drive them to the edge. Each season features a star-studded new cast involved in cases that will have you on the edge of your seat. In Season 1, it was Matthew McConaughey and Woody Harrelson as two polar opposite cops on the hunt for a serial killer in Louisiana. In Season 2, a bizarre murder case brings together three law-enforcement officers (Colin Farrell, Rachel McAdams, Taylor Kitsch) and a career criminal (Vince Vaughn). Season 3 of the hit series stars Mahershala Ali as a retired detective who has been tormented for 35 years by a case involving the disappearance of a 12-year-old boy and his 10-year-old sister.
Under the Banner of Heaven (Hulu)
Synopsis: FX's Under the Banner of Heaven, the original limited series inspired by the true crime bestseller by Jon Krakauer, follows the events that led to the 1984 murder of Brenda Wright Lafferty (Daisy Edgar-Jones) and her baby daughter in a suburb in the Salt Lake Valley, Utah. As Detective Jeb Pyre (Andrew Garfield) investigates events which transpired within the Lafferty family, he uncovers buried truths about the origins of the LDS religion and the violent consequences of unyielding faith. What Pyre, a devout Mormon, unearths leads him to question his own faith.
Godless (Netflix)
Synopsis: Notorious criminal Frank Griffin (Jeff Daniels) and his gang of outlaws are on a mission of revenge against Roy Goode (Jack O'Connell), a son-like protégé who betrayed the brotherhood. While on the run, Roy seeks refuge with hardened widower Alice Fletcher (Michelle Dockery), an outcast herself, in a worn-down, isolated mining town of La Belle, NM — governed mainly by women. When word reaches La Belle that Griffin is headed their way, the town bands together to defend against the murderous gang in a lawless western frontier.
Synopsis: Based on Michael Connelly's best-selling novels, Harry Bosch (Titus Welliver), an LAPD homicide detective, stands trial for the shooting of a serial murder suspect – just as a cold case involving the remains of a boy forces Bosch to confront his past. As daring recruit, Julia Brasher (Annie Wersching), catches his eye, and departmental politics heat up, Bosch will pursue justice at all costs.
Green Frontier (Netflix)
Synopsis: Deep in the Amazon, on the border of Brazil and Colombia, a series of bizarre deaths are investigated by a young female detective, Helena, and her partner, an indigenous policeman named Reynaldo. It becomes clear that the murders are not the biggest mystery within this jungle when the corpse of a particular young woman has no signs of aging. Simultaneously, we follow the story of Yua, and Ushe, two natives who everyone calls "the eternals", and their battle against Joseph, a foreigner who believes the indigenous population is harboring an incredible secret. The stories and characters will collide to unravel a mystery that can change their lives, and the whole of mankind.
Bordertown (Netflix)
Synopsis: Detective Inspector Kari Sorjonen is one of the most respected officers at the National Bureau of Investigation in Finland. When his wife barely survives brain cancer, Sorjonen decides to take his family to an idyllic small town near the border of Russia, to live a quiet peaceful life. But how peaceful is life on the border between two worlds?
The Sinner (Netflix)
Synopsis: The Sinner follows a young mother (Jessica Biel) who, when on a day trip with her husband (Christopher Abbott) and son, commits a startling act of violence and, to her horror, has no idea why. The event launches an inverted and utterly surprising crime thriller whose driving force is not the "who" or the "what"—but the "why." When an investigator (Bill Pullman) finds himself obsessed with uncovering the woman's buried motive, together they travel a harrowing journey into the depths of her psyche and the violent secrets hidden in her past.