Alexandra Daddario is definitely a brilliant performer as well as a gorgeous actress. The American actress started her career in Hollywood early with the role of Laurie Lewis in All My Children. She has garnered a massive following because of her continuous brilliant projects. Now, she is starring in AMC's Mayfair Witches which is based on Anne Rice's popular book series. So, if you also like Alexandra Daddario here are the best movies and shows she starred in.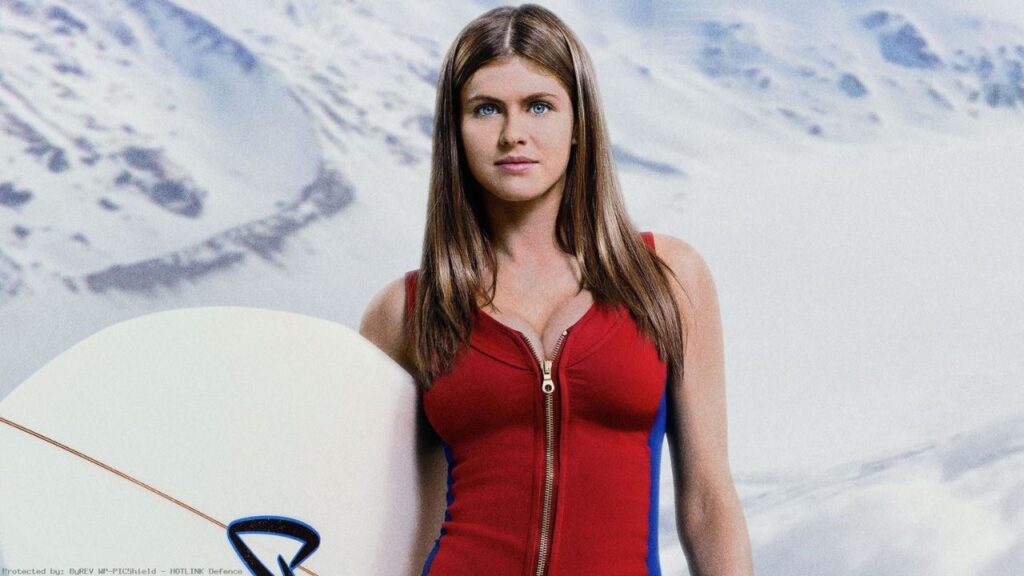 Synopsis: Baywatch follows devoted lifeguard Mitch Buchannon (Dwyane Johnson) as he butts heads with a brash new recruit (Zac Efron). Together, they uncover a local criminal plot that threatens the future of the Bay.
We Summon the Darkness (Plex TV)
Synopsis: Three best friends cross paths with sadistic killers after travelling to a secluded country home for a party after a heavy metal concert. In the hot summer of 1988, against the backdrop of mass hysteria over satanic ritualistic homicides, the leather-clad metalhead, Alexis, and her best friends, Val and Beverly, embark on a road trip to a heavy-metal concert. But, there, a chance encounter with a trio of young hard rockers will pave the way for seduction, deceit, and murder, as nothing is what it appears to be. Now, blood stains the walls of Alexis' secluded mansion in the woods. Who shall live, and who shall die after summoning the darkness?
Synopsis: After the infamous San Andreas Fault finally gives, triggering a massive magnitude 9 earthquake in California, a search and rescue helicopter pilot (Dwayne Johnson) and his estranged wife make their way together from Los Angeles to San Francisco to save their only daughter. But their treacherous journey north is only the beginning. And when they think the worst may be over…it's just getting started. Dwayne "The Rock" Johnson (Hercules, Fast and Furious 7) headlines this 3D disaster epic from the director of Journey 2: The Mysterious Island that also features True Detective's Alexandra Daddario, Entourage's Carla Gugino, Forever's Ioan Gruffudd, The Good Wife's Archie Panjabi and Oscar ® nominee Paul Giamatti (Sideways)
Lost Girls and Love Hotels (Hulu)
Synopsis: An intoxicating exploration of contemporary Tokyo's duality, LOST GIRLS & LOVE HOTELS stars Alexandra Daddario (TV's "True Detective", San Andreas), Takehiro Hira (The Fighter Pilot, The Floating Castle) and Carice Van Houten (TV's "Game of Thrones", Valkyrie). Based on screenwriter Catherine Hanrahan's book of the same name, and directed by William Olsson, the film is a provocative journey inviting you to get lost within the darkest corridors of Japan in hopes of experiencing fleeting moments of beauty. We follow the passionate tale of love and lust between a haunted American English teacher Margaret (Daddario) and a dashing Yakuza named Kazu (Takehiro Hira) as their affair tears them apart and reshapes them across Tokyo's landscape of dive bars, alleyways and three-hour love hotels.
Percy Jackson and the Lightning Thief (Synopsis): Brought to a special camp for gods-in-training, 17-year-old boarding school drop-out Percy Jackson, upon discovering that he's Poseidon's half-human son, embarks on a cross-country trip. Together with a satyr/protector and Athena's daughter, Jackson sought to save his kidnapped mother, retrieve Zeus' stolen lightning bolt and prevent a deadly war between the gods.
---
Also Read: Shows Like 'Mayfair Witches' To Watch If You Like the Series
---
Mayfair Witches (AMC+)
Synopsis: Based on Anne Rice's Lives of the Mayfair Witches, Mayfair Witches is an exploration of female power and the mortal implications of our decisions. Mayfair Witches focuses on an intuitive young neurosurgeon (Alexandra Daddario) who discovers that she is the unlikely heir to a family of witches. As she grapples with her newfound powers, she must contend with a sinister presence that has haunted her family for generations.
We Have Always Lived in the Castle (Peacock & Prime Video)
Synopsis: Two sisters (Alexandra Daddario and Taissa Farmiga) live secluded in a large manor and care for their deranged uncle (Crispin Glover). The rest of their family died five years before, under suspicious circumstances. When a cousin (Sebastian Stan) arrives for a visit, family secrets and scandals unravel. Based on the beloved Shirley Jackson novel.
---
Also Read: Shows Like 'White Collar' To Watch If You Miss the Series
---
Synopsis: White Collar is about the unlikely partnership between a con artist and an FBI agent who have been playing cat and mouse for years. Neal Caffrey (Matt Bomer), a charming criminal mastermind, is finally caught by his nemesis, FBI Agent Peter Burke (Tim DeKay). When Neal escapes from a maximum-security prison to find his long-lost love, Peter nabs him once again. Rather than returning to jail, Neal suggests an alternate plan: he'll provide his criminal expertise to assist the Federal Agents in catching other elusive criminals. Initially wary, Peter quickly finds that Neal provides insight and intuition that can't be found on the right side of the law.
---
Also Read: Shows Like 'True Detective' To Watch While Waiting For Season 4
---
True Detective (HBO Max)
Synopsis: Touch darkness and darkness touches you. From creator/executive producer Nic Pizzolato comes this searing crime drama series that follows troubled cops and the intense investigations that drive them to the edge. Each season features a star-studded new cast involved in cases that will have you on the edge of your seat. In Season 1, it was Matthew McConaughey and Woody Harrelson as two polar opposite cops on the hunt for a serial killer in Louisiana. In Season 2, a bizarre murder case brings together three law-enforcement officers (Colin Farrell, Rachel McAdams, Taylor Kitsch) and a career criminal (Vince Vaughn). Season 3 of the hit series stars Mahershala Ali as a retired detective who has been tormented for 35 years by a case involving the disappearance of a 12-year-old boy and his 10-year-old sister.
---
Also Read: Shows Like 'The White Lotus' To Watch After Season 2
---
The White Lotus (HBO Max)
Synopsis: A social satire set at an exclusive tropical resort, this limited series follows the exploits of various guests and employees over the span of one highly transformative week. Checking into the luxurious White Lotus are a group of vacationers who run roughshod over the resort manager and head of spa services. As darker dynamics emerge with each passing day, this biting six-episode limited series gradually reveals the complex truths of the seemingly picture-perfect travelers, cheerful hotel employees, and idyllic locale itself.​ The stellar cast features Murray Bartlett, Connie Britton, Jennifer Coolidge, Alexandra Daddario, Fred Hechinger, Jake Lacy, Brittany O'Grady, Natasha Rothwell, Sydney Sweeney, and Steve Zahn. ​