Anne Rice's Mayfair Witches is finally here for all of us to watch. The much-awaited gothic supernatural series stars the wonderful Alexandra Daddario in the lead role of Rowan. Based on Anne Rice's popular fantasy book trilogy of the same name the AMC series follows Rowan Fielding, a neurosurgeon as he finds out about her family of Witches and learns that she is one of them. When Rowan gets angry she has the ability to kill people with her mind. Mayfair Witches has been renewed for a second season so while you wait for new episodes to come out here are some shows you could watch until then.
---
Also Read: Shows Like 'A Discovery of Witches' To Watch If You Miss the Series
---
A Discovery of Witches (The Roku Channel)
Synopsis: Adapted from Deborah Harkness' best selling novel A Discovery of Witches is a contemporary love story set in our world, but one which humans share with the declining species of witches, vampires and daemons – creatures existing and working amongst us, but hiding, unknown to most humans, in plain sight. Teresa Palmer plays brilliant academic and historian Diana Bishop, a reluctant witch denying her heritage. The discovery of a manuscript in Oxford's Bodleian Library throws her into the heart of a dangerous mystery and into the path of enigmatic geneticist Matthew Clairmont played by Matthew Goode, an ancient vampire hiding dark family secrets. As Diana and Matthew embark on a journey to understand the significance of the mysterious manuscript and as their relationship develops and their heritage comes in to play, events threaten to unravel the fragile peace that has long existed between humans, witches, vampires and daemons.
---
Also Read: Shows Like 'Interview With the Vampire' To Watch While Waiting For Season 2
---
Interview With the Vampire (AMC+)
Synopsis: In the year 2022, the vampire Louis de Pointe du Lac tells the story of his life to renown journalist Daniel Molloy. Beginning in 1910 New Orleans, Louis forms a vampire family with the vampire Lestat, complete with teen fledgling, Claudia.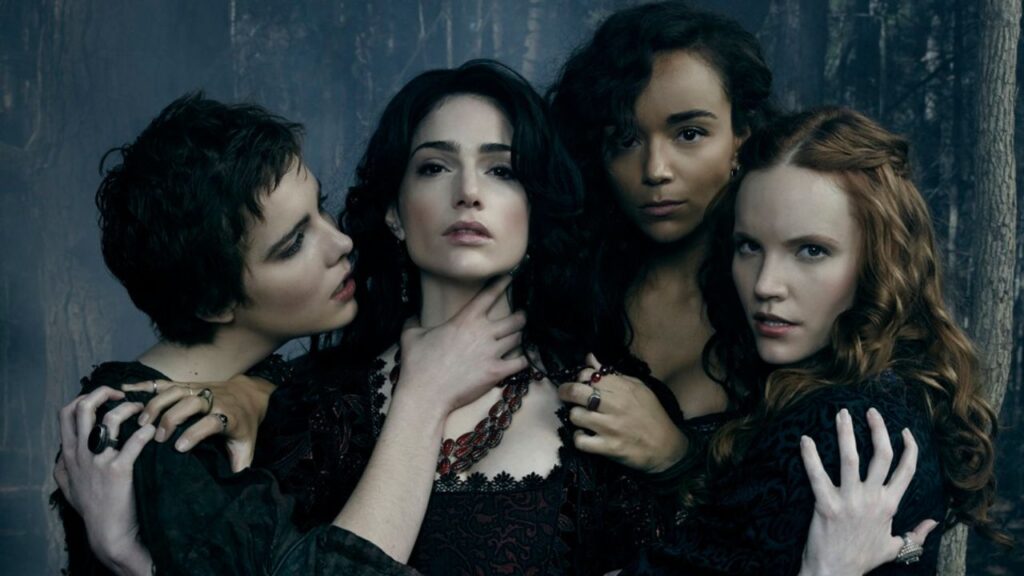 Synopsis: As the wife of a wealthy but ailing town elder, Mary Sibley (Janet Montgomery) holds the distinction of being the most powerful sorceress in 1692 Salem. Ruthless yet vulnerable, Mary leans on her ageless accomplice Tituba (Ashley Madekwe) to help advance her supernatural agenda – but Mary's world is turned upside down when John Alden (Shane West), her long lost love, finally returns home from years at war and starts asking questions that threaten to expose Mary's darkest secrets.
---
Also Read: Shows Like 'Penny Dreadful' To Watch If You Miss the Series
---
Penny Dreadful (Showtime & Paramount+)
Synopsis: An erotically-charged, profoundly unsettling new saga, PENNY DREADFUL completely reinvents literature's most iconic and terrifying characters. Dorian Gray, Victor Frankenstein and timeless figures from Dracula join a core of original characters in a dark and brutal quest to save a soul — even as they grapple with their own monstrous temptations.
---
Also Read: Fantasy Shows Like 'Shadow and Bone' To Watch While Waiting For Season 2
---
Shadow and Bone (Netflix)
Synopsis: Based on Leigh Bardugo's worldwide bestselling Grishaverse novels, Shadow and Bone finds us in a war-torn world where lowly soldier and orphan Alina Starkov has just unleashed an extraordinary power that could be the key to setting her country free. With the monstrous threat of the Shadow Fold looming, Alina is torn from everything she knows to train as part of an elite army of magical soldiers known as Grisha. But as she struggles to hone her power, she finds that allies and enemies can be one and the same and that nothing in this lavish world is what it seems. There are dangerous forces at play, including a crew of charismatic criminals, and it will take more than magic to survive. Shadow and Bone is a Netflix production from 21 Laps Entertainment, starring Jessie Mei Li (Alina Starkov), Archie Renaux (Malyen Oretsev), Freddy Carter (Kaz Brekker), Amita Suman (Inej), Kit Young (Jesper Fahey), and Ben Barnes (General Kirigan).
---
Also Read: Supernatural Shows Like 'Chilling Adventures of Sabrina' To Watch If You Miss the Series
---
Chilling Adventures of Sabrina (Netflix)
Synopsis: In the town of Greendale, where it always feels like Halloween, sixteen-year-old Sabrina Spellman faces a daunting decision. Born half-witch, half-mortal, she must choose between two worlds: the supernatural world of her family and the human world of her friends – while standing against the evil forces that threaten her, her family, and the daylight world humans inhabit. Raised by stern Aunt Zelda and maternal Aunt Hilda, Sabrina finds comfort in best friends Harvey, Roz, and Theo, as well as Ambrose, her warlock cousin, and partner in crime. Proving herself a powerful adversary as she hones her sorcery skills at the Academy of Unseen Arts, Sabrina soon learns the Dark Lord's true intentions and ultimate plan for her future. Tonally in the vein of Rosemary's Baby and The Exorcist, this dark coming-of-age story, based on the Archie Comics graphic novel, is a fiendishly enticing reimagining of the beloved comic book characters.
Witches of East End (Hulu)
Synopsis: Inspired by Melissa de la Cruz's New York Times best-selling novel, "Witches of East End" centers on the mysterious Beauchamp family: free-spirited artist Joanna and her two grown daughters, wild-child bartender Freya and shy librarian Ingrid, both of whom are unaware that they are gifted (and cursed) with a magical birthright.
---
Also Read: Fantasy Shows Like 'The Magicians' To Watch If You Miss The Series
---
The Magicians (Netflix)
Synopsis: Based upon Lev Grossman's best-selling books, The Magicians centers around Brakebills University, a secret institution specializing in magic. There, amidst an unorthodox education of spellcasting, a group of twenty-something friends soon discover that a magical fantasy world they read about as children is all too real— and poses grave danger to humanity.
---
Also Read: Shows Like 'Legacies' To Watch After Season 4
---
Legacies (Netflix)
Synopsis: The iconic heroes and villains of The Vampire Diaries and The Originals left a legacy of love and family in their wake, which continues in LEGACIES, a drama that tells the story of the next generation of supernatural beings at The Salvatore School for the Young and Gifted. Will these young witches, vampires and werewolves become the heroes they want to be — or the villains they were born to be?
---
Also Read: Shows Like 'Dracula' To Watch If You Miss the Series
---
Dracula (Netflix)
Synopsis: From the makers of Sherlock, a brand new series inspired by Bram Stoker's classic novel. In Transylvania in 1897, the blood-drinking Count is drawing his plans against Victorian London. And be warned, the dead travel fast.