Wilderness is a British-American thriller series created by Marnie Dickens and is based on the book of the same name by B.E. Jones. The Prime Video series stars two brilliant actors Jenna Coleman and Oliver Jackson-Cohen in the lead roles of Liv and Will and it follows the story of Liv as she finds out that her perfect marriage was not as perfect as she thought because her husband was cheating on her. This breaks her but after a lot of pleading from her husband, she agrees to go on a trip with him so that they could try to repair their marriage but Liv has something else in her mind. So, if you loved Wilderness, here are some similar shows you could watch next.
You (Netflix)
Synopsis: Based on Caroline Kepnes' best-selling novel of the same name, "What would you do for love?" When a brilliant bookstore manager crosses paths with an aspiring writer, his answer becomes clear: anything. Using the internet and social media as his tools to gather the most intimate of details and get close to her, a charming and awkward crush quickly becomes an obsession as he quietly and strategically removes every obstacle – and person – in his way.
Synopsis: Fatal Attraction is a deep-dive reimagining of the classic psychosexual thriller and '80s cultural touchstone. The new series will explore fatal attraction and the timeless themes of marriage and infidelity through the lens of modern attitudes toward strong women, personality disorders and coercive control. The series stars Joshua Jackson as Dan Gallagher, Lizzy Caplan as Alex Forrest, Amanda Peet as Beth Gallagher, Alyssa Jirrels as Ellen Gallagher, Toby Huss as Mike Gerard, Reno Wilson as Detective Earl Booker and Brian Goodman as Arthur Tomlinson.
Fatal Seduction (Netflix)
Synopsis: A married woman spends a fateful weekend away from home that ignites passion but ends in tragedy, causing her to question the truth about those close to her.
Tell Me Lies (Hulu)
Synopsis: "Tell Me Lies" follows a tumultuous but intoxicating relationship as it unfolds over the course of 8 years. When Lucy Albright (Grace Van Patten) and Stephen DeMarco (Jackson White) meet at college, they are at that formative age when seemingly mundane choices lead the way to irrevocable consequences. Although their relationship begins like any typical campus romance, they quickly fall into an addictive entanglement that will permanently alter not only their lives, but the lives of everyone around them.
Synopsis: Adaptation of Jean Hanff Korelitz's book You Should Have Known. The Undoing centers on Grace Sachs (Kidman), who is living the only life she ever wanted for herself. She's a successful therapist on the brink of publishing her first book, has a devoted husband and young son who attends an elite private school in New York City. Weeks before her book is published, a chasm opens in her life: a violent death, a missing husband, and, in the place of a man Grace thought she knew, only a chain of terrible revelations. Left behind in the wake of a spreading and very public disaster, and horrified by the ways in which she has failed to heed her own advice, Grace must dismantle one life and create another for her child and herself.
Behind Her Eyes (Netflix)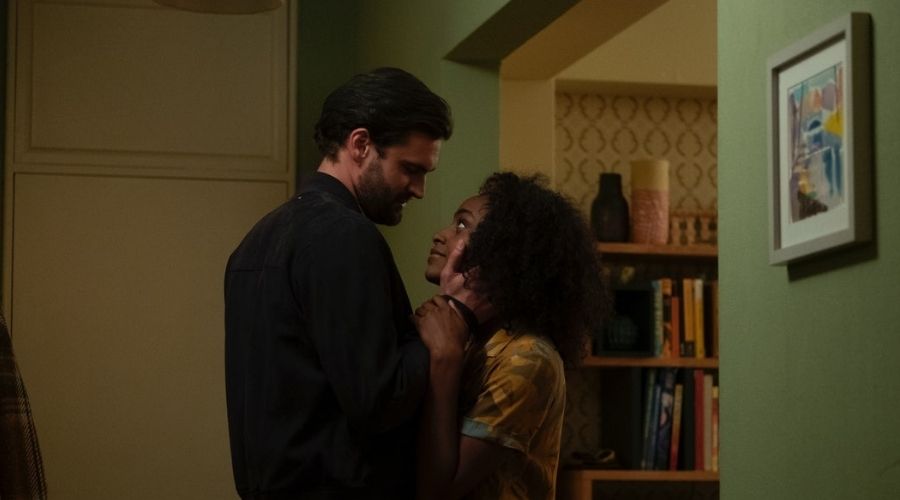 Synopsis: Simona Brown plays Louise, a single mother who has an affair with her psychiatrist boss David (Tom Bateman). Her life takes a strange turn when she later befriends his wife Adele (Eve Hewson), and she finds herself caught in a web of secrets and lies where nothing is what it seems. Also starring Robert Aramayo, Behind Her Eyes is produced by Left Bank Pictures (The Crown) and written by Steve Lightfoot and Angela LaManna, based on the best-selling novel by Sarah Pinborough.
Anatomy of a Scandal (Netflix)
Synopsis: A psychological thriller and gripping courtroom drama, the series infiltrates Britain's elite through personal and political scandal, where the truth lies between justice and privilege. James and Sophie Whitehouse live in a blissful and rarified world. A Minister in Parliament, a loving family at home, James' trajectory appears without limits. Until a scandalous secret suddenly comes to light. Barrister Kate Woodcroft has a trajectory of her own, and her prosecution threatens to tear into Westminster, the Whitehouse marriage, and her own personal esteem.
Synopsis: Based on Liane Moriarty's bestselling book, this subversive, darkly comedic drama series tells the tale of three mothers of first-graders whose seemingly perfect lives unravel to the point of murder. Reese Witherspoon, Nicole Kidman and Shailene Woodley head up a stellar cast in this Monterey-set drama that begins with a suspicious homicide at an elementary-school fundraiser. Though the victim and the perpetrator initially remain a mystery, it appears that the murder was spawned by rivalries and secrets surrounding the trio of young moms. Alexander Skarsgard, Laura Dern, Adam Scott, Zoe Kravitz, James Tupper and Jeffrey Nordling co-star.
Obsession (Netflix)
Synopsis: An intense affair between a talented surgeon and his son's fiancée spirals into a dangerous, all-consuming obsession, with devastating consequences for the whole family. A tense, erotic thriller starring Richard Armitage, Charlie Murphy, Indira Varma and Rish Shah.
Synopsis: This riveting drama, written by David E. Kelley and directed by Lesli Linka Glatter, tells the true story of Candy and Pat Montgomery and Betty and Allan Gore – two churchgoing couples enjoying their smalltown Texas life… until an extramarital affair leads somebody to pick up an axe.