The Twilight Zone is one of the most brilliant and trippy series that has ever been made, the series is a virtual and psychological trip into the unknown and very very twisted places and minds. The Twilight Zone premiered over six decades ago and it still holds up very well as far as the stories and the visual experience go and most of the credit for that goes to Rod Serling, the creator of the series. So, if you miss The Twilight Zone here are some brilliant shows that you should.
---
Also Read: Best Shows Like 'Black Mirror' To Watch While Waiting For Season 6
---
Black Mirror (Netflix)
Synopsis: Black Mirror is an anthology series that taps into our collective unease with the modern world, with each stand-alone episode a sharp, suspenseful tale exploring themes of contemporary techno-paranoia. Without questioning it, technology has transformed all aspects of our lives; in every home; on every desk; in every palm – a plasma screen; a monitor; a Smartphone – a Black Mirror reflecting our 21st Century existence back at us. The series is created and written by Charlie Brooker, and executive produced by Brooker and Annabel Jones.
Tales from the Crypt
Synopsis: Cadaverous scream legend the Crypt Keeper hosts these forays of fright and fun based on the classic E.C. Comics tales from back in the day. So shamble up to the bar and pick your poison. Will it be an insane Santa on a personal slay ride? Honeymooners out to fulfill the "til death do we part" vow ASAP. These and other terror-ific tales await in the first season of dead-on humor and horror!
Synopsis: Based on various writings from author Philip K. Dick, Philip K. Dick's Electric Dreams will consist of ten standalone episodes, each set in a different and unique world–some which lay in the far reaches of the universe and time, and others which are much, much closer to home. While the stories may be worlds apart, central to each is the poignant and warm exploration of the importance and significance of humanity. From five to 5000 years in the future, each compelling tale will both illustrate Philip K. Dick's prophetic vision and celebrate the enduring appeal of the prized sci-fi novelist's work.
---
Also Read: Mind-Bending Shows Like 'Love, Death & Robots' If You Already Binged Season 3
---
Love, Death + Robots (Netflix)
Synopsis: Emmy-winning animated anthology Love, Death + Robots executive produced by Tim Miller (Deadpool, Terminator: Dark Fate) and David Fincher (MINDHUNTER, Mank). Terror, imagination and beauty combine in new episodes which stretch from uncovering an ancient evil to a comedic apocalypse, telling startling short stories of fantasy, horror and science-fiction with trademark wit and visual invention.
Synopsis: From acclaimed creators Kate Purdy and Raphael Bob-Waksberg (BoJack Horseman) comes the Amazon Original Undone, a groundbreaking and genre bending animated series about a young woman's complex journey to unlock her past and solve the mystery of her father's death. Alma Winograd-Diaz (Rosa Salazar, Alita: Battle Angel) takes her mundane life one day at a time until a near fatal accident induces visions of her late-father, Jacob (Bob Odenkirk). Through these persistent visions he urges her to tap into a mysterious ability that allows her to travel through space and time with the hopes of preventing his untimely death. This quest challenges Alma's relationships and brings into question her mental wellbeing with those closest to her.
---
Also Read: Best Shows Like 'Twin Peaks' To Watch If You Miss the Series
---
Synopsis: "She's dead. Wrapped in plastic." Date: Friday, February 24, 1989: Homecoming Queen Laura Palmer is found dead, washed up on a riverbank, and wrapped in plastic sheeting. FBI Special Agent Dale Cooper is called in to investigate the murder of this young woman in the small, Northwestern town of Twin Peaks. What he doesn't know is that in Twin Peaks, no one is innocent.
---
Also Read: Shows Like 'Room 104' To Watch If You Like the Series
---
Room 104 (HBO Max)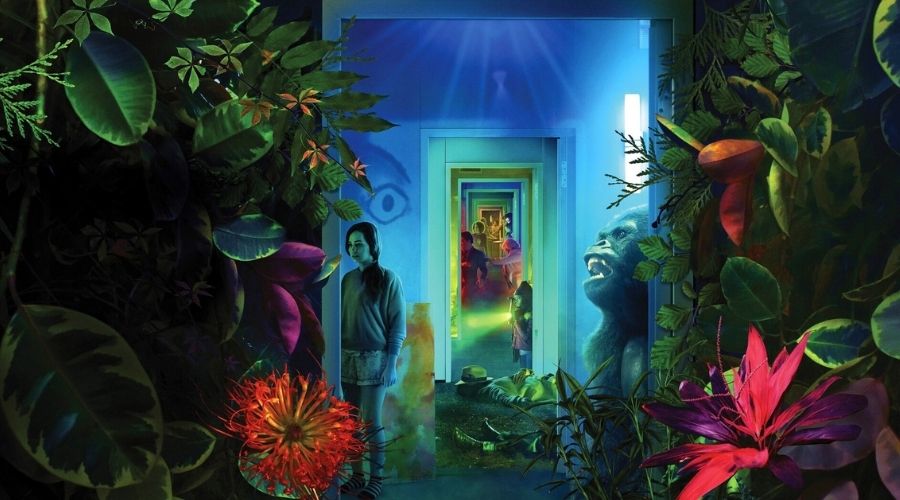 Synopsis: Tap your inner voyeur and prepare to see something totally unexpected in this electrifying HBO anthology series–created by Jay and Mark Duplass ('Animals.,' 'Togetherness')–that peeks inside a room at an average American corporate motel, exploring the stories of the characters who pass through it on any given night.
---
Also Read: Best Shows Like Marvel's 'Legion' If You Miss The Series
---
Legion (Hulu)
Synopsis: Legion follows the story of "David Haller," a man who believed he was schizophrenic but discovered he might be the most powerful mutant in the world. With help from a team of specialists, David harnessed his unique abilities and learned he'd been haunted by a malicious parasite. Now, David is all that stands in the way of "Amahl Farouk" from attaining infinite and world-ending power.
Synopsis: Executive producers Jordan Peele and Simon Kinberg's modern re-imagining of the classic TV series continues the legacy of socially conscious storytelling. The series' second season uses introspection and self-exploration to usher viewers into a dimension filled with endless possibilities.
---
Also Read: Best Mind-Bending Shows Like 'Dark' To Watch If You Miss the Series
---
Dark (Netflix)
Synopsis: Dark is set in a German town in present day where the disappearance of two young children exposes the double lives and fractured relationships among four families. In ten, hour-long episodes, the story takes on a supernatural twist that ties back to the same town in 1986. The series is created by award-winning showrunners Baran bo Odar and Jantje Friese, who previously received critical acclaim for their movie Who am I (2014).
Synopsis: Inside No. 9 is a black comedy series written by and starring Reece Shearsmith and Steve Pemberton (The League of Gentlemen, Psychoville). An anthology of tales of the genuinely unexpected, each 30-minute episode tells a stand-alone story: from a murder on a French train to a burglary in a modernist mansion; from a séance in a Victorian villa to a crisis in a volunteer call centre.
---
Also Read: Best Shows Like 'The OA' to Watch If You Miss the Series
---
The OA (Netflix)
Synopsis: From Brit Marling and Zal Batmanglij, the visionary filmmakers behind Sound of My Voice and The East, comes a powerful, mind-bending tale about identity, human connection and the borders between life and death. The Netflix original series The OA is an odyssey in eight chapters produced in partnership with Plan B Entertainment, Netflix and Anonymous Content. The groundbreaking series offers audiences a singular experience that upends notions about what long-format stories can be.