From is a brilliant horror series that will surely give you a nightmare or two. Created by Josh Griffin, the MGM+ (formerly known as Epix) series is set in a mysterious which won't let its residents leave. From has an amazing ensemble cast led by Harold Perrineau and it also includes Catalina Sandino Moreno as Tabitha Matthews, Eion Bailey as Jim Matthews, Hannah Cheramy as Julie Matthews, and many more. From was recently renewed for a third season and while you wait for the next batch of episodes to come out here are similar shows that could keep you busy.
Castle Rock (Hulu)
Synopsis: A psychological-horror series set in the Stephen King multiverse, Castle Rock is an original story that combines the mythological scale and intimate character storytelling of King's best-loved works, weaving an epic saga of darkness and light, played out on a few square miles of Maine woodland.
Yellowjackets (Paramount+ & The Roku Channel)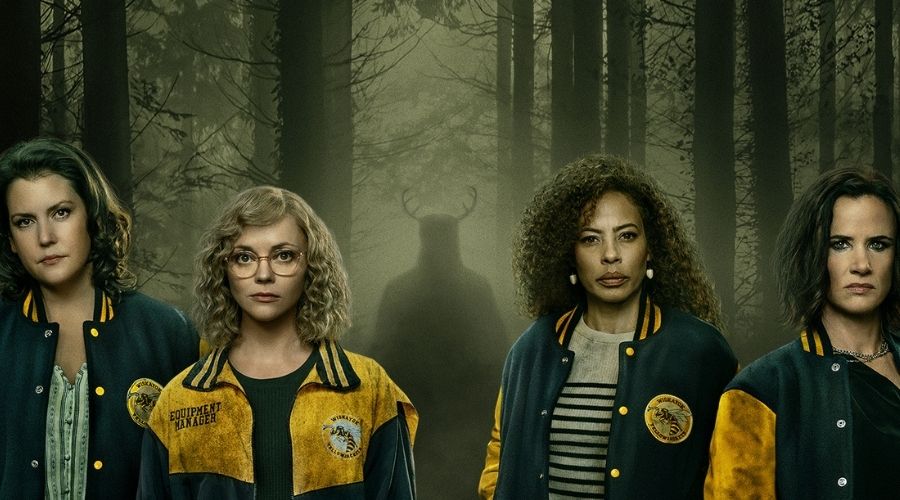 Synopsis: Part survival epic, part psychological horror and part coming-of-age drama, this is the story of a team of wildly talented high school girls' soccer players who survive a plane crash deep in the remote northern wilderness. The series chronicles their descent from a complicated but thriving team to savage clans, while also tracking the lives they've attempted to piece back together 25 years later. What began in the wilderness is far from over. Starring Melanie Lynskey, Tawny Cypress, with Christina Ricci and Juliette Lewis.
The Society (Netflix)
Synopsis: The Society follows a group of teenagers who are mysteriously transported to a facsimile of their wealthy New England town, left without any trace of their parents. As they struggle to figure out what has happened to them and how to get home, they must establish order and form alliances if they want to survive. The series is a modern take on Lord of the Flies.
Hemlock Grove (Tubi)
Synopsis: From executive producer Eli Roth and based on Brian McGreevy's novel of the same name, Hemlock Grove is a riveting one-hour murder mystery that revolves around the residents of a former Pennsylvania steel town. When 17- year-old Brooke Bluebell is brutally murdered, any of Hemlock's peculiar inhabitants – or killer creatures – could be suspects. Through the investigation, the town's seamier side is exposed, revealing nothing is what it seems. Beautiful, terrifying and graphic, Hemlock Grove is unlike anything else in its genre.
Carnivàle (Max)
Synopsis: 1934. The Dustbowl. In a time of sandstorms, plagues, drought and pestilence, the final conflict between good and evil is about to begin. This epic HBO series focuses on the battle as it plays out against a pair of unusual backdrops: a traveling carnival working the American Dustbowl circuit, and an evangelical ministry in California.
Invasion (Apple TV+)
Synopsis: From Academy Award-nominated and two-time Emmy Award-nominated producer Simon Kinberg and David Weil, "Invasion" is a sweeping, character-driven science fiction drama series that follows an alien invasion through different perspectives around the world. Set across multiple continents, "Invasion" stars Shamier Anderson, Golshifteh Farahani, Sam Neill, Firas Nassar and Shioli Kutsuna.
Synopsis: "She's dead. Wrapped in plastic." Date: Friday, February 24, 1989: Homecoming Queen Laura Palmer is found dead, washed up on a riverbank, and wrapped in plastic sheeting. FBI Special Agent Dale Cooper is called in to investigate the murder of this young woman in the small, Northwestern town of Twin Peaks. What he doesn't know is that in Twin Peaks, no one is innocent.
Synopsis: Lost explores the destiny of the passengers of Oceanic Flight 815 who crashed on an island. The survivors not only have to rely on each other, but also cope with the secrets the mysterious island holds. Some become friends, others enemies and some stories remain to be told. There's much more than meets the eye, as it becomes apparent that everyone is somehow connected and that everyone has a purpose.
Synopsis: Outer Range centers on Royal Abbott (Josh Brolin), a rancher fighting for his land and family, who discovers an unfathomable mystery at the edge of Wyoming's wilderness. A thrilling fable with hints of wry humor and supernatural mystery, Outer Range examines how we grapple with the unknown. At the onset of the series, the Abbotts are coping with the disappearance of daughter-in-law Rebecca. They are pushed further to the brink when the Tillersons (the gaudy owners of the neighboring profit-driven ranch) make a play for their land. An untimely death in the community sets off a chain of tension-filled events, and seemingly small-town, soil-bound troubles come to a head with the arrival of a mysterious black void in the Abbotts' west pasture. Wild revelations unfold as Royal fights to protect his family; through his eyes, we begin to see how time contains secrets held in the past and unsettling mysteries foreshadowed. Led by Oscar-nominee Josh Brolin (Milk), Outer Range features an ensemble cast of award-winning and breakout talent, including Imogen Poots (I Know This Much is True), Lili Taylor (Perry Mason), Tamara Podemski (Four Sheets to the Wind), Lewis Pullman (Top Gun: Maverick), Tom Pelphrey (Ozark), Noah Reid (Schitt's Creek), Shaun Sipos (Krypton), Isabel Arraiza (The Little Things), Olive Abercrombie (The Haunting of Hill House), and Will Patton (Yellowstone).
Chapelwaite (MGM+)
Synopsis: Set in the 1850s, the series follows Captain Charles Boone, who relocates his family of three children to his ancestral home in the small, seemingly sleepy town of Preacher's Corners, Maine after his wife dies at sea.