Party Down is one of the best and most hilarious series about actors and how they survive the struggles in their journey of making it in Hollywood. The brilliant series ran for two perfectly made seasons and then, unfortunately, it was canceled in 2010, and then the brilliant series came back for its much-awaited third season which recently concluded its banger of a finale. So, while you hope for Season 4 to be greenlit here are some shows you could watch until then.
Everyone is Doing Great (Hulu)
Synopsis: Seth and Jeremy enjoyed the success of 'Eternal,' a hit television vampire drama. Five years after their show has ended, they lean on each other as they awkwardly navigate the perils of life and love in a late coming-of-age.
---
Also Read: Shows Like 'Curb Your Enthusiasm' To Watch While Waiting For the New Season
---
Curb Your Enthusiasm (HBO Max)
Synopsis: Larry David has it all–so why does he seem intent on making a mess of his life? Larry David stars as…Larry David in this acclaimed verite-style comedy series that follows him at home, at work and around town, as he lands himself in various predicaments with both fictional and real-life personalities.
---
Also Read: Shows Like 'Broad City' To Watch If You Miss the Series
---
Broad City (Hulu)
Synopsis: Hack Into Broad City is an exclusive web series that eavesdrops on the candid, often-outrageous video chat sessions between Abbi and Ilana, the two best friends at the heart of Broad City.
---
Also Read: Shows Like 'Entourage' To Watch If You Miss the Series
---
Entourage (HBO Max)
Synopsis: Your best friend's star is rising in Hollywood, and there's only one thing to do: join his entourage. Meet Eric, Turtle and Johnny Drama: three guys dedicated to helping their film-star pal Vince Chase navigate Tinseltown. HBO presents this hit comedy series starring Adrian Grenier, Kevin Connolly, Kevin Dillon, Jerry Ferrara and Jeremy Piven.
---
Also Read: Shows Like 'Love' To Watch If You Miss the Series
---
Love (Netflix)
Synopsis: Executive Produced by Judd Apatow for Netflix, LOVE follows Gus (Paul Rust) and Mickey (Gillian Jacobs) as they navigate the exhilarations and humiliations of intimacy, commitment, and other things they were hoping to avoid. This 1-hour dramedy series is produced by Apatow Productions and Legendary Television.
---
Also Read: Shows Like 'Reboot' To Watch If You Like the Hulu Series
---
Reboot (Hulu)
Synopsis: Hulu reboots an early 2000's family sitcom, forcing its dysfunctional cast back together. Now they must deal with their unresolved issues in today's fast-changing world. The series stars Keegan-Michael Key, Judy Greer, Johnny Knoxville, Paul Reiser, Rachel Bloom, Calum Worthy and Krista Marie Yu.
Synopsis: Matt LeBlanc stars as Matt LeBlanc in Episodes, the hilarious comedy series about remaking a comedy series. When husband and wife writing team Sean and Beverly set out to reproduce their British TV hit for an American network, all of their worst fears come true as Hollywood lives up to its reputation for absurdity. Not only does the network cast Matt LeBlanc in the starring role, but Matt takes the lead in deviously twisting their beloved series into a terrible cliché, while testing the couple's marriage with diversions and temptations.
---
Also Read: Shows Like 'It's Always Sunny in Philadelphia' To Watch While Waiting For the Next Season
---
It's Always Sunny in Philadelphia (Hulu)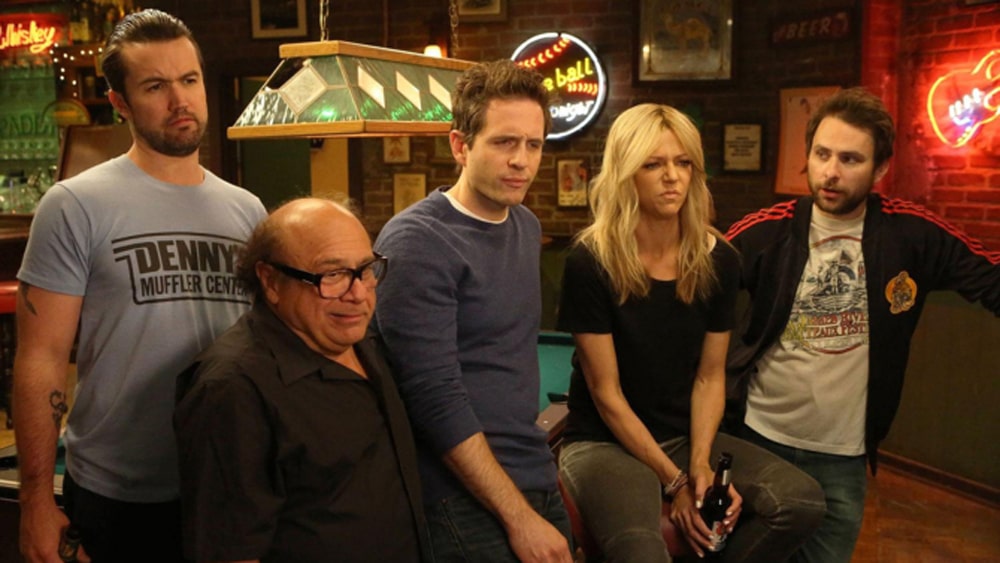 Synopsis: It's Always Sunny in Philadelphia features Mac, Dennis, Charlie, Sweet Dee and Frank, five ne'er-do-wells who own and operate Paddy's Pub in Philadelphia. Their constant scheming usually lands them in a world of hurt, yet they never seem to learn from their mistakes. As they say, some things never change. So prepare for more depraved schemes, half-baked arguments, and absurdly underhanded plots to subvert one another.
Unscripted (Not Streaming)
Synopsis: Executive-produced by Steven Soderbergh and George Clooney (Ocean's 11, Ocean's 12), UNSCRIPTED is an innovative half-hour comedy series that fuses reality and fiction to chronicle the lives of three struggling young actors as they navigate the rough waters of show business. Starring Krista Allen, Bryan Greenberg and Jennifer Hall, essentially playing themselves, and co-starring screen veteran Frank Langella as Goddard Fulton, a noted actor who leads them in an acting workshop at Los Angeles' fabled Tamarind Theater, UNSCRIPTED offers a revealing look at the sometimes raucous, often disillusioning world of the fledgling actor.
How to Make It in America (HBO Max)
Synopsis: In the bohemian subculture of downtown NYC, two friends plot to achieve the American Dream…on their own terms. Bryan Greenberg and Victor Rasuk star in this HBO comedy series that focuses on aspiring designer Ben and his free-spirited best friend Cam–a would-be future mogul committed to getting Ben back in the game after a bad breakup.