Steve Martin, Martin Short, and Selena Gomez star in Hulu's original crime comedy series Only Murders in the Building, and with that cast, it is almost impossible that you get a bad show, because Only Murders in the Building is one of the most well-received Hulu series of 2021. The series follows three eccentric strangers who team up to investigate a mysterious murder in their apartment building while discussing their findings over a true-crime podcast.
Only Murders in the building is like one of those old comedy detective crime series that was televised for the masses, but with a new twist and even more twisted humor, So here are the best 15 shows like Only Murders in the Building to watch while waiting for Season 3 which will be premiering on Hulu in some time.
---
Also Read: Shows Like 'Dirk Gently's Holistic Detective Agency' To Watch If You Miss the Series
---
Dirk Gently's Holistic Detective Agency (Hulu)
Synopsis: Welcome to the world of Dirk Gently's Holistic Detective Agency; a trippy mystery that thrusts a reluctant sidekick into the bizarre world of an unconventional detective who believes in the interconnectedness of all things.
---
Also Read: Best Shows Like 'Psych' To Watch If You Miss the Series
---
Synopsis: "PSYCH" is a quick-witted dramedy about a young police consultant Shawn Spencer (James Roday, "The Dukes of Hazzard") who solves crimes with powers of observation so acute that he's convinced Santa Barbara PD detectives into thinking he's psychic. Raised in Santa Barbara by a family of cops, Shawn possesses uncanny powers of observation honed by his police officer father, Henry, who drilled young Shawn to note even the smallest of details from his surroundings as a way of grooming him for his inevitable career in the family business. With the reluctant assistance of his best friend Gus, Shawn uses his skills of observation and charismatic personality to become the detective he was trained to be, opening his own PI agency – Psych – and solving cases for an ever-suspicious, but grudgingly impressed, police force.
---
Also Read: Dark Comedy Shows Like 'Search Party' To Watch If You Miss the Series
---
Search Party (HBO Max)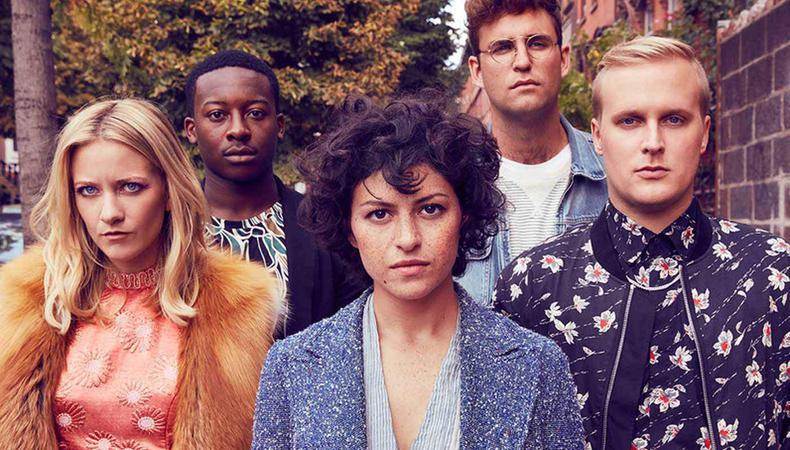 Synopsis: The disappearance of former college acquaintance Chantal leads several 20-somethings to get entangled in the mystery of how she went missing. Leading the search party is Dory, a lifelong doormat who works as a rich housewife's assistant. Dory makes it her personal mission to find Chantal — and she's bringing her friends into the investigation with her. Self-diagnosed narcissist Elliott, who puts his ego aside long enough to agree to help Dory, is particularly good at detective work. Bubbly actress Portia excels at chatting up suspects for information because of her desperate need to be in the spotlight. Sheltered-but-sweet doofus Drew has to grow a spine to help solve the mystery and save his deteriorating relationship with Dory. Dory's ex-boyfriend Julian seeks the truth, regardless of who it hurts, because of his background as a journalist.
Queens of Mystery (Acorn TV)
Synopsis: Queens of Mystery follows a perennially single female detective, Mattie Stone (Olivia Vinall), and her three aunts – the motherly Aunt Beth (Sarah Woodward), the rebellious Aunt Cat (Julie Graham), and the book smart Aunt Jane (Siobhan Redmond) – who are well-known crime writers that help her solve whodunit style murders, as well as set her up on blind dates. In addition to her weekly murder investigations, Mattie is also preoccupied by the fact that her mother Eleanor disappeared without a trace when Mattie was three. The ongoing mystery of Eleanor's disappearance continues to haunt the Stone women.
The No. 1 Ladies Detective Agency (HBO Max)
Synopsis: A young woman from the African nation of Botswana fulfills a lifelong dream by opening her country's first female-owned detective agency in this HBO drama series based on the best-selling novels. Singer Jill Scott stars in this show that chronicles her crusade for justice, one case at a time.
Castle (Hulu)
Synopsis: Rick Castle is one of the world's most successful crime authors. But when his rock star lifestyle isn't enough, this bad boy goes looking for new trouble – and finds it working with smart, beautiful Detective Kate Beckett.Inspired by her professional record and intrigued by her buttoned-up personality, Castle's found the model for his bold new character – whether she likes it or not. Now with the mayor's permission, Castle's on her case and in her way. Kate's initial disdain for Castle turns to grudging respect as he quickly proves that a background in plotting murders can be a valuable asset in catching killers. As they solve a new crime together each week, they're partnership grows – as does their love-hate relationship. These two may not always see eye to eye, but together they might just write a whole new chapter in crime solving.
Bored to Death (HBO Max)
Synopsis: Meet Jonathan Ames: writer, romantic, unlicensed private eye. HBO presents this comedy series that tells the story of this noir-fiction-obsessed writer (playe by Jason Schwartzman) who impulsively lists his gumshoe services on Craigslist…and is surprisingly hired for a variety of amusing cases.
My Life is Murder (Acorn TV)
Synopsis: Lucy Lawless (Xena: Warrior Princess, Parks and Recreation) stars in this contemporary Australian detective drama as retired cop Alexa Crowe. With her old boss (Bernard Curry, Once Upon a Time) regularly asking for her insight on cold cases and a young police data-analyst (Ebony Vagulans) eager to be mentored—whether Alexa wants to or not—Alexa can't seem to stop solving crime.
Synopsis: DI Richard Poole is sent to the paradise island of Saint-Marie in the Caribbean to solve an impossible murder. He hates sun, sea and sand, but no matter – once he's solved the murder he'll be heading back to wonderful, cold, drizzly London. He does so, only to discover his boss back home has conspired to keep him there. He's trapped on an island he hates and people just keep getting murdered.
Synopsis: He's ingenious, he's phobic, he's obsessive-compulsive. Two-time Emmy and Golden Globe-winner Tony Shalhoub is former police detective Adrian Monk. The brilliant Monk is now back fighting crime and his abnormal fears of germs, cars, heights, crowds and virtually everything else known to man.
---
Also Read: Shows Like 'The Flight Attendant' To Watch After Season 2
---
The Flight Attendant (HBO Max)
Synopsis: The Flight Attendant is a story of how an entire life can change in one night. A flight attendant (Kaley Cuoco) wakes up in the wrong hotel, in the wrong bed, with a dead man – and no idea what happened. The dark comedic thriller is based on the novel of the same name by New York Times bestselling author Chris Bohjalian.
Synopsis: Offensive and self-destructive Portland Police Bureau Detective Lieutenant Everett Backstrom and his team of eccentric criminologists investigate crimes including the death of a senator's son, serial arson, the murder of a youth pastor, the murder of a drag queen blogger and the kidnapping of a teen by an online predator. Recurring guest stars include Sarah Chalke as Amy Gazanian, chair of the Civilian Oversight Committee and Backstrom's ex-fiancée, and Robert Forster as Sheriff Blue Backstrom, his estranged father.
---
Also Read: Shows Like 'Veronica Mars' To Watch If You Miss the Series
---
Veronica Mars (Hulu)
Synopsis: Spring breakers are getting murdered in Neptune, thereby decimating the seaside town's lifeblood tourist industry. After Mars Investigations is hired by the family of one of the victims to find their son's killer, Veronica is drawn into an epic eight-episode mystery that pits the enclave's wealthy elites, who would rather put an end to the month-long bacchanalia, against a working class that relies on the cash influx that comes with being the West Coast's answer to Daytona Beach.
Hap and Leonard (Netflix)
Synopsis: Hap and Leonard is a darkly comedic Southern noir chronicling the adventures of two unlikely best friends — Hap Collins and Leonard Pine in 1980s East Texas.
The Afterparty (Apple TV+)
Synopsis: From Academy Award winners Chris Miller and Phil Lord ("Spider-Man: Into the Spider-Verse," "The Lego Movie," "21 Jump Street"), "The Afterparty" is a genre-defying series centered on a murder mystery at a high school reunion, with each episode exploring a different character's account of the fateful evening in question, all through the lens of popular film genres and unique visuals to match the storyteller's perspective.
---
This concludes the list of the best 15 shows like 'Only Murders in the Building' you should watch. So, if you have watched them tell us in the comments and we will make a new list for you, and if you haven't what are you waiting for.