Nancy Drew is a teen mystery series created by Noga Landau, Josh Schwartz, and Stephanie Savage. The CW series is based on the popular books of the same name written by Edward Stratemeyer. Nancy Drew follows the story of the titular character as she solves more and more dangerous mysteries with the help of her friends and her unrivaled thirst for adventure. The series stars Kennedy McMann in the lead role with Leah Lewis, Maddison Jaizani, Tunji Kasim, Alex Saxon, Riley Smith, and Scott Wolf. Nancy Drew recently finished airing its fourth and final season and if you already miss the mystery series here are some shows you should check out next.
The Hardy Boys (Hulu)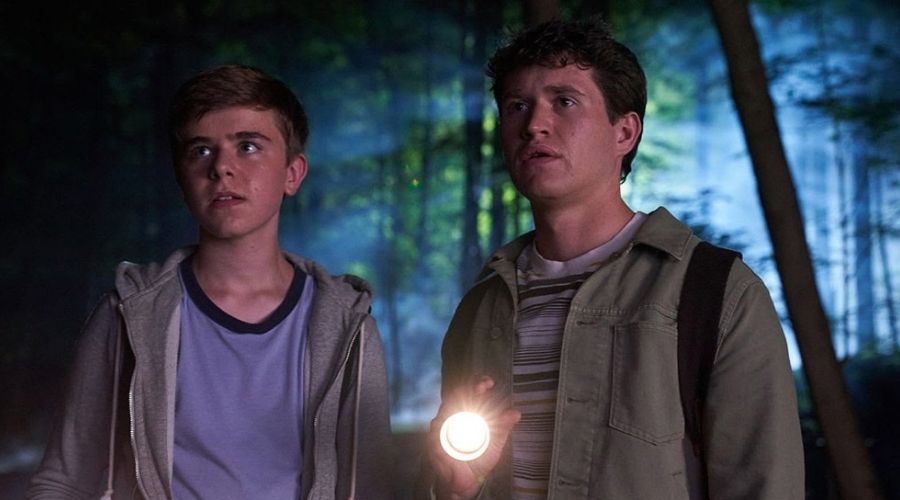 Synopsis: After a family tragedy strikes, Frank Hardy and his brother Joe are forced to move from the big city to their parent's hometown of Bridgeport for the summer. Staying with their Aunt Trudy, Frank and Joe's quiet summer quickly comes to a halt when they discover their Dad, detective Fenton Hardy has taken on a secret investigation. Realizing that their Dad may be onto something the boys take it upon themselves to start an investigation of their own, and suddenly everyone in town is a suspect.
Locke & Key (Netflix)
Synopsis: After their father is murdered under mysterious circumstances, the three Locke siblings and their mother move into their ancestral home, Keyhouse, which they discover is full of magical keys that may be connected to their father's death. As the Locke children explore the different keys and their unique powers, a mysterious demon awakens — and will stop at nothing to steal them. From Carlton Cuse (Lost, Bates Motel) and Meredith Averill (The Haunting of Hill House), the series is a coming-of-age mystery about love, loss, and the unshakable bonds that define family.
Supernatural (Netflix)
Supernatural was one of the longest-running live-action series, running for fifteen action-packed seasons that made the Winchester brothers a legend known throughout the world. The CW fantasy series follows the Winchester brothers Sam (Jared Padelecki) and Dean (Jensen Ackles) as they go on the road with their 1967 Chevy Impala to hunt all kinds of supernatural entities. When the series begins we see Sam, enjoying a healthy normal life by going to college at Stanford and having a loving girlfriend, but all of that changes when his Dean comes to him after their father John Winchester (Jeffrey Dean Morgan) goes missing while hunting a supernatural entity. While hunting monsters like vampires, werewolves, spirits, and shapeshifters is part of their daily lives but their main goal is to hunt down the yellow-eyed monster who killed their mother.
Veronica Mars (Hulu)
Synopsis: Spring breakers are getting murdered in Neptune, thereby decimating the seaside town's lifeblood tourist industry. After Mars Investigations is hired by the family of one of the victims to find their son's killer, Veronica is drawn into an epic eight-episode mystery that pits the enclave's wealthy elites, who would rather put an end to the month-long bacchanalia, against a working class that relies on the cash influx that comes with being the West Coast's answer to Daytona Beach.
Buffy the Vampire Slayer (Hulu)
Buffy The Vampire Slayer is one of the best fantasy series that captured the hearts and minds of its audience for over seven years. The Josh Whedon series blended fantasy, comedy, and monsters into a brilliant piece of television and it follows the titular Buffy Summers who tries to live a normal high school life, while also trying to fulfill her duties as a vampire and demon hunter. Buffy The Vampire Slayer ended its run with its seventh and final season over nineteen years ago and the fans of the series are still raving about it.
Home Before Dark (Apple TV+)
Synopsis: A mystery inspired by the reporting of a real nine-year-old journalist. When a young girl and her family move back to the small town her father left behind, her pursuit of the truth leads to the unearthing of a long-buried cold case.
Psych (Prime Video, Peacock & Apple TV)
Synopsis: Shawn Spencer happens to possess some uncanny powers of observation thanks to his father, Henry, a former police officer who taught his son to remember even the smallest details of his surroundings. When Shawn is accused of committing a crime that he actually solved, he convinces the cops that he's a psychic — and with the reluctant help of his best friend, Gus, Shawn starts solving cases for a skeptical but increasingly impressed police force.
Synopsis: Evil is a psychological mystery that examines the origins of evil along the dividing line between science and religion. The series focuses on a skeptical female psychologist who joins a priest-in-training and a contractor as they investigate the Church's backlog of unexplained mysteries, including supposed miracles, demonic possessions, and hauntings. Their job is to assess if there is a logical explanation or if something truly supernatural is at work.
The Irregulars (Netflix)
Synopsis: Set in Victorian London, the series follows a gang of troubled street teens who are manipulated into solving crimes for the sinister Doctor Watson and his mysterious business partner, the elusive Sherlock Holmes. As the crimes take on a horrifying supernatural edge and a dark power emerges, it'll be up to the Irregulars to come together to save not only London but the entire world.
Prodigal Son (Max)
Synopsis: Malcolm Bright has a gift. He knows how killers think and how their minds work. Why? His father is "The Surgeon," a notorious serial killer who has taken the lives of more than 20 people. PRODIGAL SON follows criminal psychologist Bright as he uses his twisted genius to get inside the minds of murderers to help the NYPD solve cases. He works alongside NYPD Detective Gil Arroyo, a seasoned lawman who has become Bright's surrogate father; Detective Dani Powell, a headstrong no-nonsense cop who is quickly impressed with Bright's work; Edrisa Tanaka, a slightly off-center coroner; and Detective JT Tarmel, a born-and-bred New Yorker who questions whether Bright is a psychopath himself. But Bright's best resource for solving crimes is his dear old dad, the homicidal-yet-oddly-loving Martin Whitly, whose expertise he must reluctantly call upon. As Bright helps track down the city's most dangerous criminals, he also battles his own demons — and it doesn't help that his mother, former leading socialite Jessica Whitly, can't seem to accept her fallen status and has an opinion on every aspect of Bright's life. Luckily for Bright, he has the support of his annoyingly normal sister Ainsley, a news reporter with a soft spot for her brother and all his eccentricities. After all, Bright isn't a serial killer — he was just raised by one.