Hulu has a vast library of content, with basically something to watch for everyone, and today we are making a list of the best new shows and movies coming to Hulu in July 2023 that you can watch right now. The shows and movies in this list are ranked according to their availability dates.
Alita: Battle Angel (July 1)
Synopsis: From visionary filmmakers James Cameron ("Avatar") and Robert Rodriguez ("Sin City"), comes "Alita: Battle Angel," an epic adventure of hope and empowerment. When Alita (Rosa Salazar) awakens with no memory of who she is in a future world she does not recognize, she is taken in by Ido (Christoph Waltz), a compassionate doctor who realizes that somewhere in this abandoned cyborg shell is the heart and soul of a young woman with an extraordinary past. As Alita learns to navigate her new life and the treacherous streets of Iron City, Ido tries to shield her from her mysterious history while her street-smart new friend Hugo (Keean Johnson) offers instead to help trigger her memories. But it is only when the deadly and corrupt forces that run the city come after Alita that she discovers a clue to her past – she has unique fighting abilities that those in power will stop at nothing to control. If she can stay out of their grasp, she could be the key to saving her friends, her family and the world she's grown to love.
Die Hard (July 1)
Synopsis: A New York City cop faces overwhelming odds when his Christmas visit to California is interrupted by a terrorist invasion of his estranged wife's office building
Ford v Ferrari (July 1)
Synopsis: Academy Award® Winners Matt Damon and Christian Bale star in FORD v FERRARI, based on the true story of visionary American car designer Carroll Shelby (Damon) and fearless British-born driver Ken Miles (Bale), who together build a revolutionary race car for Ford Motor Company and take on the dominating race cars of Enzo Ferrari at the 24 Hours of Le Mans in France in 1966.
Forgetting Sarah Marshall (July 1)
Synopsis: From the guys that brought you The 40-Year-Old Virgin and Knocked Up, comes "One of the funniest, damn movies I've ever seen!" (Richard Roeper, At the Movies with Ebert & Roeper). Peter (Jason Segel) is a struggling musician who finds his world turned upside down when his TV celebrity girlfriend, Sarah Marshall (Kristen Bell), dumps him for a tragically hip rock star. It's the hysterically funny look at how far one man will go to forget a girl—and all the fun he finds along the way!
Whiplash (July 1)
Synopsis: Andrew Neyman is an ambitious young jazz drummer, single-minded in his pursuit to rise to the top of his elite east coast music conservatory. Terence Fletcher, an instructor known equally for his teaching talents and his terrifying methods, discovers Andrew and transfers him into his band. Andrew's passion to achieve perfection soon spirals into obsession, as his ruthless teacher continues to push him to the brink of both his ability and his sanity.
The Quiet Girl (July 7)
Synopsis: The Quiet Girl, is a delicate drama that follows a shy nine-year-old who has been separated from her immediate family and left in the care of two distant relatives for the summer. After sun-dappled days spent milking cows, peeling potatoes and fetching water from the well, the Initially uncommunicative child soon opens up to her foster parents. Textural and tender, this award-winning film shows that home is where you feel loved.
What We Do in the Shadows Season 5 (July 14)
Synopsis: What We Do in the Shadows, based on the feature film by Jemaine Clement and Taika Waititi, documents the nightly exploits of vampire roommates Nandor (Kayvan Novak), Laszlo (Matt Berry), Nadja (Natasia Demetriou) and Colin Robinson (Mark Proksch) as they navigate the modern world of Staten Island with the help of their human familiar, Guillermo (Harvey Guillén), and their vampire bureaucrat acquaintance, The Guide (Kristen Schaal).
Vesper (July 14)
Synopsis: After the collapse of Earth's ecosystem, Vesper, a 13-year-old girl struggling to survive with her Father, must use her wits, strength and bio-hacking abilities to fight for the future.
Justified: City Primeval Season 1 (July 19)
Synopsis: Starring Timothy Olyphant, Aunjanue Ellis and Boyd Holbrook. Raylan Givens left the hollers of Kentucky and is balancing life as a U.S. Marshal with being a part-time father. A chance encounter sends him to Detroit and on a collision course with a violent sociopath and a formidable defense attorney.
Futurama Season 11 (July 24)
Synopsis: While delivering pizza on New Year's Eve 1999, Philip J. Fry is accidentally cryonically frozen and thawed out one thousand years into the future. From the creator of "The Simpsons," "Futurama" is a sci-fi animated comedy.
The Hardy Boys Season 3 (July 26)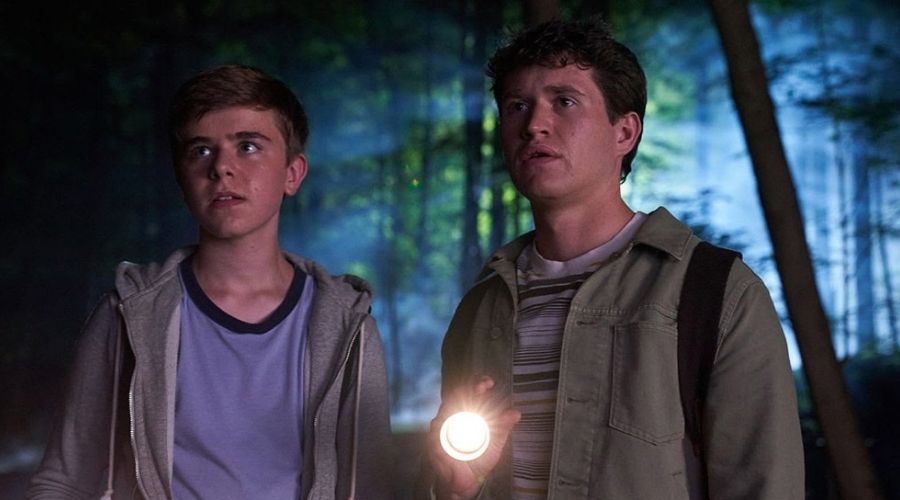 Synopsis: The Hardy boys and their friends dig up even more secrets, conspiracies and threats as they piece together their great-grandfather's long-lost map and race against time to uncover a powerful ancient relic before it falls into the wrong hands.
The Fool Season 2 (July 28)
Synopsis: "This Fool" is an irreverent, cinematic half-hour comedy set in working class South Central Los Angeles. The show centers around Julio Lopez, a 30-year-old who still lives at home, has been dating his girlfriend on and off since high school, and finds any excuse to avoid dealing with his own problems. Julio works at Hugs Not Thugs, a gang rehabilitation non-profit, where he butts heads with his older cousin Luis, an ex-gang member who just got out of prison and moved in with Julio and his family.
God's Country (July 28)
Synopsis: When a college professor in the remote mountains of the American West confronts two hunters she catches trespassing on her property, she's drawn into an escalating battle of wills with catastrophic consequences. GOD'S COUNTRY is based on the short story "Winter Light" by James Lee Burke.