The holiday season is finally here and so is Prime Video's ad-supported streaming service Freevee's Christmas rom-com film EXmas. Starring Leighton Meester and Robbie Amell in the lead roles. Directed by Jonah Feingold, from a screenplay by Dan Steele, EXmas revolves around Graham (Amell), his family, and his ex-fiancée Ali during the Christmas holiday. When Graham has to work during Christmas he tells his family that he won't be able to make it home, but despite his work promises he still goes home and finds his ex, who broke up with him sometime ago celebrating Christmas with his family. When he learns that his family invited her and they still like her he vows to make everyone hate her and ask her to leave by Christmas time. So, if you love the Freevee film here are some similar Christmas rom-coms you could watch next.
Holidate (Netflix)
Synopsis: Sloane (Emma Roberts) and Jackson (Luke Bracey) hate the holidays. They constantly find themselves single, sitting at the kids table, or stuck with awkward dates. But when these two strangers meet one particularly bad Christmas, they make a pact to be each other's "holidate" for every festive occasion throughout the next year. With a mutual disdain for the holidays, and assuring themselves that they have no romantic interest in the other, they make the perfect team. However, as a year of absurd celebrations come to an end, Sloane and Jackson find that sharing everything they hate may just prove to be something they unexpectedly love.
Synopsis: When both of their engagement proposals are a bust, hopeless romantics MARGOT (Emma Roberts) and GRIFFIN (Thomas Mann) find themselves together on New Year's Eve after a bout of fateful events. Both believing in true love, they set out on a magical and comedic journey together, only to quickly realize that the love they've been searching for this whole time might be right in front of them.
Love Hard (Netflix)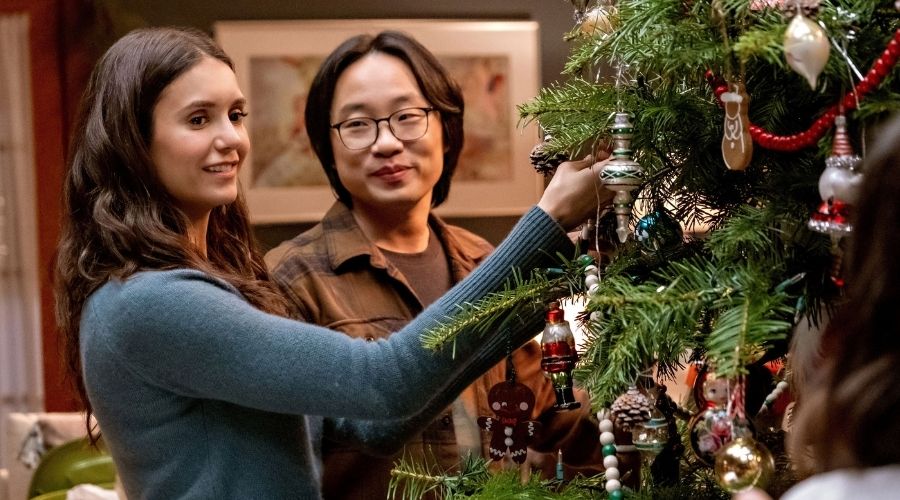 Synopsis: An LA girl, unlucky in love, falls for an East Coast guy on a dating app and decides to surprise him for the holidays, only to discover that she's been catfished. This lighthearted romantic comedy chronicles her attempt to reel in love.
Happiest Season (Hulu)
Synopsis: Meeting your girlfriend's family for the first time can be tough. Planning to propose at her family's annual Christmas dinner — until you realize that they don't even know she's gay — is even harder. When Abby (Kristen Stewart) learns that Harper (Mackenzie Davis) has kept their relationship a secret from her family, she begins to question the girlfriend she thought she knew. Happiest Season is a holiday romantic comedy that hilariously captures the range of emotions tied to wanting your family's acceptance, being true to yourself, and trying not to ruin Christmas.
Holiday Breakup (Prime Video & Peacock)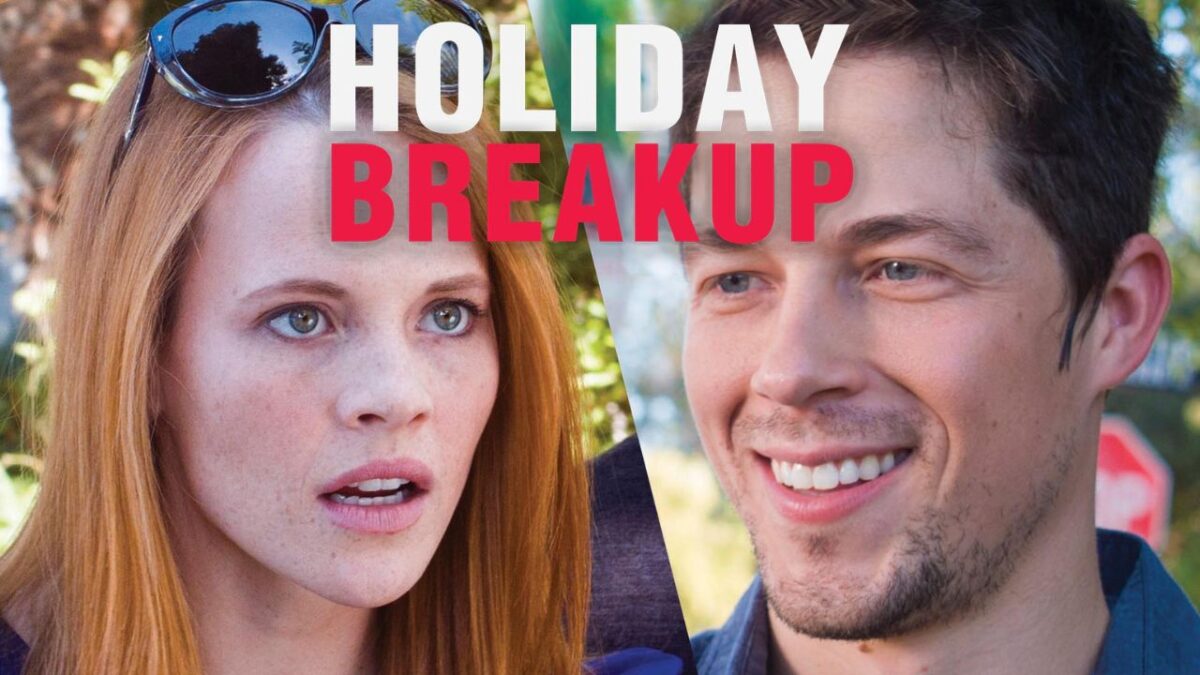 Synopsis: A couple falls crazy in love, only to break up right before all the big holiday parties. It's Suckville, so they pretend to still be mad for each other instead of mad at each other. It's the perfect plan-if they don't fall back in love.
Synopsis: THE FAMILY STONE is a comic story about the annual holiday gathering of a New England family, the Stones. The eldest son brings his girlfriend home to meet his parents, brothers and sisters. The bohemian Stones greet their visitor – a high-powered, controlling New Yorker – with a mix of awkwardness, confusion and hostility. Before the holiday is over, relationships will unravel while new ones are formed, secrets will be revealed, and the family Stone will come together through its extraordinary capacity for love.
Synopsis: This year Christmas with the Whitfields promises to be one they will never forget. All the siblings have come home for the first time in years and they've brought plenty of baggage with them. As the Christmas tree is trimmed and the lights are hung, secrets are revealed and family bonds are tested. As their lives converge, they join together and help each other discover the true meaning of family.
Synopsis: In this romantic comedy, a recording industry executive (Ryan Reynolds – National Lampoon's Van Wilder, Blade: Trinity) comes face to face with his old high school crush (Amy Smart – Starsky & Hutch, The Butterfly Effect)–a woman whose rejection of him turned him into a notorious womanizer. But now he realizes that she is his one true love, and he wants them to be more than Just Friends.
Christmas Wonderland (Fubo TV)
Synopsis: Heidi, who initially left her small town of Pleasant Valley with the dream of one day becoming a successful painter, has put her own art on hold to excel as an art gallery curator. Now, a week before the gallery's big Christmas party, she must return home to watch her niece and nephew.
Synopsis: Beth Baker is an out-of-work actress stuck in New York City without her friends at Christmas time. She decides to return home to the quaint small town she escaped 10 years before and finds a place far different than the hamlet she left. She suddenly finds performing possibilities and even romance that kind of blow her away. Will the holidays prove to be as magical for Beth as they appear, or is it doomed to disappear as quickly as it arrived for a lady who is ready to take chances she could never have imagined a decade before. Then again, this is the kind of thing that seems to happen during the Christmas season all the time.