The Upshaws is a family comedy series but not exactly fit for watching with a family. The Netflix original series is created by Wanda Sykes and Regina Y. Hicks, and it follows the Upshaw family living in Indiana as they deal with wilder and funnier obstacles life puts in their way. The Upshaws stars Mike Epps, Kim Fields, and Wanda Sykes. The Netflix series is coming back with its fourth season soon and while you wait for the upcoming season here are some shows you should watch next.
The Carmichael Show (Hulu & Peacock)
Synopsis: From the comedy of Jerrod Carmichael and Nick Stoller comes an irreverent sitcom inspired by Jerrod's relationships with his say-anything, contrarian father, his therapist-in-training girlfriend, his ever-hustling brother and his mother who is always, always, always right with Jesus.
The Ranch (Netflix)
Synopsis: Set in a Colorado ranch, this multi-camera comedy series stars Ashton Kutcher, Danny Masterson, Sam Elliott and Debra Winger. The show follows Colt's (Kutcher) return home after a brief and failed semi- pro football career to run the family ranching business with his older brother Jameson "Rooster" (Masterson) and father Beau (Elliott), whom he hasn't seen in 15 years. Winger stars as Colt's and Rooster's mother, Maggie, who runs the local town bar.
Synopsis: The Neighborhood stars Cedric the Entertainer in a comedy about what happens when the friendliest guy in the Midwest moves his family to a neighborhood in Los Angeles where not everyone looks like him or appreciates his extreme neighborliness. Dave Johnson is a good-natured, professional conflict negotiator. When his wife, Gemma, gets a job as a school principal in L.A., they move from Michigan with their young son, Grover, unfazed that their new dream home is located in a community quite different from their small town. Their opinionated next-door neighbor, Calvin Butler, is wary of the newcomers, certain that the Johnsons will disrupt the culture on the block. However, Calvin's gracious wife, Tina, rolls out the welcome wagon; their chipper younger son, Marty, thinks the Johnsons could be good for the community; and their older son, Malcolm, finds Dave may finally be someone who understands him. Dave realizes that fitting into their new community is more complex than he expected, but if he can find a way to connect with Calvin, they have an excellent chance of making their new neighborhood their home.
Synopsis: In an unsentimental sitcom based on his life, comedian Bernie Mac plays a stand-Up comic who, with his workaholic wife Wanda, takes in his sister's three kids while she's in rehab.
Synopsis: Inspired by Chris Rock's outrageous experiences growing up in 1980s Brooklyn, this heartwarming series captures the legendary comedian's painfully funny teenage years. Experience all the hilarity as Chris struggles to fit in at high school while also supervising his younger siblings for his hard-working parents.
Young Sheldon (Max)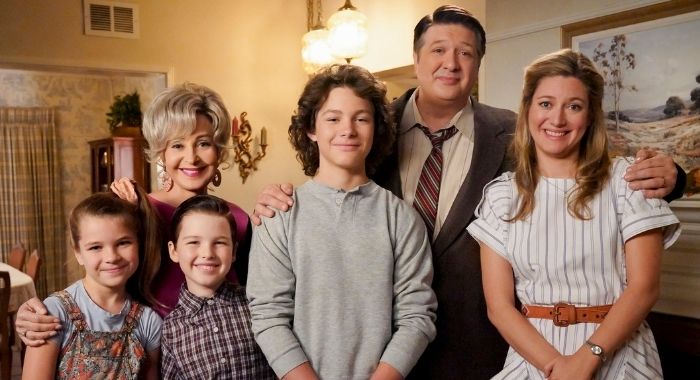 Synopsis: For 9-year-old Sheldon Cooper it isn't easy growing up in East Texas. Being a once-in-a-generation mind capable of advanced mathematics and science isn't always helpful in a land where church and football are king. And while the vulnerable, gifted and somewhat naïve Sheldon deals with the world, his very normal family must find a way to deal with him. His father, George, is struggling to find his way as a high school football coach and as father to a boy he doesn't understand. Sheldon's mother, Mary, fiercely protects and nurtures her son in a town where he just doesn't fit in. Sheldon's older brother, Georgie, does the best he can in high school, but it's tough to be cool when you're in the same classes with your odd 9-year-old brother. Finally, there's Sheldon's twin sister, Missy, who sometimes resents all the attention Sheldon gets, but also remains the one person who can reliably tell Sheldon the truth. For 10 years on The Big Bang Theory, audiences have come to know the iconic, eccentric and extraordinary Sheldon Cooper. This single-camera, half-hour comedy gives us the chance to meet him in childhood, as he embarks on his innocent, awkward and hopeful journey toward the man he will become.
Dad Stop Embarrassing Me! (Netflix)
Synopsis: Brian Dixon (Jamie Foxx), successful business owner and bachelor, just became a full-time father to his teenage daughter Sasha (Kyla-Drew). Determined to be the best father he can be, Brian's going to need all the help he can get from his dad (David Alan Grier) and sister (Porscha Coleman) — and Sasha's going to need all the help she can get learning how to deal with her new, lovingly chaotic. Full of heart and humor, Dad Stop Embarrassing Me is inspired by Foxx's real-life relationship with daughter Corinne Foxx, who also serves as executive producer. The multi-cam sitcom reunites Foxx with showrunner Bentley Kyle Evans (The Jamie Foxx Show) and is directed by Ken Whittingham (black-ish).
Black-ish (Hulu & Disney+)
The critically acclaimed comedy series has been a massive hit for ABC, launching two successful spin-offs and it has been funny throughout its long run. Black-ish tells the story of an upper-middle-class Black family trying to fit in their white neighborhood while also trying to struggle with the usual family drama.
Synopsis: Loosely inspired by the real life of star Marlon Wayans ("In Living Color," "Scary Movie"), this update to the classic family comedy centers on a loving (but immature) father committed to co-parenting his two kids with his very-together ex-wife. While his misguided fatherly advice, unstoppable larger-than-life personality and unpredictable Internet superstardom might get in the way sometimes, for Marlon, family really always does come first – even if he's the biggest kid of all.
The Conners (Hulu)
Synopsis: The Conners continue to face the daily struggles of life in Lanford. This iconic family — Dan, Jackie, Darlene and Becky — grapples with parenthood, dating, financial pressures and aging in working-class America. Through it all — the fights, the coupon cutting, the hand-me-downs, the breakdowns — with love, humor and perseverance, the family prevails. The series stars John Goodman as Dan Conner, Laurie Metcalf as Jackie Harris, Sara Gilbert as Darlene Conner, Lecy Goranson as Becky Conner-Healy, Emma Kenney as Harris Conner-Healy, Ames McNamara as Mark Conner-Healy and Jay R. Ferguson as Ben. "The Conners" is executive produced by Tom Werner, along with Sara Gilbert, Bruce Helford, Dave Caplan, Bruce Rasmussen and Tony Hernandez.