The Sex Lives of College Girls is one of the most relatable and earnest HBO Max series out there. The comedy-drama series recently concluded its second season with a pretty conclusive ending but the fans are still hoping for a third season. Created by Mindy Kaling and Justin Noble the HBO Max series chronicles the sexual and non-sexual exploits of a group of college friends. So, while we all hope for The Sex Lives of College Girls Season 3 here are some shows you could watch while waiting.
---
Also Read: Shows Like 'Sex Education' To Watch While Waiting For Season 4
---
Sex Education (Netflix)
Synopsis: Sex Education is a Netflix comedy-drama starring Asa Butterfield, Gillian Anderson, Ncuti Gatwa, Aimee Lou Wood, Connor Swindells, Kedar Williams-Stirling, and Emma Mackey. The show follows Otis Milburn, an awkward teenage virgin who channels the knowledge of his sex therapist mother to counsel his peers at school, with his classmate Maeve Wiley. The series was created by Laurie Nunn. It is directed by Ben Taylor; and by Kate Herron, Sophie Goodhart, Alice Seabright, and Runyararo Mapfumo.
---
Also Read: Shows Like 'Derry Girls' To Watch If You Miss the Series
---
Derry Girls (Netflix)
Synopsis: Set in Derry Northern Ireland in the 1990s, Derry Girls is a candid, one-of-a-kind comedy about what it's like to be a teenage girl living amongst conflict. It's a warm, laugh out loud funny and honest look at the lives of an ordinary family living through the Troubles in the early nineties. Armed police in armoured Land Rovers, British Army check points and 'peace' walls are all an everyday reality for Erin. But, despite all that, she has other things to worry about, like the fact the boy she's in love with (actually in LOVE with), doesn't know she exists. Or that her Ma and Aunt Sarah make her include her weirdo cousin in EVERYTHING she does. Or that head teacher, Sister Michael, refuses to acknowledge Erin as a literary genius. Not to mention the fact that her second best friend has ALMOST had sex, whereas Erin's never even kissed anyone yet. Like all teenage girls, Erin has her own Troubles. Derry Girls is based on writer Lisa McGee's (Indian Summers, Being Human) own experiences of growing up in Northern Ireland amidst immense civil conflict.
---
Also Read: Shows Like 'Broad City' To Watch If You Miss the Series
---
Broad City (Hulu)
Synopsis: Hack Into Broad City is an exclusive web series that eavesdrops on the candid, often-outrageous video chat sessions between Abbi and Ilana, the two best friends at the heart of Broad City.
---
Also Read: Shows Like HBO's 'Girls' To Watch If You Miss the Series
---
Girls (HBO Max)
Synopsis: Hannah and her friends are just four girls trying to figure out what they want–from life…from men…from themselves. In Season 1 of this coming-of-age comedy series, Hannah (Lena Dunham) struggles to achieve her dream of becoming a successful writer in the wake of being cut off financially by her parents. Fortunately, she has three close friends for support–Marnie (Allison Williams), Jessa (Jemima Kirke), and Shoshanna (Zosia Mamet)–in this intimate and often-comical look at friendship, relationships and self-discovery.
grown-ish (Hulu & Disney+)
Synopsis: Follow Zoey Johnson as she heads to college and begins her hilarious journey to adulthood. From "black-ish" executive producer, Kenya Barris, comes a contemporary take on the current issues facing both students and administrators in the world of higher education.
Dear White People (Netflix)
Synopsis: The unexpected election of activist Samantha White (Tessa Thompson) as head of a traditionally black residence hall sets up a college campus culture war that challenges conventional notions of what it means to be black. While Sam leverages her notoriety as host of the provocative and polarizing radio show "Dear White People" to try to prevent the college from diversifying Armstrong Parker House, outgoing head-of-house Troy Fairbanks (Brandon P. Bell), son of the university's dean (Dennis Haysbert), defies his father's lofty expectations by applying to join the staff of Pastiche, the college's influential humor magazine. Lionel Higgins (Tyler James Williams), an Afro-sporting sci-fi geek, is recruited by the otherwise all-white student newspaper to go undercover and write about black culture—a subject he knows little about—while the aggressively assimilated Coco Conners (Teyonah Parris) tries to use the controversy on campus to carve out a career in reality TV. But no one at Winchester University is prepared for Pastiche's outrageous, ill-conceived annual Halloween party, with its "unleash your inner Negro" theme throwing oil on an already smoldering fire of resentment and misunderstanding. When the party descends into riotous mayhem, everyone must choose a side.
Love, Victor (Hulu)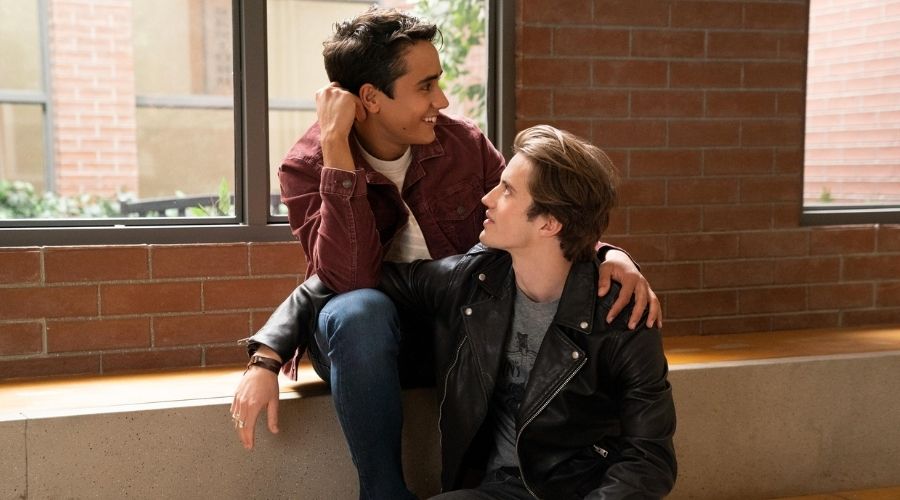 Synopsis: Set in the world of the 2018 groundbreaking film "Love, Simon," the series follows Victor, a new student at Creekwood High School on his own journey of self-discovery, facing challenges at home, adjusting to a new city, and struggling with his sexual orientation. When it all seems too much, he reaches out to Simon to help him navigate the ups and downs of high school. The 10-episode dramedy explores Victor's colorful and complex world, from his loving family, to his new friends and first crushes.
Shrill (Hulu)
Synopsis: From Executive Producers Lorne Michaels and Elizabeth Banks comes Shrill, a comedy series starring Aidy Bryant (Saturday Night Live) as Annie, a fat young woman who wants to change her life — but not her body. Annie is trying to start her career while juggling bad boyfriends, a sick parent, and a perfectionist boss.
---
Also Read: Shows Like 'Community' To Watch While Waiting For The Movie (#AndAMovie)
---
Community (Netflix & Hulu)
Synopsis: From Dan Harmon (The Sarah Silverman Program) and Emmy Award-winning directors Joe and Anthony Russo (Arrested Development) comes Community, a smart comedy series about a band of misfits who attend Greendale Community College. At the center of the group is Jeff Winger (Joel McHale, The Soup), a fast-talkin' lawyer whose degree has been revoked. With some help from his fellow classmates, Winger forms a study group who eventually learn more about themselves than their course work.
Fresh Meat (Pluto TV & Prime Video)
Synopsis: Award-winning university comedy-drama from the writers of Peep Show, about the hilarious and painful truths of being a student. Public schoolboy JP (Jack Whitehall), insecure Kingsley (Joe Thomas), wide-eyed Josie (Kimberley Nixon), socially awkward know-it-all Howard (Greg McHugh), hard-living Vod (Zawe Ashton) and desperate-to-be-cool Oregon (Charlotte Ritchie) embark on the most exciting period of their lives so far.