The live-action series adaptation of The Sandman comic book series is finally on Netflix to stream now. The Netflix series has many iconic DC Comics heroes and villains in key roles. The comic book series ran from 1989 to 1996 with great responses from critics and readers alike. The Sandman comic book series was created and written by Neil Gaiman, who is also serving as an executive producer on the Netflix series. The Sandman premiered on the streaming giant with rave reviews and if I can say anything about the series it is that the series is literally a dream, which we never want to wake up from. The Sandman has been renewed for a second season so while you wait for Season 2 to come out here are some shows you could watch until then.
---
Also Read: Shows Like 'Lucifer' to Watch If You Miss the Series
---
Lucifer (Netflix)
Synopsis: Bored and unhappy as the Lord of Hell, Lucifer has resigned his throne and retired to the City of Angels, where he is indulging in a few of his favorite things — wine, women, song. When a beautiful pop star is brutally murdered before his eyes, he feels something awaken deep within him – for the first time in roughly 10 billion years. Is he actually capable of feelings for a human being? The very thought disturbs him — as well as his best friend and confidante, Mazikeen (aka Maze), a fierce demon in the form of a beautiful young woman. The murder attracts the attention of LAPD homicide detective Chloe Dancer, who finds herself both repulsed and fascinated by Lucifer. As they work together to solve the murder, Lucifer is struck by Chloe's inherent goodness. Used to dealing with the absolute worst of humanity, he begins to wonder if there's hope yet. Maybe everyone's got a chance for redemption. Even the Devil.
---
Also Read: Shows Like 'American Gods' To Watch If You Miss the Series
---
American Gods (Starz)
Synopsis: When Shadow Moon is released from prison, he meets the mysterious Mr. Wednesday and a storm begins to brew. Little does Shadow know, this storm will change the course of his entire life. Left adrift by the recent, tragic death of his wife, and suddenly hired as Mr. Wednesday's bodyguard, Shadow finds himself in the center of a world that he struggles to understand. It's a world where magic is real, where the Old Gods fear both irrelevance and the growing power of the New Gods, like Technology and Media. Mr. Wednesday seeks to build a coalition of Old Gods to defend their existence in this new America, and reclaim some of the influence that they've lost. As Shadow travels across the country with Mr. Wednesday, he struggles to accept this new reality, and his place in it.
---
Also Read: Shows Like 'The Umbrella Academy' To Watch While Waiting For Season 4
---
The Umbrella Academy (Netflix)
Synopsis: On the same day in 1989, forty-three infants are inexplicably born to random, unconnected women who showed no signs of pregnancy the day before. Seven are adopted by a billionaire who creates The Umbrella Academy and prepares his "children" to save the world. Now, the six surviving members reunite upon the news of their father's passing and must work together to solve a mystery surrounding his death. But the estranged family begins to come apart due to their divergent personalities and abilities, not to mention the imminent threat of a global apocalypse. The Umbrella Academy is based on the comic book series created and written by Gerard Way, illustrated by Gabriel Bá, and published by Dark Horse Comics.
---
Also Read: Shows Like 'Penny Dreadful' To Watch If You Miss the Series
---
Synopsis: An erotically-charged, profoundly unsettling new saga, PENNY DREADFUL completely reinvents literature's most iconic and terrifying characters. Dorian Gray, Victor Frankenstein and timeless figures from Dracula join a core of original characters in a dark and brutal quest to save a soul — even as they grapple with their own monstrous temptations.
---
Also Read: Fantasy Shows Like 'The Magicians' To Watch If You Miss The Series
---
The Magicians (Netflix)
Synopsis: Based upon Lev Grossman's best-selling books, The Magicians centers around Brakebills University, a secret institution specializing in magic. There, amidst an unorthodox education of spellcasting, a group of twenty-something friends soon discover that a magical fantasy world they read about as children is all too real— and poses grave danger to humanity.
Constantine (Apple TV)
Synopsis: Based on the wildly popular comic book character from DC Comics, seasoned demon hunter and master of the occult John Constantine (Matt Ryan) is armed with a ferocious knowledge of the dark arts and a wickedly naughty wit. He fights the good fight – or at least he did. With his soul already damned to hell, he's decided to abandon his campaign against evil until a series of events thrusts him back into the fray, and he'll do whatever it takes to protect the innocent. With the balance of good and evil on the line, Constantine will use his skills to travel the country, find the supernatural terrors that threaten our world and send them back where they belong. After that, who knows… maybe there's hope for him and his soul after all.
---
Also Read: Shows Like 'His Dark Materials' To Watch If You Miss the Series
---
His Dark Materials (HBO Max)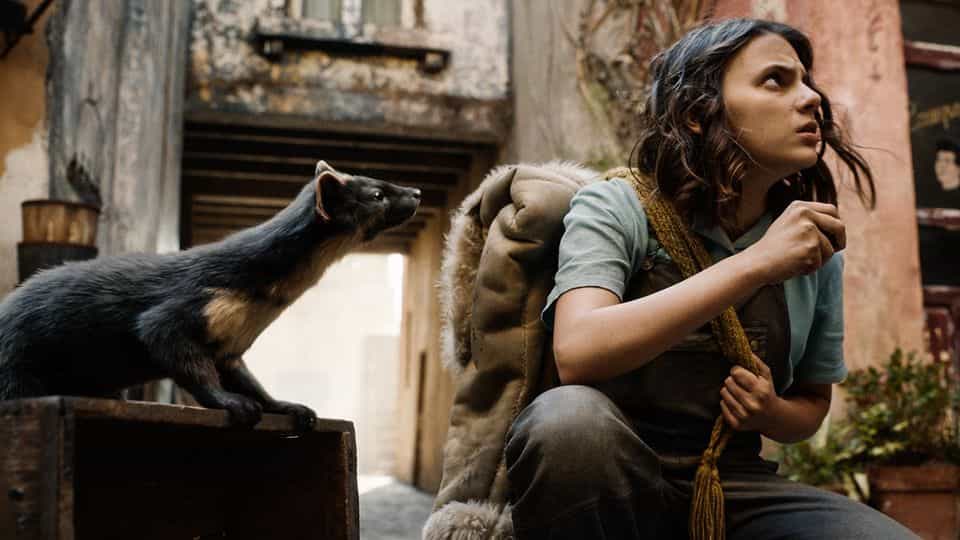 Synopsis: His Dark Materials stars Dafne Keen, James McAvoy, Ruth Wilson and Lin-Manuel Miranda. Adapting Philip Pullman's award-winning trilogy of the same name, which is considered a modern masterpiece of imaginative fiction, the first season follows Lyra, a seemingly ordinary but brave young woman from another world. Her search for a kidnapped friend uncovers a sinister plot involving stolen children, and becomes a quest to understand a mysterious phenomenon called Dust. As she journeys through the worlds, including our own, Lyra meets Will, a determined and courageous boy. Together, they encounter extraordinary beings and dangerous secrets, with the fate of both the living — and the dead — in their hands.
Swamp Things (Rent on Apple TV)
Synopsis: Something unnatural is happening in the swamps outside Marais, Louisiana. When a mysterious illness strikes the town, CDC investigator Abby Arcane is sent to investigate. At the hospital, she encounters biologist Alec Holland who believes the bizarre illness might be connected to his scientific work in the swamp for powerful businessman Avery Sunderland. Along with Deputy Matt Cable, Abby and Alec encounter a terrifying, dark force that's more than a swamp-born virus. Abby consults her old friend and local reporter Liz Tremayne who has a lead deep in the swamp. When Alec goes missing after investigating the unnatural experiments deep in the swamp, something else rises in his place: Swamp Thing, a mysterious creature born of the depths of the swamp's mystical and terrifying secrets. With nature wildly out of balance and coming for the people of Marais, in the end, it may take some Thing from the swamp to save it.
---
Don't forget to visit the Dreaming.