The Lord of the Rings franchise has a very massive fanbase both for its books and its movies, but all of the Lord of the Rings fans are now hooked on Prime Video's attempt at J.R.R. Tolkien's works. The Lord of the Rings: The Rings of Power comes after the massive success that was Peter Jackson's Lord of the Rings franchise and while it has gotten mixed reviews from the fans, the series has been showered with praise by the critics. So, if you also like The Rings of Power, here are some shows you could watch after Season 1.
---
Also Read: Fantasy Shows Like 'The Wheel of Time' To Watch While Waiting For Season 2
---
The Wheel of Time
Synopsis: The lives of five young villagers change forever when a strange and powerful woman arrives, claiming one of them is the child of an ancient prophecy with the power to tip the balance between Light and Dark forever. They must choose whether to trust this stranger – and each other – with the fate of the world before the Dark One breaks out of His prison, and the Last Battle begins.
---
Also Read: Lone Wolf Fantasy Shows Like 'The Witcher' You Can Watch While Waiting For Season 3
---
The Witcher
Synopsis: Netflix, "The Witcher" is an epic tale of fate and family. Geralt of Rivia, a solitary monster hunter, struggles to find his place in a world where people often prove more wicked than beasts. But when destiny hurtles him toward a powerful sorceress, and a young princess with a dangerous secret, the three must learn to navigate the increasingly volatile Continent together."
The Shannara Chronicles
Synopsis: Set thousands of years in our future, the story follows three heroes, Amberle, an Elvin Princess, Eretria, a Human Rover, and Wil, a Half-Elf, Half-Human, as they embark on a quest to stop an evil Demon army.
---
Also Read: Best Shows Like 'His Dark Materials' To Watch While Waiting For Season 3
---
His Dark Materials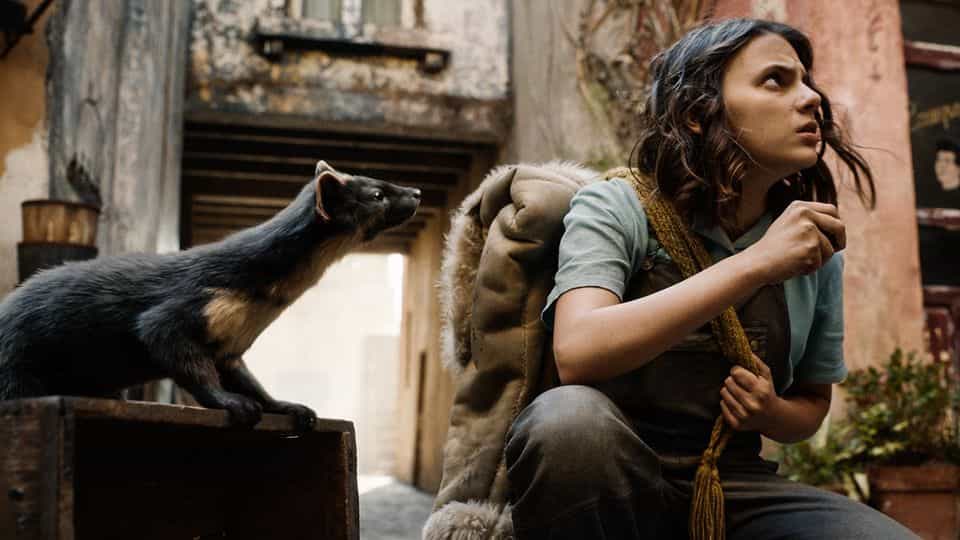 Synopsis: His Dark Materials stars Dafne Keen, James McAvoy, Ruth Wilson and Lin-Manuel Miranda. Adapting Philip Pullman's award-winning trilogy of the same name, which is considered a modern masterpiece of imaginative fiction, the first season follows Lyra, a seemingly ordinary but brave young woman from another world. Her search for a kidnapped friend uncovers a sinister plot involving stolen children, and becomes a quest to understand a mysterious phenomenon called Dust. As she journeys through the worlds, including our own, Lyra meets Will, a determined and courageous boy. Together, they encounter extraordinary beings and dangerous secrets, with the fate of both the living — and the dead — in their hands.
---
Also Read: Best Shows Like 'House of the Dragon' To Watch While Waiting For New Episodes
---
House of the Dragon
Synopsis: The reign of House Targaryen begins: House of the Dragon, the prequel to Game of Thrones, is here. Based on George R.R. Martin's "Fire & Blood," the series, which is set 200 years before the events of Game of Thrones, tells the story of House Targaryen. House of the Dragon stars Paddy Considine (HBO's The Third Day and The Outsider), Matt Smith (Doctor Who), Olivia Cooke, Emma D'Arcy, Steve Toussaint (It's a Sin, Doctor Who), Eve Best, Sonoya Mizuno, Fabien Frankel, and Rhys Ifans. Additional cast members include Milly Alcock, Bethany Antonia, Phoebe Campbell, Emily Carey, Harry Collett, Ryan Corr, Tom Glynn-Carney, Jefferson Hall, David Horovitch, Wil Johnson, John Macmillan, Graham McTavish, Ewan Mitchell, Theo Nate, Matthew Needham, Bill Paterson, Phia Saban, Gavin Spokes, and Savannah Steyn.
Blood of Zeus
Synopsis: A commoner living in ancient Greece, Heron discovers his true heritage as a son of Zeus, and his purpose: to save the world from a demonic army.
---
Also Read: Epic Shows Like 'Game of Thrones' To Watch If You Miss the Series
---
Game of Thrones
Synopsis: Trouble is brewing in Westeros. For the inhabitants of this world, control of the Iron Throne holds the lure of great power. But in a land where seasons can last a lifetime, winter is coming…and beyond the Great Wall that protects them, a forgotten evil has returned. HBO presents this epic series based on the book series 'A Song of Ice and Fire' by George R.R. Martin.
---
Also Read: Fantasy Shows Like 'Shadow and Bone' To While Waiting For Season 2
---
Shadow and Bone
Synopsis: Based on Leigh Bardugo's worldwide bestselling Grishaverse novels, Shadow and Bone finds us in a war-torn world where lowly soldier and orphan Alina Starkov has just unleashed an extraordinary power that could be the key to setting her country free. With the monstrous threat of the Shadow Fold looming, Alina is torn from everything she knows to train as part of an elite army of magical soldiers known as Grisha. But as she struggles to hone her power, she finds that allies and enemies can be one and the same and that nothing in this lavish world is what it seems. There are dangerous forces at play, including a crew of charismatic criminals, and it will take more than magic to survive. Shadow and Bone is a Netflix production from 21 Laps Entertainment, starring Jessie Mei Li (Alina Starkov), Archie Renaux (Malyen Oretsev), Freddy Carter (Kaz Brekker), Amita Suman (Inej), Kit Young (Jesper Fahey), and Ben Barnes (General Kirigan).
---
Also Read: Sci-Fi Shows Like 'Foundation' To Watch While Waiting For Season 2
---
Foundation
Synopsis: When revolutionary Dr. Hari Seldon predicts the impending fall of the Empire, he and a band of loyal followers venture to the far reaches of the galaxy to establish The Foundation in an attempt to rebuild and preserve the future of civilization. Enraged by Hari's claims, the ruling Cleons — a long line of emperor clones — fear their grasp on the galaxy may be weakening as they're forced to reckon with the potential reality of losing their legacy forever. The series marks the first-ever on screen adaptation of Isaac Asimov's iconic, award-winning novel series of the same name.
The Dark Crystal: Age of Resistance
Synopsis: The Dark Crystal: Age of Resistance returns to the world of Thra, with an all new adventure. When three young Gelfling discover the horrifying secret behind the Skeksis' power, they set out on an epic journey to ignite the fires of rebellion and save their world.