The Gilded Age has definitely become a haven for Downton Abbey fans as both of the critically acclaimed series were created by the same minds. HBO's historical drama series is set during the American Gilded Age and it follows a young woman named Marian Brook, the orphaned daughter of a Union general in 1882 as she moves to New York City, to stay with her old money aunts and gets caught up in the bright lights and dazzling lifestyles of her rich neighbors. The Gilded Age is created by the Downtown Abbey famed creator Julian Fellowes and it stars Christine Baranski, Louisa Jacobson, Audra McDonald, Carrie Coon, Donna Murphy, and Morgan Spector. The Gilded Age Season 1 premiered in 2022 with the second season coming next year so while you wait for Season 2 to come out here are some shows you could watch while waiting.
---
Also Read: Shows Like 'Downton Abbey' To Watch If You Miss the Series
---
Synopsis: After a tragedy at sea claims the life of the presumed heir, Lord Crawley is faced with the possibility that the house he's loved his whole life might someday belong to a distant cousin he's never met. Will the fate of Downton and its family be resolved?
---
Also Read: Drama Movies to Watch If You Liked 'Bridgerton'
---
Bridgerton (Netflix)
Synopsis: From Shondaland and Creator Chris Van Dusen, Bridgerton follows Daphne Bridgerton (Phoebe Dynevor), the eldest daughter of the powerful Bridgerton family as she makes her debut onto Regency London's competitive marriage market. Hoping to follow in her parent's footsteps and find a match sparked by true love, Daphne's prospects initially seem to be unrivaled. But as her older brother begins to rule out her potential suitors, the high society scandal sheet written by the mysterious Lady Whistledown casts aspersions on Daphne. Enter the highly desirable and rebellious Duke of Hastings (Regé-Jean Page), committed bachelor and the catch of the season for the debutantes' mamas. Despite proclaiming that they want nothing the other has to offer, their attraction is undeniable and sparks fly as they find themselves engaged in an increasing battle of wits while navigating society's expectations for their future.
Synopsis: Belgravia is a story of secrets and scandals amongst the upper echelon of London society in the 19th Century. When the Trenchards accept an invitation to the now legendary ball hosted by the Duchess of Richmond on the fateful eve of the Battle of Waterloo, it sets in motion a series of events that will have consequences for decades to come as secrets unravel behind the porticoed doors of London's grandest neighborhoods. The limited series reunites the award-winning creative team behind Downton Abbey; with Julian Fellowes adapting his bestselling novel for the screen and Carnival's Gareth Neame executive producing alongside Nigel Marchant, Liz Trubridge and Fellowes. John Alexander (Sense & Sensibility, Trust Me) will direct all episodes with Colin Wratten (Killing Eve) producing. The team is joined by a stellar ensemble cast including Tamsin Greig (Episodes), Philip Glenister (Mad Dogs), Harriet Walter (The Crown) and Alice Eve (She's Out Of My League), Tara Fitzgerald (Game of Thrones), Ella Purnell (Miss Peregrine's Home For Peculiar Children), Richard Goulding (The Windsors), James Fleet (Four Weddings and a Funeral), Adam James (Band of Brothers), Paul Ritter (Friday Night Dinner) and Saskia Reeves (Luther).
---
Also Read: Drama Shows Like 'Sanditon' To Watch While Waiting For New Episodes
---
Synopsis: Emmy Award®-winning writer Andrew Davies brings Jane Austen's unfinished last novel vividly to life. The once-sleepy fishing village of Sanditon is transforming into a fashionable spa resort full of intrigues and dalliances. Changing alongside it is the impulsive and unconventional Charlotte Heywood, who journeys to discover herself–and find love on her own terms.
Doctor Thorne (Purchase on Vudu)
Synopsis: From the creator of Downton Abbey. Dr. Thorne lives a quiet life with niece Mary in Greshambury, home of the wealthy Gresham family. Unbeknownst to others, the Greshams have lost their fortune and matriarch Lady Arabella has a scheme to regain it via an arranged marriage with her son and an American heiress. However, her son plans to elope with Mary, which complicates Lady Arabella's plans.
Versailles (Netflix)
Synopsis: At 28, King Louis XIV of France commissions Versailles, the most beautiful palace in Europe, which serves as the King's gilded prison – keeping his friends close and enemies closer. Enter a world of untold wealth, power, and passion. Where love and lust are just a heartbeat away from deceit and betrayal. Experience Versailles in all its brutal glory.
Synopsis: This Emmy Award-winning British drama series tells the story of the wealthy, aristocratic Bellamys and their loyal and lively servants.
Synopsis: The eight-hour drama follows Victoria (Jenna Coleman) from the time she becomes Queen in 1837 at the age of 18 through her relationship with Lord Melbourne (Rufus Sewell), her first prime minister and intimate friend, and her courtship and marriage to Prince Albert (Tom Hughes). Famous for her candor and spirit, she was the first woman who seemed to have it all: a passionate marriage, nine children and the job of being queen of the world's most important nation. Her often tumultuous reign lasted for 63 years.
The Knick (HBO Max)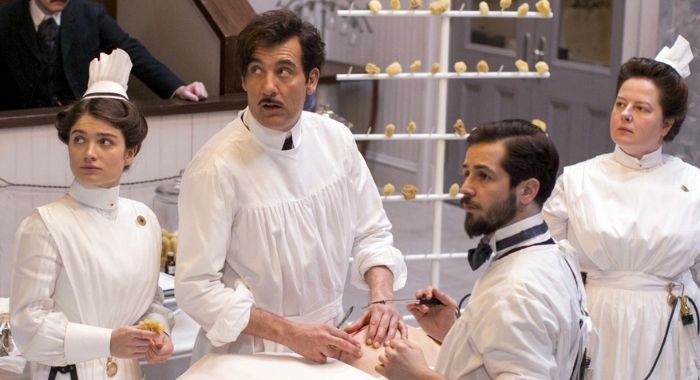 Synopsis: A brilliant surgeon pushes the boundaries of medicine, morality and race relations at a NYC hospital at the turn of the 20th century in this drama series. Throughout 10 episodes–all directed by Steven Soderbergh–the show follows Dr. John Thackery (Oscar(R)-nominee Clive Owen) and his groundbreaking work at the Knickerbocker Hospital as it faces a period of major upheaval.
Synopsis: "The Forsyte Saga" is an epic drama spanning three generations of the powerful Forsyte family at the turn of the 20th century. Beneath the family's imposing veneer lies a festering core of unhappy and brutal relationships.