Netflix's new series The Empress tells the story of Elisabeth of Bavaria as she falls for and marries the Emperor Franz of Austria. This marriage pushes Elisabeth into the stressful life of an Empress. What started as a love story becomes so much more as time goes on and the duties of Emperor and Empress begin to create distance between Elisabeth and Franz. We see Elisabeth fall in love, deal with the consequences of being an Empress, and put Royal duties first to become a beloved Royal figure among her subjects. So, if this period Netflix series intrigued you we have prepared a list of the period shows you could watch to fill up your time.
---
Also Read: Best Shows Like 'The Great' To Watch While Waiting For Season 3
---
The Great
Synopsis: EMMY® NOMINATED The Great is a satirical, comedic drama about the rise of Catherine the Great from outsider to the longest reigning female ruler in Russia's history. A fictionalized, fun and anachronistic story of an idealistic, romantic young girl, who arrives in Russia for an arranged marriage to the mercurial Emperor Peter. Hoping for love and sunshine, she finds instead a dangerous, depraved, backward world that she resolves to change. All she has to do is kill her husband, beat the church, baffle the military and get the court onside. A very modern story about the past which encompasses the many roles she played over her lifetime as lover, teacher, ruler, friend, and fighter. Incorporating historical facts occasionally, the series stars Elle Fanning as Catherine, Nicholas Hoult, Phoebe Fox, Adam Godley, Gwilym Lee, Charity Wakefield, Douglas Hodge, Sacha Dhawan, Sebastian de Souza, Bayo Gbadamosi and Belinda Bromilow.
Victoria
Synopsis: The eight-hour drama follows Victoria (Jenna Coleman) from the time she becomes Queen in 1837 at the age of 18 through her relationship with Lord Melbourne (Rufus Sewell), her first prime minister and intimate friend, and her courtship and marriage to Prince Albert (Tom Hughes). Famous for her candor and spirit, she was the first woman who seemed to have it all: a passionate marriage, nine children and the job of being queen of the world's most important nation. Her often tumultuous reign lasted for 63 years.
The Spanish Princess
Synopsis: Returning to the world of Tudor royal court intrigue, "The Spanish Princess' is vivid and captivating story told uniquely from the point of view of the women, which also sheds light on a previously untold corner of history the lives of people of color living and working in 16th century London. Catherine of Aragon is the strong-willed young princess of Spain, who has been promised the English throne since she was a child. She arrives in a grey, rain-lashed England with her glorious and diverse court, including her ladies-in-waiting Lina – a Spanish noble of African Iberina descent – and the sweet and free-spirited Rosa.
The White Queen
Synopsis: It's 1464 and two British royal houses are caught in a blood feud over who should rule. Love, lust, dreams and ambition tangle in a bloody conflict where everyone is a pawn trying to be the kingmaker in this thrilling adult drama. Step into the world based on Philippa Gregory's historical novel series, who will be crowned King of England?
Becoming Elizabeth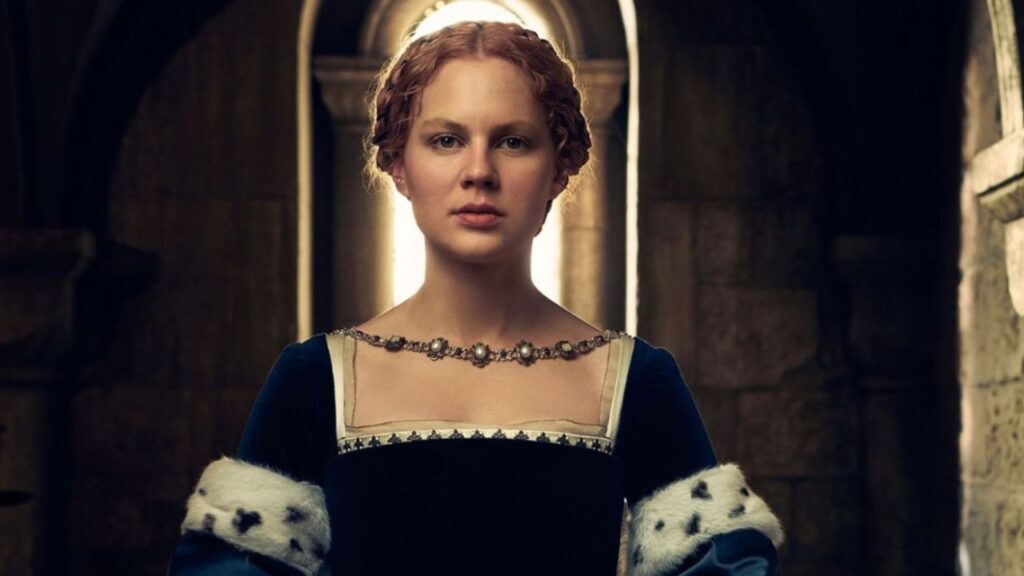 Synopsis: Becoming Elizabeth centers on young Elizabeth Tudor (Alicia von Rittberg), an orphaned teenager who becomes embroiled in the political and sexual politics of the English court on her journey to secure the crown. The death of King Henry VIII sets into motion a dangerous scramble for power. His surviving children find themselves pawns in a game between the great families of England and the powers of Europe who vie for control of the country.
The Serpent Queen
Synopsis: "The Serpent Queen" tells the story of Catherine de Medici (Samantha Morton) who, against all odds, became one of the most powerful and longest-serving rulers in French history. Catherine's tale unfolds through flashbacks as she defends her actions and imparts the lessons she's learned to her new servant girl, Rahima (Sennia Nanua). At 14, the young, orphaned Catherine (Liv Hill) marries into the 16th-century French court. Despite her commoner status, her uncle Pope Clement (Charles Dance), has negotiated a large dowry and a geopolitical alliance in return for the union, and with it comes the expectation of many heirs. However, on her wedding night, Catherine learns that her new husband is in love with Diane de Poitiers (Ludivine Sagnier), a beautiful lady-in-waiting twice his age. With her future suddenly uncertain and with little hope of conceiving, Catherine must quickly learn who she can trust – both within her personal entourage of courtiers and the members of the royal court – while outmaneuvering anyone who underestimates her determination to survive at any cost.
Catherine The Great
Synopsis: Oscar® winner* Helen Mirren stars in the enthralling HBO® drama Catherine the Great, delivering a regal performance as the brilliant monarch who ruled the Russian empire and transformed its place in the world in the 18th century. Over the course of four hour-long episodes, this limited series charts Catherine's tumultuous reign as the cunning and ambitious empress fights off threats to her crown, wages war with the Ottoman Empire and expands Russia's borders as far as the Black Sea and Crimea. Beyond its tale of a political success story against all odds, the series chronicles the passionate love affair between Catherine and Russian military leader Grigory Potemkin. Jason Clarke (Zero Dark Thirty) costars in this sweeping historical epic.