Shameless is easily one of the best comedy-drama about a dysfunctional family that is so f***ed up that even the Roy family (Succession) seems less dysfunctional in comparison. Starring Oscar Winner William H. Macy and Emmy Rossum, Shameless is one of those few American adaptations of a British series that truly works. Shameless is adapted by John Wells for Showtime and it is based on Paul Abbott's British series of the same name. The series is set on the South Side of Chicago, Illinois and it follows the infamous Gallagher family as they try to get through the day in hopes of a better future while dealing with their alcoholic father's blunders. The series also stars Shanola Hampton, Jeremy Allen White, Steve Howey, Emma Kenney, Cameron Monaghan, Noel Fisher, and Ethan Cutkosky. Shameless ended its run with its eleventh and final season in 2021 with an extremely heartfelt final episode. While there are no shows quite like Shameless, we are here to list the shows you might like to watch after completing the Showtime series.
Synopsis: Meet the Gallagher family as they experience life on the edge in a blur of sexual adventures, triumphs, love, scams and petty crime on a Manchester housing estate. Just be thankful they're not your neighbours.
---
Also Read: Best Shows Like 'Fleabag' To Watch If You Miss the Series
---
Synopsis: Fleabag is a hilarious and poignant window into the mind of a dry-witted, sexual, angry, grief-riddled woman, as she hurls herself at modern living in London. Award-winning playwright Phoebe Waller-Bridge writes and stars as Fleabag, an unfiltered woman trying to heal, while rejecting anyone who tries to help her and keeping up her bravado all along.
---
Also Read: Movies & Shows Like 'The Bear' To Watch If You Loved the Series
---
The Bear (Hulu)
Synopsis: FX's new original series The Bear follows Carmen "Carmy" Berzatto (Jeremy Allen White), a young chef from the fine dining world, who comes home to Chicago to run his family sandwich shop – The Original Beef of Chicagoland – after a heartbreaking death in his family. A world away from what he's used to, Carmy must balance the soul-crushing realities of small business ownership, his strong-willed and recalcitrant kitchen staff and his strained familial relationships, all while grappling with the impact of his brother's suicide. The Bear is about food, family, the insanity of the grind, the beauty of Sense of Urgency and the steep slippery downsides. As Carmy fights to transform both The Original Beef of Chicagoland and himself, he works alongside a rough-around-the-edges kitchen crew that ultimately reveal themselves as his chosen family. In addition to White, this half-hour series stars Ebon Moss-Bachrach, Ayo Edebiri, Abby Elliott, Lionel Boyce and Liza Colón-Zayas, with Edwin Lee Gibson and Matty Matheson in recurring roles.
---
Also Read: Best Shows Like 'It's Always Sunny in Philadelphia' To Watch While Waiting For the Next Season
---
It's Always Sunny in Philadelphia (Hulu)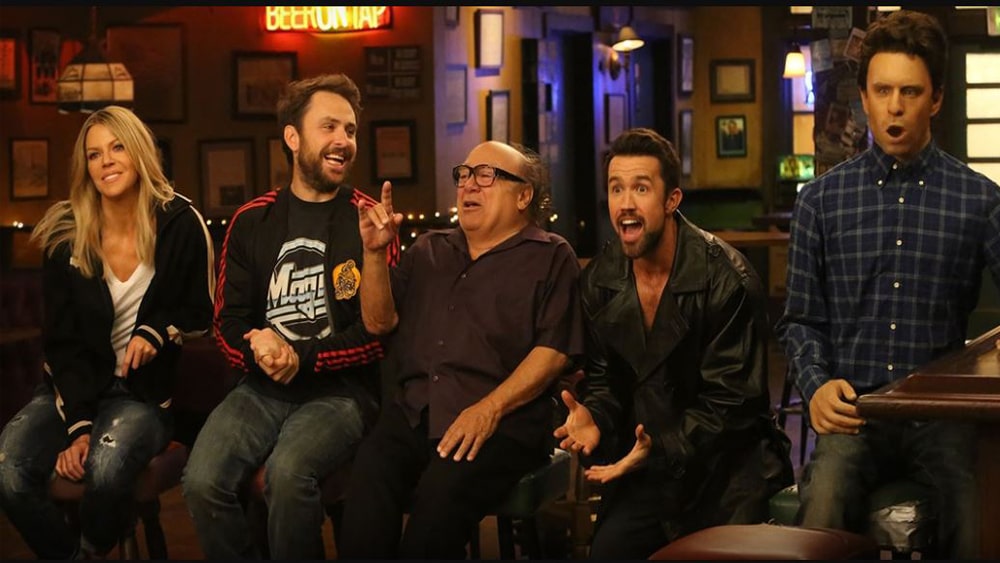 Synopsis: It's Always Sunny in Philadelphia features Mac, Dennis, Charlie, Sweet Dee and Frank, five ne'er-do-wells who own and operate Paddy's Pub in Philadelphia. Their constant scheming usually lands them in a world of hurt, yet they never seem to learn from their mistakes. As they say, some things never change. So prepare for more depraved schemes, half-baked arguments, and absurdly underhanded plots to subvert one another.
Synopsis: Weeds is a single-camera comedy about a single mother who makes ends meet by selling marijuana in the fictional suburb of Agrestic, California. The series exposes the dirty little secrets that lie behind the pristine lawns and shiny closed doors of homes in this gated community. Mary Louise Parker stars as the suburban mom who resorts to selling weed to support her family after her husband unexpectedly dies.
---
Also Read: Best Shows Like 'You're the Worst' To Watch If You Miss the Series
---
You're the Worst (Hulu)
Synopsis: An original comedy from writer and executive producer Stephen Falk, You're The Worst puts a dark twist on the romantic comedy genre. Narcissistic, brash, and self-destructive "Jimmy Shive-Overly," played by Chris Geere (The Spa), thinks all relationships are doomed. Cynical, people-pleasing, and stubborn "Gretchen Cutler," played by Aya Cash (The Wolf of Wall Street), knows that relationships aren't for her. So when they meet at a wedding, it's only natural that the two of them go home together and, despite their better judgment, begin to find themselves falling for each other. Rounding out the cast is Desmin Borges (The Good Wife), who plays "Edgar Quintero," Jimmy's once homeless, war veteran roommate, and Kether Donohue (The Carrie Diaries) as "Lindsay Jillian," Gretchen's best friend and former partner in crime who's now struggling with a life of domesticity.
---
Also Read: Shows Like 'Californication' To Watch If You Miss the Series
---
Californication (Paramount+ & Showtime)
Synopsis: When fast-living novelist Hank Moody left the literary haunts of New York for the pleasure seeking splendors of L.A, he thought he'd have fame, fortune and the love of a good woman. Now his personal life is in shambles, his career is on the brink of self-destruction and he still just can't stop yielding to every temptation. Golden Globe® winner David Duchovny stars in the Showtime Original series that takes you on a wild, witty, and sexy ride in the California fast lane.
---
Also Read: Best Shows Like 'Six Feet Under' To Watch If You Miss the Series
---
Six Feet Under (HBO Max)
Synopsis: Family is complicated — especially when you own (and live in) a funeral home with them. Experience the highs and lows of life and death with the Fisher family in this darkly comic drama from Oscar winner Alan Ball.
Synopsis: Ray Drecker seems like any other divorced dad who is struggling to make ends meet. But he does have one God-given thing that sets him apart–call it his 'winning tool.' Thomas Jane stars in this comedy series about this underpaid high-school teacher who hatches an inspired plan to ride his plus-sized package to a more productive existence. Jane Adams and Anne Heche co-star.
---
Also Read: Comedy Shows Like 'The Righteous Gemstones' To Watch After Season 2
---
The Righteous Gemstones (HBO Max)
Synopsis: They've got the whole world in their hands. From the creative team that brought you Vice Principals and Eastbound and Down comes a comedy series about a celebrity televangelist family behind a popular megachurch that is also a major money-making enterprise. Danny McBride stars as Jesse Gemstone, the eldest of three grown Gemstone children, who receives a blackmail video that could put his reputation at risk. Getting caught up in the hunt for the culprits are Jesse's siblings Judy (Edi Patterson) and Kelvin (Adam Devine). Meanwhile, the family's patriarch, Eli (John Goodman), finds himself in a point of crisis as he mourns the loss of his wife and questions whether the family is still serving a higher power.
---
Also Read: Best Shows Like 'Succession' About Bad People
---
Synopsis: ​Power, politics, money…it's all in the family in this provocative, bitingly funny drama series about a highly dysfunctional dynasty. When aging, uber-wealthy patriarch Logan Roy (Brian Cox), CEO of one of the world's largest media and entertainment conglomerates, decides to retire, each of his four grown children follows a personal agenda that doesn't always sync with those of their siblings–or of their father. After Logan changes his mind about stepping down, he endures the often-childish bickering of his heirs while others in their orbit position themselves for a post-Logan world that seems imminent, though not predestined. Jeremy Strong, Kieran Culkin, Sarah Snook and Alan Ruck co-star as Logan's children; also with Hiam Abbass, Nicholas Braun and Matthew Macfadyen.
Synopsis: Bridgette Bird is a smart, scrappy, young single mom trying to navigate life in South Boston with an extremely unconventional family. She struggles to make ends meet, which leads her to impulsive and at times immature decisions. Above all, Bridgette wants to make a better life for her son. SMILF takes on motherhood, co-parenting, and female sexuality through a raw and unfiltered lens. Don't miss this semi-autobiographical half-hour comedy from the creative mind of Frankie Shaw, an original and fresh new female voice.
---
Also Read: Best Shows Like 'Arrested Development' To Watch If You Miss the Series
---
Arrested Development (Netflix & Hulu)
Synopsis: Holding the Bluths together just barely is son Michael Bluth (Jason Bateman), the only normal guy in a family that's chock full of nuts. Hardworking and sensible, Michael's certain he's going to be given control of his family's Enron-style corporation upon the retirement of his father (Jeffrey Tambor). The fact that he's passed over instead for his mother (Jessica Walter) is only a blip when compared to his father's immediate arrest for dubious accounting practices, and the resulting freeze on the family's previously limitless wealth. Bereft of money, and even less family love, the Bluths have to band together in their moment of need–not easy when everyone's looking out for number 1. In addition to his scabrous parents, Michael has to contend with his lothario older brother (Will Arnett), his basically useless younger brother (Tony Hale), his greedy twin sister (Portia DeRossi), and her sexually ambiguous husband (David Cross). Michael's only comrade in sanity is his son George Michael (Michael Cera), but then again, the teenage boy harbors a secret crush on his cousin (Alia Shawkat).