New Girl is definitely one of the most heartwarmingly funny series about friends and love. The Fox comedy series follows the chirpy and naive Jessica (Zooey Deschanel) as she moves into a loft with 3 guys who are equally as quirky and weird. The brilliant series lasted for seven seasons ending its run in 2018, so if you miss the series here are some shows you could watch next.
Happy Endings (Hulu)
Synopsis: Forget who gets to keep the ring, when a couple splits, the real question is, who gets to keep the friends? In this modern comedy, a couple's break up will complicate all of their friends' lives and make everyone question their choices. When life throws you for a curve, hold on tight to the people you love.
---
Also Read: Comedy Shows Like 'How I Met Your Mother' To Watch If You Miss the Series
---
How I Met Your Mother (Hulu)
Synopsis: A half-hour comedy series about Ted and how he fell in love. It all started when Ted's best friend, Marshall, drops the bombshell that he's going to propose to his long-time girlfriend, Lily, a kindergarten teacher. At that moment, Ted realizes that he had better get a move on if he too hopes to find true love. Helping him in his quest to find his future wife is Barney, a friend with endless, sometimes outrageous opinions, a penchant for suits and a foolproof way to meet women. When Ted meets Robin, he's sure it's love at first sight, but after a whirlwind romance with her, he realizes destiny has something else in store for him. The series is narrated through flashbacks from the future.
Unbreakable Kimmy Schmidt (Netflix)
Synopsis: From the executive producers of 30 Rock (Tina Fey and Robert Carlock) comes the "wise, wicked comedy" (Jeff Jensen, EW), Unbreakable Kimmy Schmidt. Rescued after fifteen years in an underground doomsday cult, Kimmy (Ellie Kemper) decides to rebuild her life in New York City armed with only a fifth-grade education and a firm belief that truly anything is possible. She quickly finds a roommate, Titus Andromedon (Primetime Emmy® nominee Tituss Burgess), a job working for a spoiled Manhattan mom, Jacqueline Voorhees (Primetime Emmy® nominee Jane Krakowski), and a new beginning. Watch season one of the Primetime Emmy®-nominated series on these shiny discs that Kimmy is only now just learning about!
Shrill (Hulu)
Synopsis: From Executive Producers Lorne Michaels and Elizabeth Banks comes Shrill, a comedy series starring Aidy Bryant (Saturday Night Live) as Annie, a fat young woman who wants to change her life — but not her body. Annie is trying to start her career while juggling bad boyfriends, a sick parent, and a perfectionist boss.
---
Also Read: Shows Like 'Ted Lasso' To Watch While Waiting For Season 3
---
Ted Lasso (Apple TV+)
Synopsis: In this comedy from executive producers Jason Sudeikis and Bill Lawrence (Scrubs, Whiskey Cavalier, Cougar Town), Sudeikis (Saturday Night Live, We're the Millers, Horrible Bosses films) stars as Ted Lasso, an idealistic all-American football coach hired to manage an English football club – despite having no soccer coaching experience at all. Based on the beloved character Sudeikis made famous online, Ted Lasso is the first television series that Sudeikis has signed on to star as a series regular since Saturday Night Live. Produced by Doozer Productions in association with Warner Bros. Television, the comedy series is also executive produced by Jeff Ingold.
2 Broke Girls (The Roku Channel)
Synopsis: In this fun, outrageous comedy series from Emmy® winner Michael Patrick King (Sex and the City) and comedian Whitney Cummings, two girls from very different backgrounds – Max, poor from birth, and Caroline, born wealthy but down on her luck – wind up as waitresses in the same colorful Brooklyn diner and strike up an unlikely friendship that could lead to a successful business venture.
---
Also Read: Comedy Shows Like 'Friends' To Watch If You Miss the Series
---
Friends (HBO Max)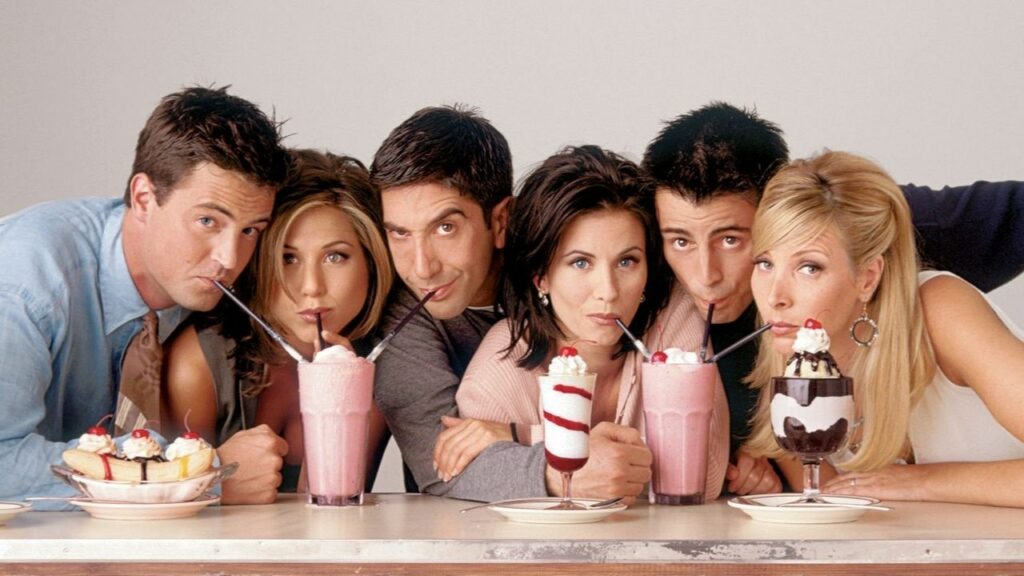 Synopsis: This is a show about love and sex and careers and a time in life when everything is possible … about the search for commitment and security … and the fear of commitment and security. Most of all, it's about friendship–for when you're young and single in the city, your friends are your family.
Don't Trust The B—- In Apartment 23 (Hulu)
Synopsis: After a naive Midwestern girl's big city dreams are dashed her first week in New York, she finds herself living with her worst nightmare in this hilarious, contemporary comedy about a female odd couple who are surrounded by outrageous characters.
---
Also Read: Shows Like 'Broad City' To Watch If You Miss the Series
---
Broad City (Hulu)
Synopsis: A bottle of wine tastes just as good when you pay with all pennies. That's a fact. And no matter what the city throws at twenty-somethings Abbi and Ilana, these broads are all in. Catch the totally fresh, new series based on the acclaimed digital shorts.
The Mindy Project (Netflix, Hulu & Prime Video)
Synopsis: The Mindy Project is a biting new single-camera comedy from Emmy Award-nominated writer/producer and New York Times best-selling author Mindy Kaling ("The Office") that follows a woman who, despite having a successful career, is unlucky in love and desperately needs to get her personal life back on track before her friends and colleagues are forced to stage an intervention. Funny, impatient and politically incorrect, Mindy Lahiri (Kaling) can quote every romantic comedy starring Meg Ryan that exists. She loves the good ones and the bad ones, because the girl always gets the guy. Mindy is determined to be more punctual, spend less money, lose weight and read more books — all in pursuit of becoming a well-rounded perfect woman… who can meet and date the perfect guy.