Kevin Can Fk Himself is a brilliant dark comedy series starring Schitt's Creek's Annie Murphy. The AMC series is created by Valerie Armstrong, and it tells the story of Allison McRoberts, who seems very familiar on the outside as she looks like all the sitcom wives we have seen before in countless comedy shows. The series follows Allison as she tries to break out of her unhappy life. Alongside Murphy, the series also stars Marry Hollis Inboden, Eric Peterson, Alex Bonifer, Brian Howe, and Raymond Lee. Kevin Can FK Himself is coming to an end with its second season and if you already miss the series here are some shows you could watch after the AMC series.
---
Also Read: Shows Like 'Killing Eve' To Watch If You Miss the Series
---
Killing Eve (Hulu)
Synopsis: Based on the novellas by Luke Jennings Killing Eve centers on two women; Eve is a bored, whip-smart, pay-grade MI5 security officer whose desk-bound job doesn't fulfil her fantasies of being a spy. Villanelle is a mercurial, talented killer who clings to the luxuries her violent job affords her. Killing Eve topples the typical spy-action thriller as these two fiercely intelligent women, equally obsessed with each other, go head to head in an epic game of cat and mouse.
---
Also Read: Shows Like 'Dead To Me' To Watch If You Already Miss the Series
---
Dead To Me (Netflix)
Synopsis: Jen (Christina Applegate) is a sardonic widow determined to solve her husband's recent hit-and-run murder. Judy (Linda Cardellini) is an optimistic free spirit who's recently suffered her own tragic loss. When the two women meet at a support group, they become unlikely friends despite their polar-opposite personalities. But as they bond over bottles of wine, Entenmann's cookies and a shared affinity for The Facts of Life, Judy desperately tries to shield Jen from a shocking secret that could destroy her life as she knows it. Dead to Me, created by Liz Feldman (2 Broke Girls, One Big Happy), is an addictive dark comedy that dives into the painfully unfiltered, weirdly funny waters of grief, loss and forgiveness. From creator and executive producer Liz Feldman, Dead to Me stars Christina Applegate (Jen), Linda Cardellini (Judy), James Marsden (Steve), Ed Asner (Abe) and Brandon Scott (Nick). Jessica Elbaum (Gloria Sanchez Prods.), Christie Smith and Christina Applegate also serve as executive producers, in addition to Adam McKay and Will Ferrell for Gloria Sanchez Productions.
---
Also Read: Quirky Shows Like 'Russian Doll' To Watch After Season 2
---
Russian Doll (Netflix)
Synopsis: Natasha Lyonne, Charlie Barnett, Greta Lee, Elizabeth Ashley. A young woman is at her 36th birthday party in New York City until she dies accidentally. Then instantly she's alive and back at the party-only to die again, helpless to stop the scenario from repeating over and over again and desperate to understand what's happening and why.
---
Also Read: Shows Like 'Good Girls' To Watch If You Miss the Series
---
Good Girls (Netflix)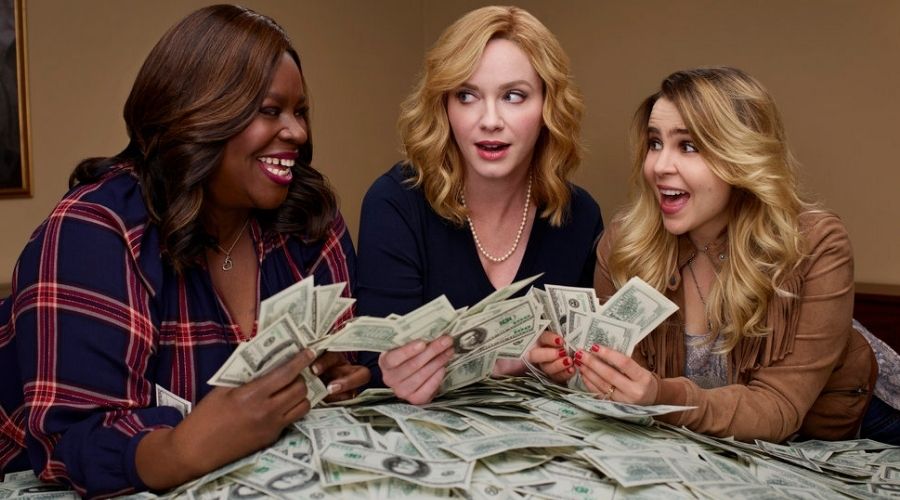 Synopsis: When three suburban moms get tired of trying to make ends meet, they decide it's time to stick up for themselves by robbing the local grocery store. But when the manager catches a glimpse of one of them and the loot is far more than they expected, it doesn't take long for the three best friends to realize the perfect getaway will be harder than they think. From Executive Producer Jenna Bans ("Grey's Anatomy," "Scandal," "The Family") comes this comedy-infused drama that mixes a little "Thelma & Louise" with a bit of "Breaking Bad." The cast includes Christina Hendricks ("Mad Men," "Another Period"), Retta ("Parks and Recreation," "Girlfriends' Guide to Divorce"), Mae Whitman ("Parenthood," "Arrested Development"), Reno Wilson ("Mike & Molly"), Manny Montana ("Graceland"), Lidya Jewett ("Hidden Figures"), Isaiah Stannard ("Brad's Status") and Matthew Lillard ("Twin Peaks," "Bosch").
---
Also Read: Best Shows Like 'The Flight Attendant' To Watch After Season 2
---
The Flight Attendant (HBO Max)
Synopsis: The Flight Attendant is a story of how an entire life can change in one night. A flight attendant (Kaley Cuoco) wakes up in the wrong hotel, in the wrong bed, with a dead man – and no idea what happened. The dark comedic thriller is based on the novel of the same name by New York Times bestselling author Chris Bohjalian.
---
Also Read: Shows Like 'Made for Love' To Watch If You Miss the Series
---
Made for Love (HBO Max)
Synopsis: Made for Love is a darkly absurd and cynically poignant story of love and divorce. It follows Hazel Green (Cristin Milioti), a thirty-something woman on the run after 10 years in a suffocating marriage to Byron Gogol (Billy Magnussen), a controlling tech billionaire. Soon she discovers that her husband has implanted a monitoring device – the Made for Love chip – in her brain, allowing him to track her, watch her, and know her "emotional data" as she tries to regain her independence. Through the chip, Byron's able to watch Hazel's every move as she flees to her desert hometown to take refuge with her aging widower father Herbert (Ray Romano) and his synthetic partner, Diane.
---
Also Read: Shows Like 'BoJack Horseman' To Watch If You Miss the Series
---
BoJack Horseman (Netflix)
Synopsis: BoJack Horseman was created by Raphael Bob-Waksberg. The series is executive produced by Raphael Bob-Waksberg, Steven A. Cohen and Noel Bright. Will Arnett (Flaked, Arrested Development) and Aaron Paul (Breaking Bad) also serve as executive producers. BoJack was designed by graphic artist Lisa Hanawalt and animated by LA-based ShadowMachine. The show is a Tornante Production, brought to life by Michael Eisner's The Tornante Company.
WandaVision (Disney+)
Synopsis: Starring Elizabeth Olsen and Paul Bettany, "WandaVision" marks the first series from Marvel Studios streaming exclusively on Disney+. The series is a blend of classic television and the Marvel Cinematic Universe in which Wanda Maximoff and Vision—two super-powered beings living idealized suburban lives—begin to suspect that everything is not as it seems.
---
Also Read: Shows Like 'Fleabag' To Watch If You Miss the Series
---
Synopsis: Fleabag is a hilarious and poignant window into the mind of a dry-witted, sexual, angry, grief-riddled woman, as she hurls herself at modern living in London. Award-winning playwright Phoebe Waller-Bridge writes and stars as Fleabag, an unfiltered woman trying to heal, while rejecting anyone who tries to help her and keeping up her bravado all along.
Synopsis: In his first series regular role in over two decades, Jim Carrey stars as Jeff, aka Mr. Pickles, an icon of children's television and a beacon of kindness and wisdom to America's impressionable young minds and the parents who grew up with him. But when this beloved personality's family begins to implode, Jeff finds no fairy tale, fable or puppet will guide him through the crisis, which advances faster than his means to cope. The result: a kind man in a cruel world faces a slow leak of sanity as hilarious as it is heartbreaking.