Frasier is one of the best classic multi-cam sitcoms ever made. Based on the character from the hit series Cheers, Frasier follows Dr. Frasier Crane as he moves to Seattle to reset his after finalizing his divorce. While Dr. Crane thinks that he is getting a new life his plans are interrupted when his father moves in with him. The comedy of the series comes from the highly dysfunctional relationship between Frasier and his father Niles Crane. Frasier provided laughter to its audience for 11 eleven brilliant seasons and ended its run in 2004. It has been over 18 years since Frasier was on the air and now we are finally getting a revival series with Kelsey Grammer returning as the titular character. So, while you wait for the revival series to come out here are some shows you could watch next.
Becker (Pluto TV)
Synopsis: Dr. John Becker goes through his daily routine of being a doctor, stopping at his favorite diner, and other various situations, all the while hating life and everything around him.
---
Also Read: Best Shows Like 'Seinfeld' To Watch If You Miss the Series
---
Seinfeld (Netflix)
Synopsis: Seinfeld stars Jerry Seinfeld as a stand-up comedian whose life in New York City is made even more chaotic by his quirky group of friends who join him in wrestling with life's most perplexing, yet often trivial questions. Often described as "a show about nothing," Seinfeld mines the humor in life's mundane situations like waiting in line, searching for a lost item, or the trials and tribulations of dating. Co-starring are Julia Louis-Dreyfus as Jerry's ex-girlfriend and current platonic pal, Elaine Benes; Jason Alexander as George Costanza, Jerry's neurotic hard-luck best friend; and Michael Richards as Jerry's eccentric neighbor, Kramer.
Synopsis: Wander in… pull up a stool… and make yourself at home "where everybody knows your name." Ted Danson stars as Sam Malone, former relief-pitcher for the Boston Red Sox turned sober saloon owner of a popular neighborhood spot. From snooty, erudite Diane (Shelly Long)—a chronic academic forced to become a waitress when her fiancé dumps her—to ruthless corporate careerist Rebecca Howe (Kirstie Alley)—relegated to riding herd over this unruly bunch—Sam remains a (somewhat) calming presence. Add to the mix wise-cracking Carla (Rhea Perlman), suds-slurping regular Norm (George Wendt), know-it-all letter carrier Cliff (John Ratzenberger), gentle-spirited Coach (Nicholas Colasanto), and freelance shrink Frasier Crane (Kelsey Grammer) and you're all set to raise a glass to the legendary, Emmy Award-winning series.
---
Also Read: Best Shows Like 'Friends' To Watch If You Miss the Series
---
Friends (HBO Max)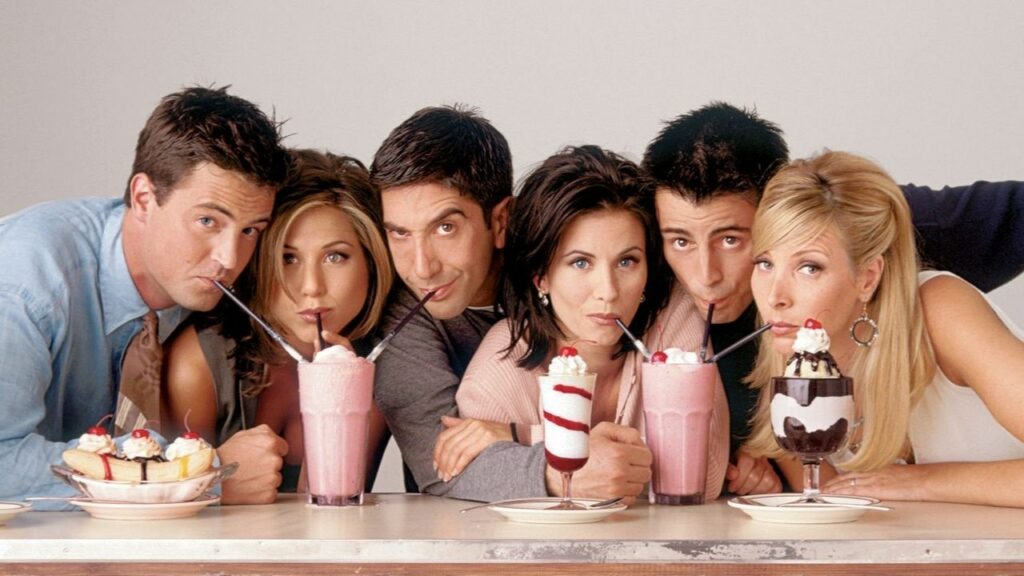 Synopsis: This is a show about love and sex and careers and a time in life when everything is possible … about the search for commitment and security … and the fear of commitment and security. Most of all, it's about friendship–for when you're young and single in the city, your friends are your family.
---
Also Read: Shows Like 'Everybody Loves Raymond' To Watch If You Miss the Series
---
Synopsis: Everybody Loves Raymond, a comedy about Ray Barone, a successful sports writer and family man whose parents and brother happen to live across the street. Mom Marie loves to meddle in Ray's life, while older brother Robert resents his success, and Dad Frank just makes snide comments and raids the refrigerator. Nevertheless, Ray manages to keep an easygoing outlook and a sense of humor, leaving the hard issues to his more practical wife, Debra.
---
Also Read: Best Sitcoms Like 'Malcolm in the Middle' For More Family Fun
---
Malcolm in the Middle (Hulu & The Roku Channel)
Synopsis: Created by Emmy® Award-winning writer Linwood Boomer, this inventive half-hour series is seen through the eyes of Malcolm (Frankie Muniz), a regular high school kid trying to navigate his way through life despite the various obstacles thrown in his way – a complete misunderstanding of girls, the constant burden of masterminding plans to get himself and his brothers into or out of trouble, and a miserable job at the Lucky Aide…not to mention a severe case of teen angst. Although Malcolm has a genius IQ, he can't seem to make sense of the opposite sex, much less his embarrassing family. Lois (Jane Kaczmarek) is the outspoken, opinionated mom, who still manages to rule the roost even though her boys are growing wise to her crafty ways. Hal (Bryan Cranston), a dad who is just a bumbling, big kid at heart, often finds himself creating more chaos than his five boys combined. Reese (Justin Berfield) has mastered the art of a perfect blank stare, and makes up for his lack of intelligence with deviance. Francis (Christopher Kennedy Masterson), Malcolm's oldest and favorite brother, is willing to move from Alabama to Alaska to New Mexico – as long as it keeps him from moving back home. Dewey (Erik Per Sullivan), no longer the youngest, has learned his tricks from the best and often pulls the wool right over his brothers' eyes. And then there's Jamie, the youngest member…and family scapegoat.
Just Shoot Me! (Hulu)
Synopsis: There is always drama and high fashion at the office of Blush Magazine. Maya's father Jack owns Blush and Maya has reluctantly accepted a job here working with her father and a host of odd and neurotic co-workers.
---
Also Read: Best Shows Like 'Arrested Development' To Watch If You Miss the Series
---
Arrested Development (Netflix & Hulu)
Synopsis: Holding the Bluths together just barely is son Michael Bluth (Jason Bateman), the only normal guy in a family that's chock full of nuts. Hardworking and sensible, Michael's certain he's going to be given control of his family's Enron-style corporation upon the retirement of his father (Jeffrey Tambor). The fact that he's passed over instead for his mother (Jessica Walter) is only a blip when compared to his father's immediate arrest for dubious accounting practices, and the resulting freeze on the family's previously limitless wealth. Bereft of money, and even less family love, the Bluths have to band together in their moment of need–not easy when everyone's looking out for number 1. In addition to his scabrous parents, Michael has to contend with his lothario older brother (Will Arnett), his basically useless younger brother (Tony Hale), his greedy twin sister (Portia DeRossi), and her sexually ambiguous husband (David Cross). Michael's only comrade in sanity is his son George Michael (Michael Cera), but then again, the teenage boy harbors a secret crush on his cousin (Alia Shawkat).
$#*! My Dad Says
Synopsis: $#*! My Dad Says is an American television sitcom produced by Warner Bros. Television that aired on CBS. It was based on the Twitter feed Shit My Dad Says, created by Justin Halpern and consisting of quotations from his father, Sam.
Synopsis: Anna Faris and Emmy® winner Allison Janney star in a new comedy from Chuck Lorre (The Big Bang Theory, Two and a Half Men, Mike & Molly). Anna Faris plays Christy, a single mom whose newly found sobriety has given her the ability to see her life clearly … and she does not like the view. Now she must try to untangle years of reckless decisions in order to make a better life for her and her kids. But she discovers that just because you want to be a better person doesn't mean it's going to be easy. Everywhere she looks there are challenges: She is trying to stop drinking in wine country, have a healthy romance with her unavailable boss, raise her young son to be a good man despite his father's influence, convince her troubled teenage daughter to make better choices than she did, and — perhaps the most difficult task — forgive her estranged mother, Bonnie (Janney), for not giving her any of the tools she needed to handle life in the first place.