Prime Video is nothing if not a goldmine of content, with basically something to watch for everyone, and today we are making a list of the best new shows and movies coming to Prime Video in June 2022 that you can watch right now. The shows in this list are not ranked.
---
---
Annie Hall (June 1)
Synopsis: Writer-director-actor Woody Allen is in prime form in this celebrated comedy in which he portrays a neurotic, highly insecure and indecisive comedy writer who falls head over heels in love with a naive small-town "girl" (Diane Keaton) who wants to be a singer. The opening rounds of their relationship involve every romantic clich̩ (hilariously re-created by Allen). Keaton's horrified parents snub the city slicker who loves their daughter, but they move in together, anyway. Insecure Allen is so sure he will lose Keaton that he interprets her every move as rejection. As Keaton's self-confidence grows, Allen's progressively fades.
Call Me By Your Name (June 1)
Synopsis: It's the summer of 1983 in Italy, and Elio (Chalamet), a precocious 17-year-old, spends his days in his family's villa transcribing and playing classical music, reading and flirting with his friend Marzia. One day, Oliver (Hammer), a charming American scholar arrives as the annual summer intern tasked with helping Elio's father, an eminent professor. Elio and Oliver discover the heady beauty of awakening desire over the course of a summer that will alter their lives forever.
---
---
Fantastic Mr. Fox (June 1)
Synopsis: Fantastic Mr. Fox, based on the classic book by Roald Dahl, tells a story about wild animals, underground tunnels, explosions, flames, burning things, a brilliantly clever fox, and three of the meanest, nastiest, ugliest farmers you'll ever know. Featuring the voices of George Clooney, Meryl Streep, Bill Murray, Jason Schwartzman, Eric Anderson, Willem Dafoe, and Michael Gambon.
Groundhog Day (June 1)
Synopsis: Bill Murray is at his wry, wisecracking best in this riotous romantic comedy about a weatherman caught in a personal time warp on the worst day of his life. Teamed with a relentlessly cheerful producer (Andie MacDowell) and a smart-aleck cameraman (Chris Elliott), TV weatherman Phil Connors (Bill Murray) is sent to Punxsutawney, Pennsylvania, to cover the annual Groundhog Day festivities. But on his way out of town, Phil is caught in a giant blizzard, which he failed to predict, and finds himself stuck in small-town hell. Just when things couldn't get any worse, they do. Phil wakes the next morning to find it's Groundhog Day all over again… and again… and again.
---
---
Juno (June 1)
Synopsis: JUNO stars Ellen Page as the title character, a whip-smart teen confronting an unplanned pregnancy by her classmate Bleeker (Michael Cera). With the help of her hot best friend Leah (Olivia Thirlby), Juno finds her unborn child a "perfect" set of parents: an affluent suburban couple, Mark and Vanessa (Jason Bateman and Jennifer Garner), longing to adopt. Luckily, Juno has the total support of her parents (JK Simmons and Allison Janney) as she faces some tough decisions, flirts with adulthood and ultimately figures out where she belongs.
Top Gun (June 1)
Synopsis: Top Gun takes a look at the danger and excitement that awaits every pilot at the Navy's prestigious fighter weapons school. Tom Cruise is superb as Pete "Maverick" Mitchell, a daring young flyer who's out to become the best of the best. And Kelly McGillis sizzles as the civilian instructor who teaches Maverick a few things you can't learn in a classroom.
---
---
The Boys Season 3 (June 3)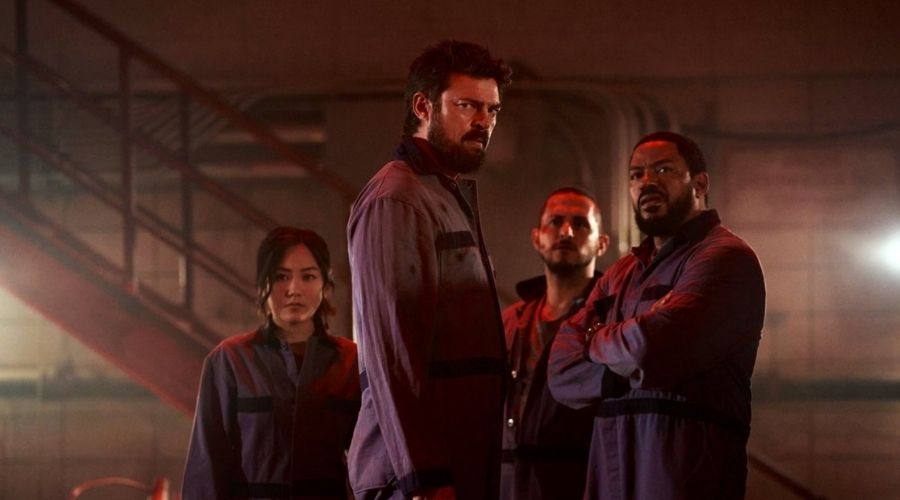 Synopsis: It's been a year of calm. Homelander's subdued. Butcher works for the government, supervised by Hughie of all people. But both men itch to turn this peace and quiet into blood and bone. So when The Boys learn of a mysterious anti-Supe weapon, it sends them crashing into The Seven, starting a war, and chasing the legend of the first Superhero: Soldier Boy.
No Time to Die (June 10)
Synopsis: Daniel Craig returns one last time as James Bond; starring alongside OSCAR®-winner Rami Malek (2019; Best Actor; "Bohemian Rhapsody") in "No Time To Die." Bond has left active service and is enjoying a tranquil life in Jamaica. However; his peace is short-lived when his old friend; Felix Leiter (Jeffrey Wright) from the CIA turns up asking for his help. The mission to rescue a kidnapped scientist turns out to be far more treacherous than expected; leading Bond onto the trail of a mysterious villain armed with a dangerous new technology.
Fairfax Season 2 (June 10)
Synopsis: The gang-gang is back for more fun in Season Two of this irreverent animated comedy following the misadventures of four middle schoolers looking to earn their place in the culture. It's a modern look at the timeless struggle to fit in and stand out, hold on to your ride-or-die crew, and kiss your first crush – who may or may not be A.I.
The Wolf of Wall Street (June 12)
Synopsis: Sex. Money. Power. Drugs. Brace yourself for an outrageous true story from legendary filmmaker Martin Scorsese that critics are calling "a masterpiece for a new generation."* Leonardo DiCaprio delivers "the best performance of his career"** as a young stockbroker hungry for a life of non-stop thrills, where corruption was king and more was never enough. His rise to power earned him the title The Wolf of Wall Street.