Zombie shows have their own specific fanbase and it is still growing every minute, for decades the undead didn't have much presence on the small screen but that all changed with a few brilliant shows like The Walking Dead and Dead Set. So, today we are making a list of the 10 best Zombie shows on Netflix you can watch right now.
10. Daybreak
Synopsis: High school isn't the end of the world… until it is. In this post-apocalyptic, genre-bending series, the city of Glendale, California is populated by marauding gangs of jocks, gamers, the 4-H Club, and other fearsome tribes who are kicking ass as they fight to survive in the wake of a nuclear blast (on the night of Homecoming…ugh). Following an eclectic group of survivors as they navigate this strange and treacherous world, Daybreak is part samurai saga, part endearing coming-of-age story, and part Battle Royale. This Generation A series (A for Apocalypse! Get it?) is rated TV MA. Daybreak features Matthew Broderick as Glendale High School's Principal Michael Burr; Krysta Rodriguez as the biology teacher; Colin Ford as our hero and every-teen, 17-year-old Josh Wheeler; Sophie Simnett as Sam Dean, the most widely admired girl at Glendale High; Austin Crute as contemplative samurai Wesley Fists; Alyvia Alyn Lind as highly unstable kid genius Angelica Green; Cody Kearsley as Turbo Bro Jock, the bloodthirsty leader of the jocks; Jeanté Godlock as Mona Lisa, his badass right-hand woman; and Gregory Kasyan as Eli Cardashyan (not that Kardashian). Executive producers are Aron Eli Coleite, Brad Peyton, and Jeff Fierson.
9. Glitch
Synopsis: When Sergeant James Hayes (Patrick Brammall), a local police officer in the small rural town of Yoorana, is called out to the cemetery in the middle of the night, he makes a discovery that turns his world upside down.
8. Black Summer
Synopsis: Set in the dark, early days of a zombie apocalypse, BLACK SUMMER stars Jaime King as Rose, a mother torn from her daughter who embarks upon a harrowing journey to find her. Thrust alongside a small group of American refugees, these complete strangers must find the strength they need to fight their way back to loved ones. But in order for Rose and her team to brave this hostile new world, they will need to make brutal decisions to contend with zombies – and each other.
7. All of Us Are Dead
Synopsis: The zombie thriller series All of Us Are Dead is packed with bone-crunching action and tear-jerking drama, with a lot of gore. The series primarily focuses on a group of students trapped in a school that is overrun by a zombie horde. The first season of All of Us Are Dead has been getting a lot of positive reviews from both audience and critics alike.
6. Z Nation
Synopsis: A group of survivors must cross the country with a possible cure for the zombie apocalypse. The holder of the cure, a zombie-human hybrid named Murphy, may not be so cooperative.
5. iZombie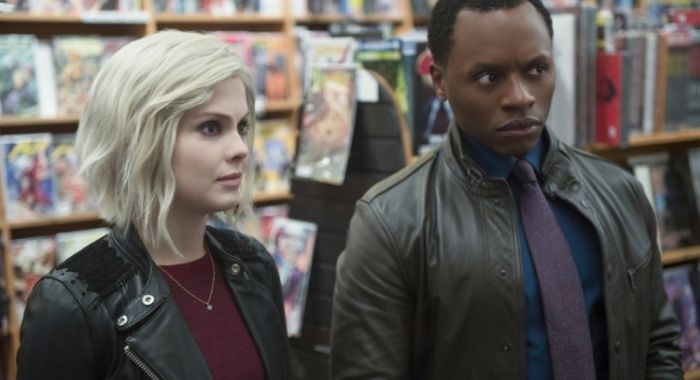 Synopsis: Rose McGiver (Masters of Sex) stars in iZombie as a young medical resident turned zombie who works in the coroner's office to access the brains she must reluctantly eat—but with each brain she consumes, she inherits the corpse's memories. With her medical examiner boss and a police detective, she now solves homicides to quiet the voices in her head. How many people can say that satisfying their munchies helps solve murders? Meet Olivia "Liv" Moore (Rose McGiver, Masters of Sex), a medical resident on the fast track to a perfect life… until she's turned into a zombie. Stuck between half-alive and undead, Liv transfers to Seattle's morgue to access the only thing that allows her to maintain her humanity—human brains. But there are side effects to Liv's new diet: flashes of the corpse's memories—including clues as to how they were killed. Liv works with an eccentric Medical Examiner and a rookie detective to help solve the murders… it's the least a good citizen zombie can do!
4. Santa Clarita Diet
Synopsis: Joel (Timothy Olyphant) and Sheila (Drew Barrymore) are husband and wife realtors leading vaguely discontented lives in the L.A. suburb of Santa Clarita with their teenaged daughter Abby, until Sheila goes through a dramatic change sending their lives down a road of death and destruction…but in a good way. Santa Clarita Diet stars Drew Barrymore as Sheila Hammond, Timothy Olyphant as Joel Hammond, Liv Hewson as Abby Hammond and Skyler Gisondo as Eric Bemis. Showrunner Victor Fresco, Drew Barrymore, Timothy Olyphant, Aaron Kaplan, Tracy Katsky, Chris Miller and Ember Truesdell are executive producers on the series. Nancy Juvonen is a producer.
3. Dead Set
Synopsis: Flesh eating zombies have taken over Britain and are multiplying as quickly as they kill. Cocooned in the safety of their "Big Brother" house, fame-seeking contestants of this hit reality TV show are safe and blissfully unaware-until "eviction night".
2. The Walking Dead
Synopsis: The AMC Original Drama Series The Walking Dead, the worldwide phenomenon and television's most-watched drama, tells the story of the months and years that follow after a zombie apocalypse. It follows a group of survivors, led by former police officer Rick Grimes (Andrew Lincoln, Love Actually), who travel in search of a safe and secure home. Over time, the characters are changed by the constant exposure to death and some grow willing to do anything to survive.
1. Kingdom
Synopsis: In a kingdom defeated by corruption and famine, a mysterious rumor of the king's death spreads, as does a strange plague that renders the infected immune to death and hungry for flesh. The crown prince, fallen victim to a conspiracy, sets out on a journey to unveil the evil scheme and save his people.