Even though we hate wars but at the same time, we are all fascinated by them. The anxiety, fear, and unpredictable nature of it. To scratch that itch we watch war movies and we at Cinemablind made a list of the best war movies, you can watch on Netflix right now.
Outlaw King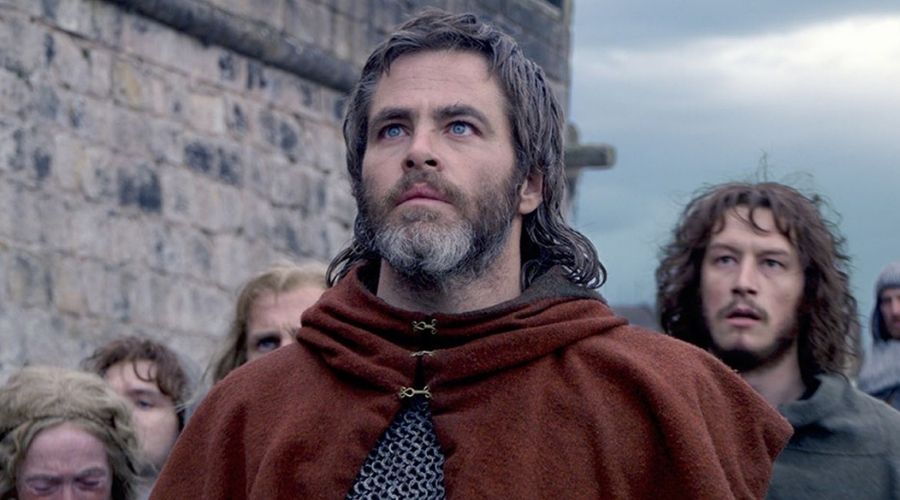 Synopsis: The untold, true story of Robert The Bruce who transformed from defeated nobleman, to reluctant King, to outlaw hero over the course of an extraordinary year. Forced into battle in order to save his family, his people and his country from the oppressive English occupation of medieval Scotland, Robert seizes the Scottish crown and rallies a ragtag group of men to face off against the wrath of the world's strongest army lead by the ferocious King Edward 1 and his volatile son, the Prince of Wales.
War Dogs
Synopsis: The Wolf of Wall Street's Jonah Hill and Whiplash's Miles Teller star in this dramedy based on a true story that follows two twenty something Miami stoners who exploit a little-known government initiative during the Iraq War that allows small businesses to bid on U.S. Military contracts. Starting small, they begin raking in big money and are soon living the high life. But the pair gets in over their heads when they land a $300 million deal to arm the Afghan Military — a deal that puts them in business with some very shady people, not the least of which turns out to be the U.S. Government. Comedy powerhouse Todd Phillips (The Hangover films) writes, directs and produces (with Bradley Cooper) this incredible true story based on a controversial Rolling Stone article.
The Siege of Jadotville
Synopsis: A gripping true story of incredible bravery against impossible odds, The Siege of Jadotville thrillingly depicts the 1961 siege of a 150-strong Irish UN battalion under Commander Patrick Quinlan (Jamie Dornan) by 3,000 Congolese troops led by French and Belgian mercenaries working for mining companies. Guillaume Canet plays a French commander who sought to defeat Quinlan and his men.
The King
Synopsis: Hal (Timothée Chalamet), wayward prince and reluctant heir to the English throne, has turned his back on royal life and is living among the people. But when his tyrannical father dies, Hal is crowned King Henry V and is forced to embrace the life he had previously tried to escape. Now the young king must navigate the palace politics, chaos and war his father left behind, and the emotional strings of his past life — including his relationship with his closest friend and mentor, the ageing alcoholic knight, John Falstaff (Joel Edgerton). Directed by David Michôd and co-written by Michôd and Edgerton, THE KING co-stars Sean Harris, Ben Mendelsohn, Robert Pattinson, and Lily-Rose Depp.
Also Read: 10 Best Zombie Shows on Netflix (Ranked)
A Private War
Synopsis: In a world where journalism is under attack, Marie Colvin (Academy Award nominee Rosamund Pike) is one of the most celebrated war correspondents of our time. Colvin is an utterly fearless and rebellious spirit, driven to the frontlines of conflicts across the globe to give voice to the voiceless, while constantly testing the limits between bravery and bravado. After being hit by a grenade in Sri Lanka, she wears a distinctive eye patch and is still as comfortable sipping martinis with London's elite as she is confronting dictators. Colvin sacrifices loving relationships, and over time, her personal life starts to unravel as the trauma she's witnessed takes its toll. Yet, her mission to show the true cost of war leads her — along with renowned war photographer Paul Conroy (Jamie Dornan) — to embark on the most dangerous assignment of their lives in the besieged Syrian city of Homs. Based on the extraordinary life of Marie Colvin, A PRIVATE WAR is brought to the screen by Academy Award nominee and critically acclaimed documentary filmmaker Matthew Heineman in his pulse-pounding narrative feature debut
Too Young the Hero
Synopsis: Too Young the Hero is a 1988 American made-for-television historical drama war film directed by Buzz Kulik and starring Rick Schroder. It premiered on CBS on March 27, 1988. The film tells the true story of a 12-year-old boy who forges his mother's signature to join the United States Navy during World War II. It is based on the real life of Calvin Graham, who was the youngest American serviceman of the war.
Shadow
Synopsis: With Shadow, director Zhang Yimou (HERO, HOUSE OF FLYING DAGGERS) once again pushes the boundaries of wuxia action to create a film like no other, masterfully painting a canvas of inky blacks and greys punctuated with bursts of color from the blood of the defeated. In a kingdom ruled by a young and unpredictable king, the military commander has a secret weapon: a "shadow", a look-alike who can fool both his enemies and the King himself. Now he must use this weapon in an intricate plan that will lead his people to victory in a war that the King does not want.
Goyo: The Boy General
Synopsis: With this film (the second war trilogy set during the Filipino-American war in the early 1900s), the revolution marches on against the Americans after the bloody death of General Antonio Luna. The conflicted philosophies behind the heroic struggle continue and become personified in the colorful character of General Gregorio "Goyo" del Pilar.
Heneral Luna
Synopsis: General Antonio Luna (John Arcilla), commander of the revolutionary army, is spoiling for a fight. After three hundred years as a Spanish colony, the Philippines must endure a new foreign power: the United States of America. General Luna wants to fight for freedom but members of the elite want to strike a deal with the Americans. The infighting is fierce in the new cabinet but General Luna and his loyal men forge ahead even as his military decisions are met with resistance from soldiers who are loyal only to President Aguinaldo (Mon Confiado). Ultimately, it is the general's legendary temper and pride that bring him to his death when a pack of presidential guards assassinate him in broad daylight. While American newspapers blame Aguinaldo, the mystery of General Luna's assassination was never completely solved and his killers never put to justice.
Blood Diamond
Synopsis: Academy Award® winner and nominee Leonardo DiCaprio and Djimon Hounsou join Academy Award® winner Jennifer Connelly in this action drama from Ed Zwick, the filmmaker behind The Last Samurai. DiCaprio stars as Danny Archer, a mercenary smuggler searching for a priceless diamond amid the chaos of Sierra Leone's civil war; Hounsou (Gladiator), as a desperate father searching for his lost son; and Connelly (A Beautiful Mind), as a reporter searching for the truth behind the trade in 'conflict diamonds.' Forced to confront the brutal human cost of the diamond trade, Archer changes his search for financial reward to a quest for redemption.
The Guns of Navarone
Synopsis: Gregory Peck, Anthony Quinn and David Niven are Allied saboteurs assigned an impossible mission: infiltrate an impregnable Nazi-held island and destroy the two enormous long-range field guns that prevent the rescue of 2,000 trapped British soldiers. Blacklisted screenwriter Carl Foreman (High Noon,The Bridge on the River Kwai) was determined to re-establish both his name and credibility after spending most of the 50's working in anonymity. To accomplish this, he decided to bring Alistair MacLean's best-selling novel, THE GUNS OF NAVARONE, to the screen. Supported by an all-star cast and produced on a grand scale, the film was an enormous success, receiving seven 1961 Academy Award® nominations (including Best Picture) and winning for Best Special Effects. Although Foreman achieved his goal, it was MacLean who would wind up the true beneficiary; his novels became the source for many high adventure screen epics, including Ice Station Zebra and Where Eagles Dare. However, it is THE GUNS OF NAVARONE that remains not only the best of the MacLean adaptations, but one of the greatest action/adventure spectacles ever produced.
First They Killed My Father
Synopsis: Directed by Angelina Jolie, First They Killed My Father is the adaptation of Cambodian author and human rights activist Loung Ung's gripping memoir of surviving the deadly Khmer Rouge regime from 1975 to 1978. The story is told through her eyes, from the age of five, when the Khmer Rouge came to power, to nine years old. The film depicts the indomitable spirit and devotion of Loung and her family as they struggle to stay together during the Khmer Rouge years. First They Killed My Father opens in select theaters and launches globally on Netflix on September 15. First They Killed My Father is a Netflix film written by Angelina Jolie and Loung Ung and produced by Jolie and acclaimed Cambodian director and producer Rithy Panh, director of the Oscar-nominated The Missing Picture.
Apocalypse Now Redux
Synopsis: This is the definitive version of Francis Ford Coppola's stunning vision of the heart of darkness in all of us, re-edited and re- mastered with 49 minutes of additional footage. This classic and compelling Vietnam War epic stars Martin Sheen as Army Captain Willard, a troubled man sent on a dangerous and mesmerizing odyssey into Cambodia to assassinate a renegade American colonel named Kurtz (Marlon Brando), who has succumbed to the horrors of war and barricaded himself in a remote outpost.
The Outpost
Synopsis: Based on true events, in this military thriller, a small unit of U.S. soldiers, alone at the remote Combat Outpost Keating, located deep in the valley of three mountains in Afghanistan, battles to defend against an overwhelming force of Taliban fighters in a coordinated attack. The Battle of Kamdesh, as it was known, was the bloodiest American engagement of the Afghan War in 2009 and Bravo Troop 3-61 CAV became one of the most decorated units of the 19-year conflict. The Outpost is based on The New York Times best-selling non-fiction book, The Outpost: An Untold Story of American Valor from CNN's Jake Tapper.
Darkest Hour
Synopsis: Academy Award® nominee Gary Oldman gives a "towering performance" (Richard Lawson, Vanity Fair) in acclaimed director Joe Wright's soaring drama Darkest Hour. As Hitler's forces storm across the European landscape and close in on the United Kingdom, Winston Churchill (Oldman) is elected the new Prime Minister. With his party questioning his every move, and King George VI (Ben Mendelsohn) skeptical of his new political leader, it is up to Churchill to lead his nation and protect them from the most dangerous threat ever seen. Also starring Academy Award® nominee Kristin Scott Thomas and Lily James, Darkest Hour is a powerful, inspirational drama.
Also Read: 23 Best Supernatural Shows on Netflix Right Now
Beasts of No Nation
Synopsis: From director Cary Joji Fukunaga, and set in West Africa, Beasts of No Nation tells the story of AGU (Abraham Attah), a young villager, whom we meet playing with his older brother, making mischief with his friends at a nearby refugee camp and enjoying dinner with his family. But the happy routines of childhood are shattered when army troops from the capital city arrive to squelch a rebellion against the country's corrupt regime. His mother and sister escape to a nearby city, but Agu is left behind with his father and brother, and shortly thereafter, he is suddenly on his own. Terrified and alone, Agu escapes to the forest where he's discovered by a company of young rebels led by the charismatic COMMANDANT (Idris Elba). There he undergoes a gauntlet of harsh treatment, initiation rituals and fiery speeches from the Commandant, but also finds a kindred spirit in STRIKA (Emmanuel "King Kong" Nii Adom), a mute fellow recruit. As the ragtag army sets off on a series of battles, Agu is eventually promoted from ammo carrier to rifle-toting soldier. Beasts of No Nation follows Agu's journey and the loss of innocence, as he attempts to find the remains of a childhood that seem so out of reach.
Da 5 Bloods
Synopsis: From Academy Award® Winner Spike Lee comes a New Joint: the story of four African-American Vets — Paul (Delroy Lindo), Otis (Clarke Peters), Eddie (Norm Lewis), and Melvin (Isiah Whitlock, Jr.) — who return to Vietnam. Searching for the remains of their fallen Squad Leader (Chadwick Boseman) and the promise of buried treasure, our heroes, joined by Paul's concerned son (Jonathan Majors), battle forces of Man and Nature — while confronted by the lasting ravages of The Immorality of The Vietnam War.
Dunkirk
Synopsis: "Dunkirk" opens as hundreds of thousands of British and Allied troops are surrounded by enemy forces. Trapped on the beach with their backs to the sea they face an impossible situation as the enemy closes in. "Dunkirk" features a prestigious cast, including Tom Hardy ("The Revenant," "Mad Max: Fury Road," "Inception"), Mark Rylance ("Bridge of Spies," "Wolf Hall"), Kenneth Branagh ("My Week with Marilyn," "Hamlet," "Henry V") and Cillian Murphy ("Inception," "The Dark Knight" Trilogy), as well as newcomer Fionn Whitehead. The ensemble cast also includes Aneurin Barnard, Harry Styles, James D'Arcy, Jack Lowden, Barry Keoghan and Tom Glynn-Carney.