Santa will get his hands bloody again this Christmas with David Harbour's upcoming Christmas action flick Violent Night. The Christmas season is filled with happiness and hope. So we thought to make a list of the best violent Christmas movies you could watch to escape that and live your life like a badass while wearing ridiculous sweaters.
Die Hard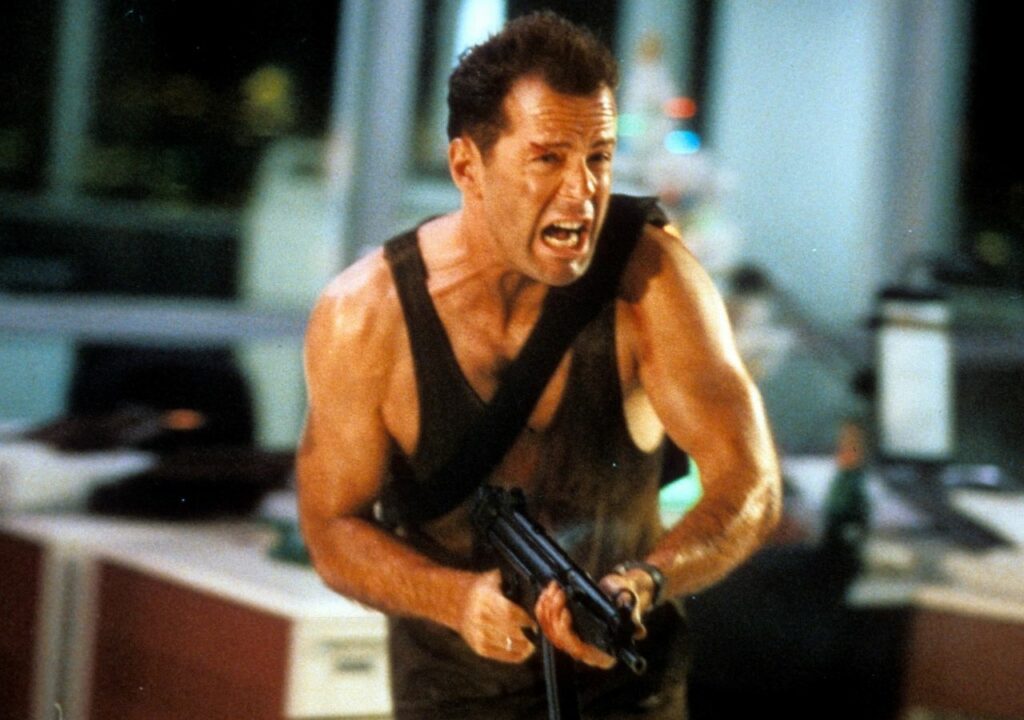 Synopsis: Facing Christmas 3,000 miles from his estranged wife and two children, New York policeman John McClane (Bruce Willis) flies to Los Angeles bearing presents and hoping to patch up his marriage. Stylish and cool Hans Gruber (Alan Rickman) is in Los Angeles as well for the holiday season, but he's not there to give out presents. He's there to take: more than $600 million in negotiable bearer bonds from the multinational Nakatomi Corporation, where McClane's wife Holly (Bonnie Bedelia) is an executive. When the takeover becomes hostile, it's up to John McClane to take on the terrorists with all the grit and determination he can muster–but not without a sense of humor.
Lethal Weapon
Synopsis: Mel Gibson stars as a one-man killing machine, a Los Angeles policeman who recently lost his wife and has been acting increasingly unstable. Danny Glover plays a by-the-book homicide detective with an impeccable record and a loving family. Now the two are stuck with each other as partners, investigating a suicide that leads to an international crime ring and ever-increasing danger in this blockbuster action thriller.
Fatman
Synopsis: To save his declining business, Chris Cringle (Mel Gibson), also known as Santa Claus, is forced into a partnership with the U.S. military. Making matters worse, Chris gets locked into a deadly battle of wits against a highly skilled assassin (Walton Goggins), hired by a precocious 12-year-old after receiving a lump of coal in his stocking. 'Tis the season for Fatman to get even, in the action-comedy that keeps on giving.
Die Hard 2
Synopsis: In this sequel, New York City policeman John McClaine tries to stop an elite commando group from kidnapping a big time drug dealer and taking him to the Caribbean.
Rare Exports: A Christmas Tale
Synopsis: In this darkly comic gem, it's Christmas Eve in northern Finland, and an archeological dig has just unearthed Santa Claus. But this Santa isn't one you want coming to town. When local children begin disappearing, Pietari and his father capture the mythological being and attempt to sell Santa to the corporation sponsoring the dig.
Krampus
Synopsis: When his dysfunctional family clashes over the holidays, young Max (Emjay Anthony) is disillusioned and turns his back on Christmas. Little does he know, this lack of festive spirit has unleashed the wrath of Krampus: a demonic force of ancient evil intent on punishing non-believers. All hell breaks loose as beloved holiday icons take on a monstrous life of their own, laying siege to the fractured family's home and forcing them to fight for each other if they hope to survive. The horror-comedy also stars Adam Scott, Toni Collette, David Koechner, Allison Tolman, Conchata Ferrell, Stefania Lavie Owen and Krista Stadler.
Black Christmas
Synopsis: From the producer of Get Out and Halloween, comes a timely take on a cult horror classic as a campus killer comes to face a formidable group of friends in sisterhood. Hawthorne College is quieting down for the holidays. But as Riley Stone and her Mu Kappa Epsilon sisters prepare to deck the halls with a series of seasonal parties, a black-masked stalker begins killing sorority women one by one. As the body count rises, the sisters start to question whether they can trust any man. Whoever the killer is, he's about to discover that this generation's young women aren't about to be anybody's victims.
Better Watch Out
Synopsis: This holiday season, you may be home, but you're not alone… In this fresh and gleefully twisted spin on home-invasion horror, babysitter Ashley (Olivia DeJonge) must defend her young charges (Levi Miller, Ed Oxenbould ) when intruders break into the house one snowy night – or so she thinks.
Bad Santa
Synopsis: Starring Billy Bob Thornton, Tony Cox, and Lauren Graham, Bad Santa follows criminals Willie and Marcus as they disguise themselves as Santa Claus and his elf and travel across the country to major malls, using the good will people have toward Santa to rob the mall stores blind. The problem is, Willie can't stand kids and it's all he can do to keep himself from getting fired while on the job. Their plan still progresses beautifully until the two reprobates meet an introverted 8-year-old boy who thinks Willie is the real Santa Claus. Overweight, awkward, and the frequent target of bullies, the boy manages to arouse something like sympathy from Willie, who tries to give him some advice and develops something vaguely resembling Christmas spirit along the way.
The Long Kiss Goodnight
Synopsis: What's forgotten is not always gone. Eight years ago, Samantha Caine (Geena Davis) lost her memory, and since then she has slowly built a new life, even though disturbing flashes of memory and strange, seemingly innate skills haunt her. When a car accident and a news story start to trigger her memory, she hires detective Mitch Henessy (Samuel L. Jackson) to investigate. But others are watching, and she has only been safe as long as she can't remember.
---
Check out the official trailer and synopsis for Violent Night below:
From 87North, the bare-knuckle producers of Nobody, John Wick, Atomic Blonde, Deadpool 2, Bullet Train and Fast & Furious Presents: Hobbs & Shaw comes a coal-dark holiday action-comedy that says you should always bet on red.
When a team of mercenaries breaks into a wealthy family compound on Christmas Eve, taking everyone inside hostage, the team isn't prepared for a surprise combatant: Santa Claus (David Harbour, Black Widow, Stranger Things series) is on the grounds, and he's about to show why this Nick is no saint.
The film also stars Emmy winner John Leguizamo (John Wick), Cam Gigandet (Without Remorse), Alex Hassell (Cowboy Bebop), Alexis Louder (The Tomorrow War), Edi Patterson (The Righteous Gemstones) and Beverly D'Angelo (National Lampoon's Vacation franchise).
Directed by razor-edged Norwegian director Tommy Wirkola (Hansel & Gretel: Witch Hunters, Dead Snow franchise), Violent Night is produced by 87North's Kelly McCormick David Leitch and Guy Danella. The original screenplay is by Pat Casey & Josh Miller, the writers of Sonic the Hedgehog. The film's executive producer is Marc S. Fischer.