Sitcoms are like a cup of hot chocolate on a chilly night, and once you are in that level of comfort you stop trying to find some new source of comfort. In today's age of streaming, there are hundreds of shows that don't get the attention they deserve and that was also the case for some of these underrated sitcoms and that's why we have put them on a list for you. So, that you can know about them and if you find them cozy enough you should give these shows some much-deserved attention.
Trial & Error
Synopsis: In this outrageous fish-out-of-water comedy, Josh Segal, a bright-eyed New York lawyer, heads to a tiny Southern town for his first big case. His mission? To defend an eccentric, "rollercizing" poetry professor (John Lithgow, 3rd Rock from the Sun) accused of the bizarre murder of his beloved wife. Settling into his makeshift office behind a taxidermy shop and meeting his quirky team of local misfits, Josh suspects that winning his first big case will not be easy—especially when his client is always making himself look guilty. "Making a Murderer" can be funny!
You're The Worst
Synopsis: An original comedy from writer and executive producer Stephen Falk, You're The Worst puts a dark twist on the romantic comedy genre. Narcissistic, brash, and self-destructive "Jimmy Shive-Overly," played by Chris Geere (The Spa), thinks all relationships are doomed. Cynical, people-pleasing, and stubborn "Gretchen Cutler," played by Aya Cash (The Wolf of Wall Street), knows that relationships aren't for her. So when they meet at a wedding, it's only natural that the two of them go home together and, despite their better judgment, begin to find themselves falling for each other. Rounding out the cast is Desmin Borges (The Good Wife), who plays "Edgar Quintero," Jimmy's once homeless, war veteran roommate, and Kether Donohue (The Carrie Diaries) as "Lindsay Jillian," Gretchen's best friend and former partner in crime who's now struggling with a life of domesticity.
Go On
Synopsis: Matthew Perry ("Friends," "Mr. Sunshine") stars as Ryan King, a recent widower and sports talk radio host ready to get back to work after the loss of his wife. Ryan's alpha-male boss, Stephen, played by John Cho ("Star Trek," "Harold & Kumar Go to White Castle"), has a different plan in store for Ryan, making him attend grief counseling before returning to the air. A reluctant Ryan finds himself in a support group for "life change," where he meets an oddball cast of characters, all with their own backstories filled with varying degrees of loss. On his very first visit, Ryan convinces the group to deviate from their normal session and starts a tournament-style competition (March Sadness!) to find out whose story is the worst. Ryan's total lack of interest in "the healing process" proves distracting and he soon butts heads with the by-the-books group leader, Lauren, played by Tony Award-winner Laura Benanti ("The Playboy Club"). Back at work, Ryan is confronted with the fact that he hasn't really processed his grief and realizes Lauren and the other members of the group might be key in helping him move on. Also starring are Tony Award-Winner Julie White ("Transformers") as Anne, Bill Cobbs ("The Muppets," "Night at the Museum") as George and Suzy Nakamura ("Dodgeball") as Yolanda.
The Middle
Synopsis: Middle-aged, middle-class and living in the middle of the country, Frankie Heck, a dental assistant and mother of three, uses her wry wit and sense of humor to get her family through each day intact. Her unflappable husband, Mike, manages the local quarry and helps raise their most definitely average family. Between juggling shifts and picking up fast food to be eaten in front of the TV, Frankie and Mike raise their kids—popular slacker Axl; optimistic, awkward Sue; odd, eccentric Brick—with love, humor and solid midwestern pragmatism. After nine years, they hope to find themselves with an emptier nest, which, in theory, would have let them cut back on their parental duties. But parenting is never over no matter where your kids are. Balancing kids and work never really gets easier – just different. The Complete Series brings together the Hecks' hilarious struggles as they try to raise a family with lowered expectations.
---
Also Read: Best Shows Like 'Superstore' To Watch If You Miss the Series
---
Superstore
Synopsis: "Superstore" is a hilarious workplace comedy about a unique family of employees at big box megastore Cloud 9. At the center is Jonah (Ben Feldman), a passionate optimist always looking out for his co-workers, including the sardonic Garrett (Colton Dunn), the sweet and fun-loving Cheyenne (Nichole Sakura) and the perpetually dismissed Sandra (Kaliko Kauahi). Back in the manager job is Glenn (Mark McKinney), who once again finds himself butting heads with aggressive assistant manager Dina (Lauren Ash), but is now assisted by Mateo (Nico Santos), who's pretty sure he would be running things by now if it weren't for his undocumented status.
Raising Hope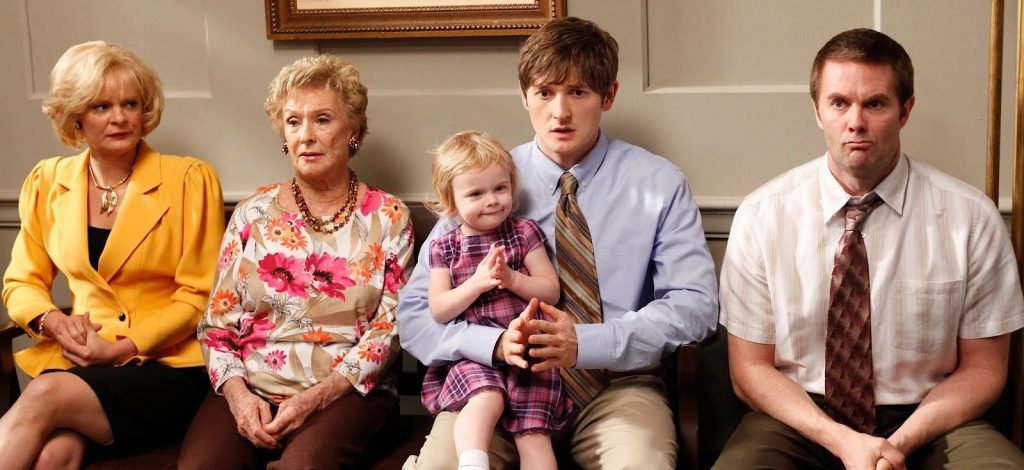 Synopsis: Raising Hope is a new family comedy from Emmy® Award winner Greg Garcia (My Name Is Earl) that follows the Chance family as they find themselves adding an unexpected new member into their already terribly flawed household.
Cougar Town
Synopsis: Courtney Cox stars as Jules, a recently divorced single mother exploring the truths about dating and aging. While most women in their twenties go through life experiencing the challenges and pitfalls of meeting men, Jules took on the responsibilities of marriage Now in her forties, she embarks on a journey to self-discovery surrounded by divorcees and singletons eager re-live a time gone by.
Party Down
Synopsis: While chasing dreams of stardom, six Hollywood wannabe actors and writers make ends meet by working for a posh Los Angeles catering company, which tackles a different event — senior singles mixer, porn awards after party, a Super Sweet 16 bash — in each episode.
Better Off Ted
Synopsis: Better Off Ted is a wildly inventive satirical office comedy that thinks outside of the cubicle. Ted (Jay Harrington) is the morally-conscious Head of Research & Development at Veridian Dynamics, a morally-questionable corporation. For Ted and his trusty team of scientists, no invention is too unorthodox.
Don't Trust The B—- In Apartment 23
Synopsis: After a naive Midwestern girl's big city dreams are dashed her first week in New York, she finds herself living with her worst nightmare in this hilarious, contemporary comedy about a female odd couple who are surrounded by outrageous characters.