Fantasy is one of the best genres to set a series in because fantasy shows take the viewers into a world filled with surprising creatures and unknown dangers that excite them. There are many fantasy shows like Game of Thrones and The Witcher that have gotten a lot of praise from the audience but there are also many shows that didn't get everything they deserved just because they got lost in the sea of brilliant television. So, today we are here to list the 13 most underrated fantasy shows you should give a chance to.
Grimm
Synopsis: "Grimm" is a drama series inspired by the classic Grimm's Fairy Tales. Portland homicide Detective Nick Burkhardt (David Giuntoli) discovers he is descended from an elite line of criminal profilers known as "Grimms," charged with keeping balance between humanity and the mythological creatures of the world. As he tries to hide the dangers of his new found calling from his fiancé, Juliette Silverton, (Bitsie Tulloch), and his partner, Hank Griffin (Russell Hornsby), he becomes ever more entrenched in the ancient rivalries and alliances of the Grimm world. With help from his confidant, Monroe (Silas Weir Mitchell, a reformed Grimm creature himself, Nick must navigate through the forces of a larger-than-life mythology, facing off with Hexenbiests, Blutbads and all manner of ancient evils, including royal lines dating back to the original profilers themselves, The Grimm Brothers. Reggie Lee and Sasha Roiz also star.
Wynonna Earp
Synopsis: Wynonna Earp follows Wyatt Earp's great granddaughter as she battles demons and other creatures. With her unique abilities, and a posse of dysfunctional allies, she's the only thing that can bring the paranormal to justice.
Happy!
Synopsis: HAPPY! is based on New York Times best-selling author Grant Morrison and Darick Robertson's graphic novel of the same name. The series follows Nick Sax (Christopher Meloni, Law & Order: SVU) – an intoxicated, corrupt ex-cop turned hit man – who is adrift in a world of casual murder, soulless sex and betrayal. After a hit gone wrong, his inebriated life is forever changed by a tiny, relentlessly positive, imaginary blue winged horse named Happy (Patton Oswalt).
---
---
Legend of the Seeker
Synopsis: Legend of the Seeker follows the extraordinary journey of woodsman Richard Cypher, as he embarks on an epic journey to battle great evil. Together with a beautiful, mysterious woman, and a wise, old wizard, he has become hope's greatest warrior – the long-awaited Seeker.
The Shannara Chronicles
Synopsis: The Shannara Chronicles is based on the best-selling fantasy novels by Terry Brooks. Set thousands of years after the destruction of our civilization, the story follows an Elven Princess, Amberle, a half-human half-elf, Wil, and a human, Eretria, as they embark on a quest to stop a Demon army from destroying the Four Lands.
Pushing Daisies
Synopsis: This forensic fairytale follows Ned, a young man with a very special gift. As a boy, Ned discovered that he could return the dead briefly back to life with just one touch. Now a pie maker, Ned puts his ability to good use, not only touching dead fruit and making it ripe with everlasting flavor, but working with a private investigator to crack murder cases by raising the dead and getting them to name their killers. But the tale gets complicated when Ned brings his childhood sweetheart, Chuck, back from the dead–and keeps her alive. Chuck becomes the third partner in Ned and Emerson's private-investigation enterprise, encouraging them to use Ned's skills for good, not just for profit. Life would be perfect for Ned and Chuck, except for one cruel twist: If he ever touches her again, she'll go back to being dead, this time for good.
---
---
The Magicians
Synopsis: Based upon Lev Grossman's best-selling books, The Magicians centers around Brakebills University, a secret institution specializing in magic. There, amidst an unorthodox education of spellcasting, a group of twenty-something friends soon discover that a magical fantasy world they read about as children is all too real— and poses grave danger to humanity.
Merlin
Synopsis: Merlin will one day be the greatest wizard that the world will ever know, but for now, he is just a young man, geeky and awkward, who must keep his talent hidden in a kingdom where magic is banned or face certain death. In this ambitious and action-packed drama, the myths, monsters and magic of the legends are revitalized and given a modern twist in preparation for their inevitable destinies.
His Dark Materials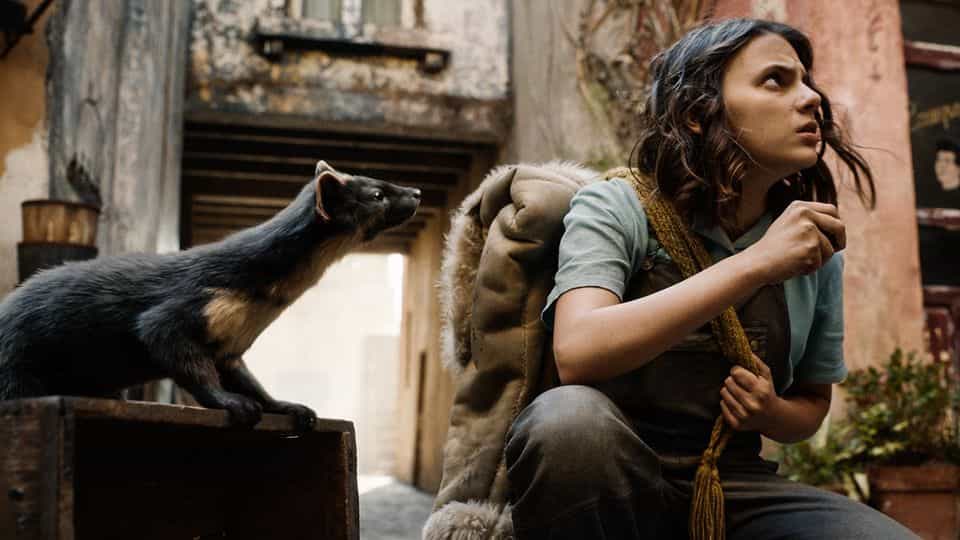 Synopsis: Based on the first book in Philip Pullman's best-selling trilogy of novels. Lyra (Dafne Keen) lives in Jordan College, Oxford. Placed there at the request of her Uncle, Lord Asriel (James McAvoy) she lives a sheltered life amongst the scholars and college staff while under the watchful protection of The Master (Clarke Peters). When the glamorous and mesmeric Mrs Coulter (Ruth Wilson) enters Lyra's life she embarks upon a dangerous journey of discovery from Oxford to London. Here she meets Father MacPhail (Will Keen) and Lord Boreal (Ariyon Bakare). Lyra is subsequently thrown into the nomadic world of the boat dwelling Gyptians – Ma Costa (Anne-Marie Duff), Farder Coram (James Cosmo), John Faa (Lucien Msamati), Raymond Van Geritt (Mat Fraser) Jack Verhoeven (Geoff Bell) and Benjamin de Ruyter (Simon Manyonda) who take her North in her quest. Once in the North she meets charismatic aeronaut and adventurer Lee Scoresby (Lin-Manuel Miranda) who joins them on their epic journey and becomes one of Lyra's closest allies.
---
---
Penny Dreadful
Synopsis: Some of literature's most terrifying characters, including Dr. Frankenstein and his monster, Dorian Gray, and iconic figures from the novel Dracula are lurking in the darkest corners of Victorian London. They are joined by a core of original characters in a complex, frightening new narrative. Penny Dreadful is a psychological thriller filled with dark mystery and suspense, where personal demons from the past can be stronger than vampires, evil spirits and immortal beasts.
Man Seeking Woman
Synopsis: A sweet and surreal look at the life-and-death stakes of dating, Man Seeking Woman follows naïve twenty-something "Josh Greenberg" (Jay Baruchel, How to Train Your Dragon) on his unrelenting quest for love. Josh soldiers through one-night stands, painful break-ups, a blind date with a troll, time travel, sex aliens, many deaths and a Japanese penis monster named Tanaka on his fantastical journey to find love. Starring alongside Baruchel are Eric Andre (The Eric Andre Show) as "Mike," Josh's confident and daring best friend; Britt Lower (Unforgettable) as "Liz," Josh's intimidating older sister; and Maya Erskine (Betas) as "Maggie," the ex-girlfriend Josh can never quite forget. Man Seeking Woman is based on Simon Rich's book of short stories, The Last Girlfriend on Earth. Rich created the 10-episode scripted comedy and also serves as Executive Producer/Showrunner. Jonathan Krisel, Andrew Singer and Lorne Michaels, and Broadway Video also serve as Executive Producers.
The Almighty Johnsons
Synopsis: The action-packed comedy drama The Almighty Johnsons follows the Johnson boys, four typical fun-loving guys – who have inherited the power of Norse Gods. But these four brothers are no flashy superheroes. Everyday Gods have everyday struggles – searching for love, overcoming sibling rivalry and fulfilling their God-like destiny – while still enjoying a few beers with their mates.
---
---
The Order
Synopsis: At Belgrave University, college freshman Jack Morton joins a fabled secret society where he's thrust into a dangerous game of life or death. As Jack goes deeper, he uncovers dark family secrets and an underground battle between werewolves and the magical dark arts.