Brooklyn Nine-Nine is one of the best comedy series ever made and that is evident because every fan of the series fought tooth and nail to bring back the series from the hell of early cancellation by FOX, landing the sixth season of the series on NBC but now it has nearly been a since B99 aired its final episode and every fan is still waiting to hear of any spin-off or a sequel film. While there is no spin-off series or movie confirmed it is obvious that everyone misses Brooklyn Nine-Nine and that is why we have made a list of shows that are like Brooklyn Nine-Nine you could watch to pass the time.
---
Also Read: Best Comedy Shows Like 'Psych' To Watch If You Miss the Series
---
Synopsis: Shawn Spencer happens to possess some uncanny powers of observation thanks to his father, Henry, a former police officer who taught his son to remember even the smallest details of his surroundings. When Shawn is accused of committing a crime that he actually solved, he convinces the cops that he's a psychic — and with the reluctant help of his best friend, Gus, Shawn starts solving cases for a skeptical but increasingly impressed police force.
---
Also Read: Shows Like 'Parks and Recreation' To Watch If You Miss the Series
---
Parks and Recreation (Peacock)
Synopsis: From the people who brought you The Office comes Parks and Recreation, the hilarious saga of government employees and local citizens turning a neighborhood hole in the ground into a new public park. Comedy superstar Amy Poehler (Saturday Night Live, Baby Mama) stars as Leslie Knope, an ambitious and hopeful small town government worker, whose dreams are way bigger than her political talents. Created by Primetime Emmy® Award winners Greg Daniels (The Office, King of the Hill, The Simpsons) and Michael Schur (The Office, SNL), and featuring a stellar ensemble cast, Parks and Recreation is a "genuinely funny comedy" (Daniel Carlson, Hollywood Reporter) about bureaucracy, hope and America at the dawn of the Obama age.
New Girl (Netflix)
Synopsis: A comedy series from executive producer/writer Liz Meriwether ("No Strings Attached"), New Girl features a young ensemble cast that takes a fresh look at friendship. After a bad break-up, Jess Day (Zooey Deschanel) needs a new place to live. An online search leads her to a great loft…and three single guys she's never met before. Nick (Jake Johnson), law school dropout turned bartender is the most grounded…and the most jaded. Schmidt (Max Greenfield) is a hustling young professional who's pretty proud of his own abs. Winston (Lamorne Morris), is an intensely competitive former athlete who doesn't know what to do next. Jess also meets Coach (guest star Damon Wayans Jr.), a personal trainer with a bit of an anger problem. Rounding out the group is Jess' childhood best friend, Cece (Hannah Simone), a model with a killer deadpan. The fivesome realize they need each other more than they thought they would and end up forming a charmingly dysfunctional — or strangely functional — family.
---
Also Read: Shows Like 'The Good Place' To Watch If You Miss the Series
---
The Good Place (Netflix)
Synopsis: From creator Michael Schur ("Brooklyn Nine-Nine," "Parks and Recreation" and "Master of None") comes a unique comedy about what makes a good person. The show follows Eleanor Shellstrop (Kristen Bell, "House of Lies," "Veronica Mars"), an ordinary woman who enters the afterlife, and thanks to some kind of error, is sent to the Good Place instead of the Bad Place (which is definitely where she belongs). While hiding in plain sight from Good Place Architect Michael (Ted Danson – "Cheers," "CSI" – in an Emmy Award-nominated performance), she's determined to shed her old way of living and earn her spot.
---
Also Read: Shows Like 'Kim's Convenience' To Watch If You Miss the Series
---
Kim's Convenience (Netflix)
Synopsis: While running a convenience store in Toronto, members of a Korean-Canadian family deal with customers, each other and the evolving world around them.
---
Also Read: Best Shows Like 'Ted Lasso' You Should Watch
---
Ted Lasso (Apple TV+)
Synopsis: In this new comedy from executive producers Jason Sudeikis and Bill Lawrence (Scrubs, Whiskey Cavalier, Cougar Town), Sudeikis (Saturday Night Live, We're the Millers, Horrible Bosses films) stars as Ted Lasso, an idealistic all-American football coach hired to manage an English football club – despite having no soccer coaching experience at all. Based on the beloved character Sudeikis made famous online, Ted Lasso is the first television series that Sudeikis has signed on to star as a series regular since Saturday Night Live. Produced by Doozer Productions in association with Warner Bros. Television, the comedy series is also executive produced by Jeff Ingold.
Synopsis: Led by short-shorts-wearing Lieutenant Dangle, the Reno cops attack a belligerent mime, roll into the Burning Man scene, have their first run-in with an infamous milkshake and make more than one visit to a strip club — all in just the first season.
---
Also Read: Best Shows To Watch If You Loved 'Schitt's Creek'
---
Schitt's Creek (Hulu)
Synopsis: When the filthy-rich Rose family suddenly find themselves broke, they are forced to leave their pampered lives, rebuild their empire, and rediscover what it means to be in Schitt's Creek, a town they once purchased as a joke.
---
Also Read: Best Shows Like 'The Office' If You Miss the Series
---
Synopsis: Steve Carell (The 40-Year-Old Virgin, The Daily Show) stars in The Office, a fresh and funny mockumentary-style glimpse into the daily interactions of the eccentric workers at the Dunder Mifflin paper supply company. Based on the smash-hit British series of the same name and adapted for American Television by Greg Daniels (King of the Hill, The Simpsons), this fast-paced comedy parodies contemporary American water-cooler culture. Earnest but clueless regional manager Michael Scott (Carell) believes himself to be an exceptional boss and mentor, but actually receives more eye-rolls than respect from his oddball staff.
---
Also Read: Shows Like 'Superstore' To Watch If You Miss the Series
---
Synopsis: "Superstore" is a hilarious workplace comedy about a unique family of employees at big box megastore Cloud 9. At the center is Jonah (Ben Feldman), a passionate optimist always looking out for his co-workers, including the sardonic Garrett (Colton Dunn), the sweet and fun-loving Cheyenne (Nichole Sakura) and the perpetually dismissed Sandra (Kaliko Kauahi). Back in the manager job is Glenn (Mark McKinney), who once again finds himself butting heads with aggressive assistant manager Dina (Lauren Ash), but is now assisted by Mateo (Nico Santos), who's pretty sure he would be running things by now if it weren't for his undocumented status.
Unbreakable Kimmy Schmidt (Netflix)
Synopsis: From the executive producers of 30 Rock (Tina Fey and Robert Carlock) comes the "wise, wicked comedy" (Jeff Jensen, EW), Unbreakable Kimmy Schmidt. Rescued after fifteen years in an underground doomsday cult, Kimmy (Ellie Kemper) decides to rebuild her life in New York City armed with only a fifth-grade education and a firm belief that truly anything is possible. She quickly finds a roommate, Titus Andromedon (Primetime Emmy® nominee Tituss Burgess), a job working for a spoiled Manhattan mom, Jacqueline Voorhees (Primetime Emmy® nominee Jane Krakowski), and a new beginning. Watch season one of the Primetime Emmy®-nominated series on these shiny discs that Kimmy is only now just learning about!
---
Also Read: Shows Like 'Community' To Watch While Waiting For The Movie (#AndAMovie)
---
Community (Netflix & Hulu)
Synopsis: From Dan Harmon (The Sarah Silverman Program) and Emmy Award-winning directors Joe and Anthony Russo (Arrested Development) comes Community, a smart comedy series about a band of misfits who attend Greendale Community College. At the center of the group is Jeff Winger (Joel McHale, The Soup), a fast-talkin' lawyer whose degree has been revoked. With some help from his fellow classmates, Winger forms a study group who eventually learn more about themselves than their course work.
---
Also Read: Shows Like 'Scrubs' To Watch If You Miss the Series
---
Scrubs (Hulu)
Synopsis: ABC's Scrubs examines the lives of the staff at Sacred Heart. In this unpredictable hospital filled with over-the-top staffers and patients, doctors have learned to survive by relying on each other to face relationships, death, kids, interns, water balloons, and anything else life may throw at them. Around here, humor and tragedy collide as they continually learn that even when you figure out who you are, there's still more life to navigate and it helps to have good people in your corner…even if they are a bit scattered themselves.
---
Also Read: Best Comedy Shows Like 'Chuck' To Watch If You Are Still Waiting For 'The Chuck Movie'
---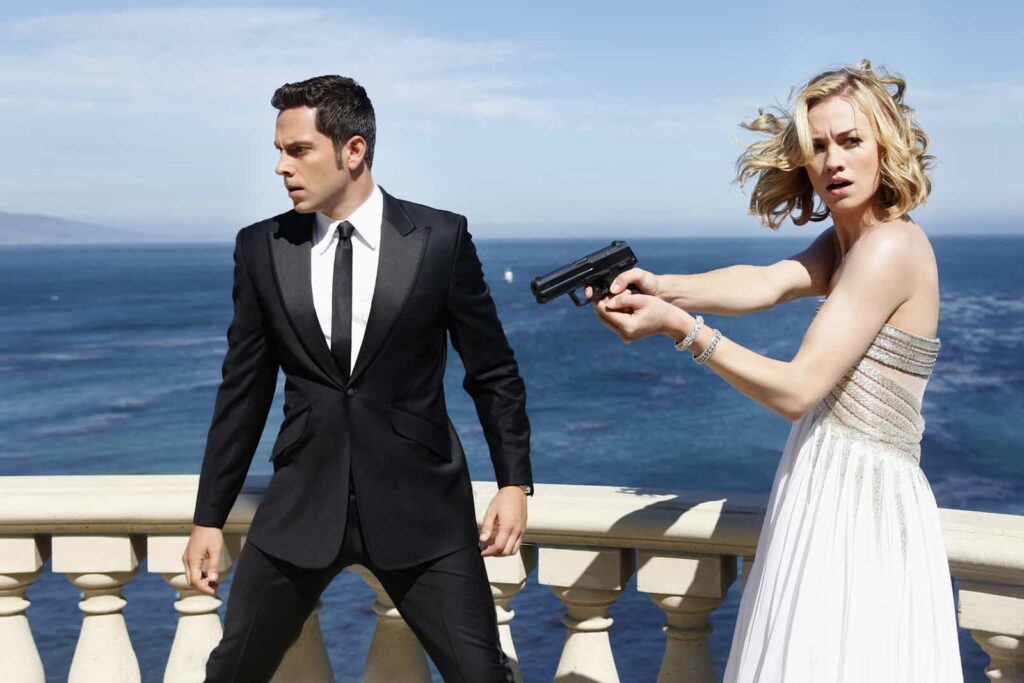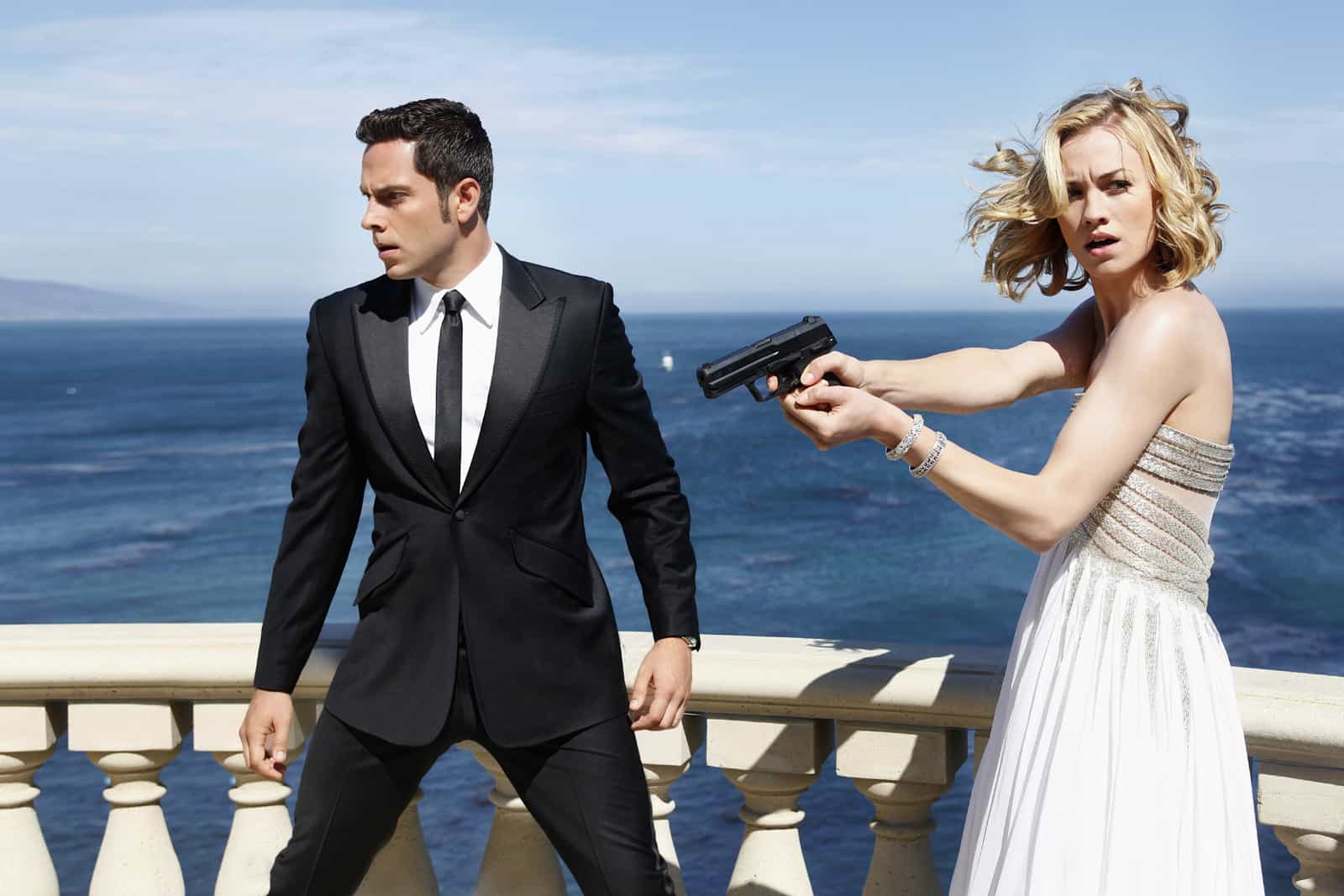 Synopsis: When Chuck Bartowski opens an e-mail subliminally encoded with government secrets, he unwittingly downloads an entire server of sensitive data into his brain. Now, the fate of the world lies in the unlikely hands of a guy who works at a Buy More Electronics store. Instead of fighting computer viruses, he must now confront assassins and international terrorists. With the government's most precious secrets in Chuck's head, Major John Casey of the National Security Agency assumes the responsibility of protecting him. His partner is the CIA's top agent — and Chuck's first date in years — Sarah Walker. They'll try to keep him safe by trading in his pocket protector for a bulletproof vest. Also starring are Joshua Gomez as Morgan Grimes, Chuck's best buddy, and Sarah Lancaster as Chuck's ever-supportive sister, Ellie.
Sirens (Hulu)
Synopsis: From the distinct comedic point of view of Denis Leary and Bob Fisher, SIRENS follows three of Chicago's best EMTs whose sometimes silly, self-righteous and even self-destructive personalities make them unqualified for sustaining relationships, friendships and most occupations.
---
This concludes the list of the best 10 TV shows like 'Brooklyn Nine-Nine' you should watch. So, if you have watched them tell us in the comments and we will make a new list for you, and if you haven't what are you waiting for?