Suspense thrillers are the kind of movies that anyone can't deny because some people don't like horror movies or romcoms, but when it comes to the thrills of a good film into the sub-genre of mystery thrillers, the viewers get to delve into the psyche of our heroes and villains and it gives us deeper insight into why they do the things they do, and sometimes it can just be a film that changes how we think.
So, these are the best 10 suspense thriller movies on Netflix for you to watch right now. The movies on this list are not ranked.
Creep
Synopsis: Desperate for money, a videographer answers a Craigslist ad for a one-day job in a remote mountain town. However, he finds his client is not who he claims to be and that his intentions are not at all pure.
Gerald's Game
Synopsis: While trying to spice up their marriage in their remote lake house, Jessie must fight to survive when her husband dies unexpectedly, leaving her handcuffed to their bed frame. Starring: Carla Gugino and Bruce Greenwood Directed by: Mike Flanagan Written by: Mike Flanagan, Jeff Howard, Stephen King Produced by: Trevor Macy.
The Guilty
Synopsis: The film takes place over the course of a single morning in a 911 dispatch call center. Call operator Joe Baylor (Gyllenhaal) tries to save a caller in grave danger—but he soon discovers that nothing is as it seems, and facing the truth is the only way out.
The Clovehitch Killer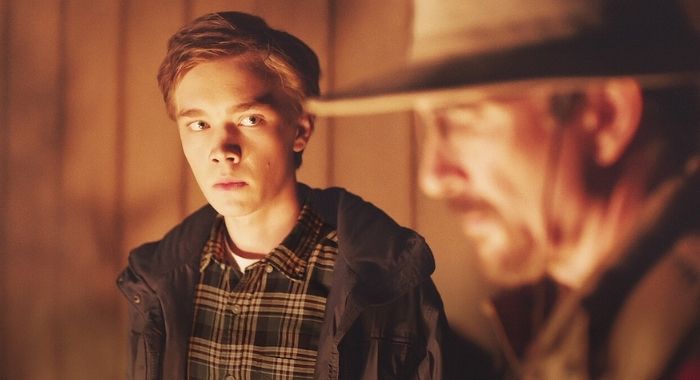 Synopsis: A shocking revelation turns a teenage boy's world upside down in this chilling look at the evil that can lurk below even the most wholesome surface. Tyler Burnside (Charlie Plummer) is a Boy Scout, a volunteer at his local church, and the dutiful son of an upstanding, community leader dad (Dylan McDermott). Only one thing troubles the quiet Kentucky town he lives in: the unsolved murders—in which ten women were brutally tortured and killed by a psychopath known as Clovehitch—that rocked the community more than a decade ago. When Tyler discovers a cache of disturbing images in his father's possession, he begins to suspect that the man he trusts most in the world may be Clovehitch—and that his deadly rampage may not be over. With unrelenting tension, director Duncan Skiles crafts a picture-perfect vision of the all-American family—and then piece by piece rips it to shreds.
Uncut Gems
Synopsis: From acclaimed filmmakers Josh and Benny Safdie comes an electrifying crime thriller about Howard Ratner (Adam Sandler), a charismatic New York City jeweler always on the lookout for the next big score. When he makes a series of high-stakes bets that could lead to the windfall of a lifetime, Howard must perform a precarious high-wire act, balancing business, family, and encroaching adversaries on all sides, in his relentless pursuit of the ultimate win.
Good Time
Synopsis: Following the mind-bending Heaven Knows What, celebrated filmmakers Josh and Benny Safdie return to the mean streets of New York City with Good Time, a hypnotic crime thriller that explores with bracing immediacy the tragic sway of family and fate.
After a botched bank robbery lands his younger brother in prison, Constantine "Connie" Nikas (Robert Pattinson) embarks on a twisted odyssey through the city's underworld in an increasingly desperate—and dangerous—attempt to get his brother Nick (Benny Safdie) out of jail. Over the course of one adrenalized night, Connie finds himself on a mad descent into violence and mayhem as he races against the clock to save his brother and himself, knowing their lives hang in the balance.
1922
Synopsis: 1922 is based on Stephen King's 131-page story telling of a man's confession of his wife's murder. The tale is told from from the perspective of Wilfred James, the story's unreliable narrator who admits to killing his wife, Arlette, with his son in Nebraska. But after he buries her body, he finds himself terrorized by rats and, as his life begins to unravel, becomes convinced his wife is haunting him. Starring: Thomas Jane, Molly Parker, Dylan Schmid, Kaitlyn Bernard, Brian d'Arcy James and Neal McDonough. Written and Directed by: Zak Hilditch Produced by: Ross M. Dinerstein Production Company: Campfire
Hush
Synopsis: A deaf writer who retreated into the woods to live a solitary life must fight for her life in silence when a masked killer appears in her window.
The Hateful Eight
Synopsis: Nominated for 3 Academy Awards®. Quentin Tarantino's eighth film takes place six or eight or twelve years after the Civil War. Bounty hunter John Ruth (Kurt Russell) is racing through a blizzard toward Red Rock to have captured fugitive Daisy Domergue (Academy Award®-Nominee Jennifer Jason Leigh) hanged when he comes across another bounty hunter (Samuel L. Jackson) and a man claiming to be the sheriff (Walton Goggins). When the blizzard worsens, the four take refuge in a mountain stopover where they encounter four more strangers. Soon the tension from the close quarters and the bounty on Daisy's head lead some to wonder if any of them will make it to Red Rock. Pre-order this movie and it will be available for playback and added to your library as soon as it's available for release. You will receive an email once the release date is known.
It Follows
Synopsis: After a seemingly innocent sexual encounter, 19-year-old Jay (Maika Monroe of THE GUEST) suddenly finds herself trapped by a vicious curse – someone or something is following her, and the only way to save herself is to put others in harm's way. Stylish and terrifying, IT FOLLOWS is the critically acclaimed horror of the year!
---
This concludes the list of the best 10 suspense thriller movies on Netflix right now. So, if you have watched them tell us in the comments and we will make a new list for you, and if you haven't what are you waiting for.