Netflix's original series set in the Riverdale universe brilliantly titled Chilling Adventures of Sabrina might have ended but, I think we all agree that Sabrina the witch is unforgettable. Created by Roberto Aguirre-Sacasa the supernatural series stars Kiernan Shipka as the title character. So, if you miss the series you should watch these 10 best shows like Chilling Adventures of Sabrina.
---
Also Read: Shows Like 'Shadowhunters' To Watch If You Miss the Series
---
Shadowhunters (Hulu & Apple TV)
Synopsis: Based on the bestselling young adult fantasy book series The Mortal Instruments by Cassandra Clare, Shadowhunters' follows 18-year-old Clary Fray, who finds out on her birthday that she is not who she thinks she is but rather comes from a long line of Shadowhunters – human-angel hybrids who hunt down demons. When her mother Jocelyn is kidnapped, Clary is thrown into the world of demon hunting with mysterious Shadowhunter Jace and her best friend, Simon. Now living among faeries, warlocks, vampires and werewolves, Clary begins a journey of self-discovery as she learns more about her past and what her future may hold.
---
Also Read: Fantasy Shows Like 'The Magicians' To Watch If You Miss The Series
---
The Magicians (Netflix)
Synopsis: Based upon Lev Grossman's best-selling books, The Magicians centers around Brakebills University, a secret institution specializing in magic. There, amidst an unorthodox education of spellcasting, a group of twenty-something friends soon discover that a magical fantasy world they read about as children is all too real— and poses grave danger to humanity.
---
Also Read: Shows Like 'The Society' To Watch If You Miss the Series
---
The Society (Netflix)
Synopsis: The Society follows a group of teenagers who are mysteriously transported to a facsimile of their wealthy New England town, left without any trace of their parents. As they struggle to figure out what has happened to them and how to get home, they must establish order and form alliances if they want to survive. The series is a modern take on Lord of the Flies.
Cursed (Netflix)
Synopsis: Based on the upcoming book of the same name, Cursed is a re-imagining of the Arthurian legend, told through the eyes of Nimue, a teenage heroine with a mysterious gift who is destined to become the powerful (and tragic) Lady of the Lake. After her mother's death, she finds an unexpected partner in Arthur, a young mercenary, in a quest to find Merlin and deliver an ancient sword. Over the course of her journey, Nimue will become a symbol of courage and rebellion against the terrifying Red Paladins, and their complicit King Uther.
---
Also Read: Shows Like 'Legacies' To Watch If You Miss the Series
---
Legacies (Netflix)
Synopsis: The iconic heroes and villains of The Vampire Diaries and The Originals left a legacy of love and family in their wake, which continues in LEGACIES, a drama that tells the story of the next generation of supernatural beings at The Salvatore School for the Young and Gifted. Will these young witches, vampires and werewolves become the heroes they want to be — or the villains they were born to be?
---
Also Read: Shows Like 'The Order' To Watch If You Miss the Series
---
The Order (Netflix)
Synopsis: At Belgrave University, college freshman Jack Morton joins a fabled secret society where he's thrust into a dangerous game of life or death. As Jack goes deeper, he uncovers dark family secrets and an underground battle between werewolves and the magical dark arts.
Charmed (Pluto TV & Peacock)
Synopsis: The three Halliwell sisters discover that they are descendents of a line of female witches. Each has a special ability (stopping time, moving objects, seeing the future), and they can also combine their abilities into the "Power of Three" to fight demons, warlocks, and other evils.
Sabrina the Teenage Witch (Hulu & Paramount+)
Synopsis: Sabrina is a normal teenager, except for one thing — she's a witch! Guided by her aunts, who come from a long line of witches, and Salem, a mischievous warlock doing penance as a black cat, Sabrina continually struggles to harness her powers while wittingly wreaking havoc on friends and foes alike.
---
Also Read: Shows Like 'A Discovery of Witches' To Watch If You Miss the Series
---
A Discovery of Witches (The Roku Channel)
Synopsis: Adapted from Deborah Harkness' best selling novel A Discovery of Witches is a contemporary love story set in our world, but one which humans share with the declining species of witches, vampires and daemons – creatures existing and working amongst us, but hiding, unknown to most humans, in plain sight. Teresa Palmer plays brilliant academic and historian Diana Bishop, a reluctant witch denying her heritage. The discovery of a manuscript in Oxford's Bodleian Library throws her into the heart of a dangerous mystery and into the path of enigmatic geneticist Matthew Clairmont played by Matthew Goode, an ancient vampire hiding dark family secrets. As Diana and Matthew embark on a journey to understand the significance of the mysterious manuscript and as their relationship develops and their heritage comes in to play, events threaten to unravel the fragile peace that has long existed between humans, witches, vampires and daemons.
---
Also Read: Shows Like 'Wednesday' To Watch If You Like 'The Addams Family' Series
---
Wednesday (Netflix)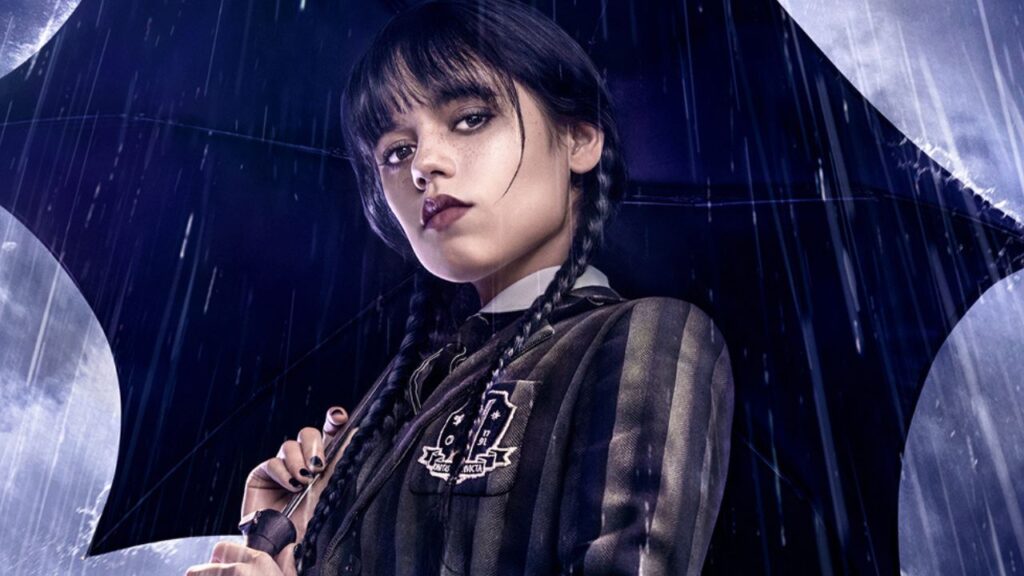 Synopsis: The series is a sleuthing, supernaturally infused mystery charting Wednesday Addams' years as a student at Nevermore Academy. Wednesday's attempts to master her emerging psychic ability, thwart a monstrous killing spree that has terrorized the local town, and solve the supernatural mystery that embroiled her parents 25 years ago — all while navigating her new and very tangled relationships at Nevermore.