Sitcoms are everybody's cozy blanket that they can watch every time they are feeling down and many shows like Friends and The Big Bang Theory have mostly provided laughs for us but sometimes these are also the shows that made us cry. While Sitcoms are a dying breed now as they are becoming more and more dramedies than comedies, here are some sitcoms that made us cry even though they were mainly about a laugh.
---
Also Read: Best Shows Like 'Friends' To Watch If You Miss the Series
---
Friends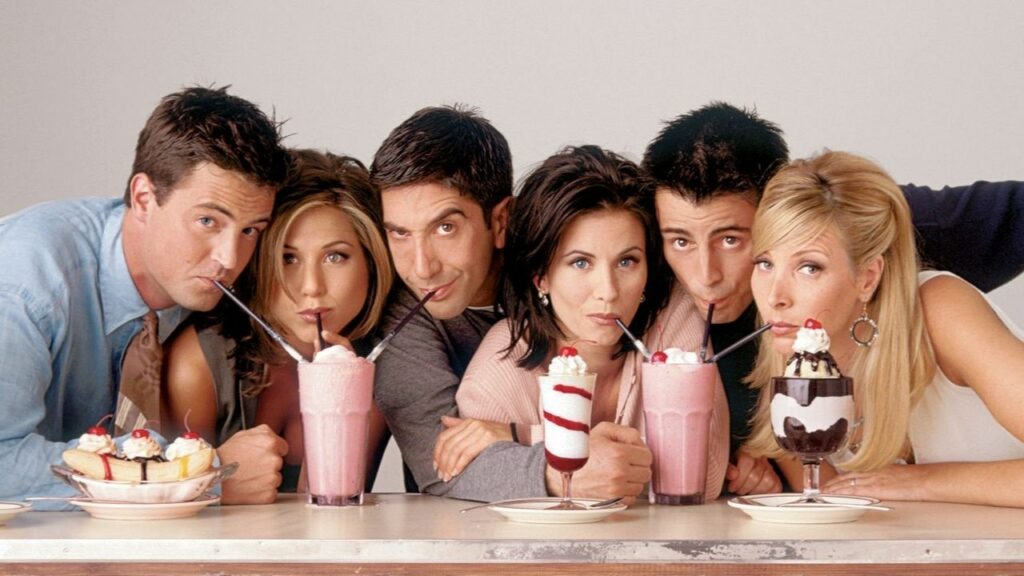 Synopsis: This is a show about love and sex, careers, and a time in life when everything is possible … about the search for commitment and security … and the fear of commitment and security. Most of all, it's about friendship–for when you're young and single in the city, your friends are your family.
After Life
Synopsis: Set in the small fictitious town of Tambury, the show follows Tony, a writer for the local newspaper whose life is upended after his wife dies from cancer. Whilst still struggling with immense grief for his wife, Tony starts to realise that making other people feel good is what can give him hope and a reason to live. After all, every end is a new beginning.
---
Also Read: Best Shows Like 'Scrubs' To Watch If You Miss the Series
---
Scrubs
Synopsis: ABC's Scrubs examines the lives of the staff at Sacred Heart. In this unpredictable hospital filled with over-the-top staffers and patients, doctors have learned to survive by relying on each other to face relationships, death, kids, interns, water balloons, and anything else life may throw at them. Around here, humor and tragedy collide as they continually learn that even when you figure out who you are, there's still more life to navigate and it helps to have good people in your corner…even if they are a bit scattered themselves.
---
Also Read: Best Shows Like 'The Big Bang Theory' To Watch If You Miss the Series
---
The Big Bang Theory
Synopsis: Leonard and Sheldon are brilliant physicists, the kind of "beautiful minds" that understand how the universe works. But none of that genius helps them interact with people, especially women. All this begins to change when a free-spirited beauty named Penny moves in next door. Sheldon, Leonard's roommate, is quite content spending his nights playing Klingon Boggle with their socially dysfunctional friends, fellow Caltech scientists Wolowitz and Koothrappali. However, Leonard sees in Penny a whole new universe of possibilities … including love.
---
Also Read: Best Comedy Shows Like 'How I Met Your Mother' To Watch If You Miss the Series
---
How I Met Your Mother
Synopsis: A half-hour comedy series about Ted and how he fell in love. It all started when Ted's best friend, Marshall, drops the bombshell that he's going to propose to his long-time girlfriend, Lily, a kindergarten teacher. At that moment, Ted realizes that he had better get a move on if he too hopes to find true love. Helping him in his quest to find his future wife is Barney, a friend with endless, sometimes outrageous opinions, a penchant for suits and a foolproof way to meet women. When Ted meets Robin, he's sure it's love at first sight, but after a whirlwind romance with her, he realizes destiny has something else in store for him. The series is narrated through flashbacks from the future.
The Fresh Prince of Bel-Air
Synopsis: Will's mom sends him away from his rough Philadelphia neighborhood to live with wealthy Uncle Phil and Aunt Vivian in Bel-Air. Will often has fun at the expense of stuck-up cousins Carlton and Hilary.
---
Also Read: Best Shows Like 'Ted Lasso' To Watch While Waiting For Season 3
---
Ted Lasso
Synopsis: In this new comedy from executive producers Jason Sudeikis and Bill Lawrence (Scrubs, Whiskey Cavalier, Cougar Town), Sudeikis (Saturday Night Live, We're the Millers, Horrible Bosses films) stars as Ted Lasso, an idealistic all-American football coach hired to manage an English football club – despite having no soccer coaching experience at all. Based on the beloved character Sudeikis made famous online, Ted Lasso is the first television series that Sudeikis has signed on to star as a series regular since Saturday Night Live. Produced by Doozer Productions in association with Warner Bros. Television, the comedy series is also executive produced by Jeff Ingold.
Transparent
Synopsis: When the Pfefferman family patriarch makes a dramatic admission, the entire family's secrets start to spill out, and each of them spin in a different direction as they begin to figure out who they are going to become. Starring Jeffrey Tambor, Judith Light, Amy Landecker, Jay Duplass, and Gaby Hoffman.