Malcolm in the Middle is one of the best comedy shows made for the family. The inventive comedy series features a genius middle kid named Malcolm in a family of an overbearing mother, absent father and eldest brother, cruel big brother, and weird younger brother. Malcolm in the Middle is one of those rare series that was funny throughout its seven-season run and it has made many families shut up and sit down in front of the television. So, here are more sitcoms like Malcolm in the Middle for more family time.
Synopsis: Inspired by Chris Rock's outrageous experiences growing up in 1980s Brooklyn, this heartwarming series captures the legendary comedian's painfully funny teenage years. Experience all the hilarity as Chris struggles to fit in at high school while also supervising his younger siblings for his hard-working parents.
---
Also Read: Shows Like 'Everybody Loves Raymond' To Watch If You Miss the Series
---
Everybody Loves Raymond (Peacock)
Synopsis: Everybody Loves Raymond, a comedy about Ray Barone, a successful sports writer and family man whose parents and brother happen to live across the street. Mom Marie loves to meddle in Ray's life, while older brother Robert resents his success, and Dad Frank just makes snide comments and raids the refrigerator. Nevertheless, Ray manages to keep an easygoing outlook and a sense of humor, leaving the hard issues to his more practical wife, Debra.
The Goldbergs (Hulu)
Synopsis: Before there were parenting blogs, trophies for showing up, and peanut allergies, there was a simpler time called the '80s. For geeky 11-year old Adam (Sean Giambrone) these were his wonder years and he faced them armed with a video camera to capture all the crazy. The Goldbergs are a loving family like any other, just with a lot more yelling.
Fresh Off the Boat (Hulu)
Synopsis: It's the '90s and 12 year old, hip-hop loving Eddie just moved to suburban Orlando from DC's Chinatown with his parents. It's culture shock for his immigrant family in this comedy about pursuing the American Dream.
The Middle (HBO Max & Peacock)
Synopsis: Parents are the real heroes – but Frankie Heck (Patricia Heaton), must be some kind of superhero. A loving wife and mother of three, she's middle class in the middle of the country and is rapidly approaching middle age. Frankie and her husband, Mike (Neil Flynn), have lived in Orson, Indiana, their whole lives. A man of few words (every one a zinger), Mike is a manager at the town quarry and Frankie is the third-best used car salesman at the local dealership. She may not be a high-powered career woman, but when it comes to her family, she'll go to just about any length. And with kids like these, she had better. There's Axl, her semi-nudist teenage son conceived while under the influence of Guns N' Roses; Sue (Eden Sher), the awkward teenage daughter who fails at everything … but with the utmost of gusto; and their 7-year-old son Brick , whose best friend is his backpack. Together, they're putting THE MIDDLE on the map.
black-ish (Hulu & Disney+)
Synopsis: "black-ish" takes a fun yet bold look at one man's determination to establish a sense of cultural identity for his family with comedic stories that shine a light on current events through the lens of the Johnson family.
Synopsis: Raising Hope is a new family comedy from Emmy® Award winner Greg Garcia (My Name Is Earl) that follows the Chance family as they find themselves adding an unexpected new member into their already terribly flawed household.
---
Also Read: Comedy Shows Like 'Last Man Standing' To Watch If You Miss the Series
---
Last Man Standing (Hulu)
Synopsis: Tim Allen stars as Mike Baxter, world voyager and one daredevil of a marketing director who is about to face his greatest challenge yet… his family. After Mikes wife, Vanessa (Nancy Travis), receives a promotion at work, Mike must spend more time in his female-dominated household. With years of advice and guidance from their nurturing mother, Mike's three daughters are not prepared for their old-fashioned, hotheaded father to take over. Especially 20-year old Kristin, who's trying to raise her own son, Boyd, with a more liberal approach than Mike can stand. Celeb-obsessed Mandy has plenty of issues with Mike's style, and even though sporty Eve has a lot in common with her pop, there's still room for friction.
Young Sheldon (HBO Max & Paramount+)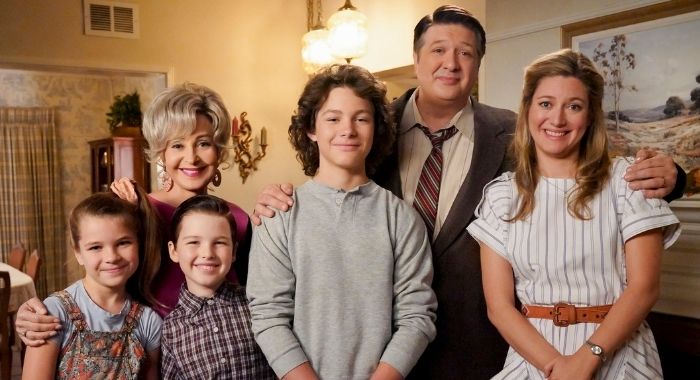 Synopsis: For 9-year-old Sheldon Cooper it isn't easy growing up in East Texas. Being a once-in-a-generation mind capable of advanced mathematics and science isn't always helpful in a land where church and football are king. And while the vulnerable, gifted and somewhat naïve Sheldon deals with the world, his very normal family must find a way to deal with him. His father, George, is struggling to find his way as a high school football coach and as father to a boy he doesn't understand. Sheldon's mother, Mary, fiercely protects and nurtures her son in a town where he just doesn't fit in. Sheldon's older brother, Georgie, does the best he can in high school, but it's tough to be cool when you're in the same classes with your odd 9-year-old brother. Finally, there's Sheldon's twin sister, Missy, who sometimes resents all the attention Sheldon gets, but also remains the one person who can reliably tell Sheldon the truth. For 10 years on The Big Bang Theory, audiences have come to know the iconic, eccentric and extraordinary Sheldon Cooper. This single-camera, half-hour comedy gives us the chance to meet him in childhood, as he embarks on his innocent, awkward and hopeful journey toward the man he will become.
Growing Pains (Purchase on Prime Video)
Synopsis: Join the fun as a typical, upwardly mobile family rediscovers the comic pains of parenthood when mom Maggie Seaver returns to work as a journalist and dad Jason Seaver moves his psychiatric practice into their home to be with the children in this warmhearted comedy.