You're the Worst is one of the most underrated comedy shows that everyone should have watched and loved many people didn't watch the series but those who watched it are now die-hard fans of the series. The FX series follows two self-centered individuals Jimmy and Gretchen as they meet at a wedding and decide to get into a relationship but after they get into a relationship their massive egos get into the way of their otherwise fascinating and happy relationship. You're the Worst ran for five brilliant seasons ending its run in 2019 and since then the fans of the series have been missing it. So, we have prepared a list of shows you could watch to fill the time.
---
Also Read: Best Shows Like 'BoJack Horseman' To Watch If You Miss the Series
---
BoJack Horseman (Netflix)
Synopsis: BoJack Horseman was created by Raphael Bob-Waksberg. The series is executive produced by Raphael Bob-Waksberg, Steven A. Cohen and Noel Bright. Will Arnett (Flaked, Arrested Development) and Aaron Paul (Breaking Bad) also serve as executive producers. BoJack was designed by graphic artist Lisa Hanawalt and animated by LA-based ShadowMachine. The show is a Tornante Production, brought to life by Michael Eisner's The Tornante Company.
---
Also Read: Shows Like 'Catastrophe' To Watch If You Miss the Series
---
Synopsis: Rob Delaney and Sharon Horgan write and star in this R-rated comedy about a one-week stand between a Boston ad exec and a London schoolteacher that leads to an accidental pregnancy. When Rob moves to the UK to help figure things out, cultures clash and hormones flare as these two realize they don't know the first thing about each other.
Casual (Hulu)
Synopsis: From the Academy Award Nominated Director of "Up in the Air" and "Juno" comes Casual, a new comedy series about a bachelor brother and his newly divorced sister living under one roof again. Together, they coach each other through the crazy world of dating while raising her teenage daughter. Created by Zander Lehmann, Casual is executive produced by Jason Reitman, Zander Lehmann, Helen Estabrook, and Liz Tigelaar.
---
Also Read: Best Shows Like 'Fleabag' To Watch If You Miss the Series
---
Synopsis: Fleabag is a hilarious and poignant window into the mind of a dry-witted, sexual, angry, grief-riddled woman, as she hurls herself at modern living in London. Award-winning playwright Phoebe Waller-Bridge writes and stars as Fleabag, an unfiltered woman trying to heal, while rejecting anyone who tries to help her and keeping up her bravado all along.
---
Also Read: Shows Like 'Love' To Watch If You Miss the Series
---
Love (Netflix)
Synopsis: Executive Produced by Judd Apatow for Netflix, LOVE follows Gus (Paul Rust) and Mickey (Gillian Jacobs) as they navigate the exhilarations and humiliations of intimacy, commitment, and other things they were hoping to avoid. This 1-hour dramedy series is produced by Apatow Productions and Legendary Television.
---
Also Read: Shows Like 'Californication' To Watch If You Miss the Series
---
Californication (Paramount+ & Showtime)
Synopsis: When fast-living novelist Hank Moody left the literary haunts of New York for the pleasure seeking splendors of L.A, he thought he'd have fame, fortune and the love of a good woman. Now his personal life is in shambles, his career is on the brink of self-destruction and he still just can't stop yielding to every temptation. Golden Globe® winner David Duchovny stars in the Showtime Original series that takes you on a wild, witty, and sexy ride in the California fast lane.
---
Also Read: Best Shows Like 'It's Always Sunny in Philadelphia' To Watch While Waiting For the Next Season
---
It's Always Sunny in Philadelphia (Hulu)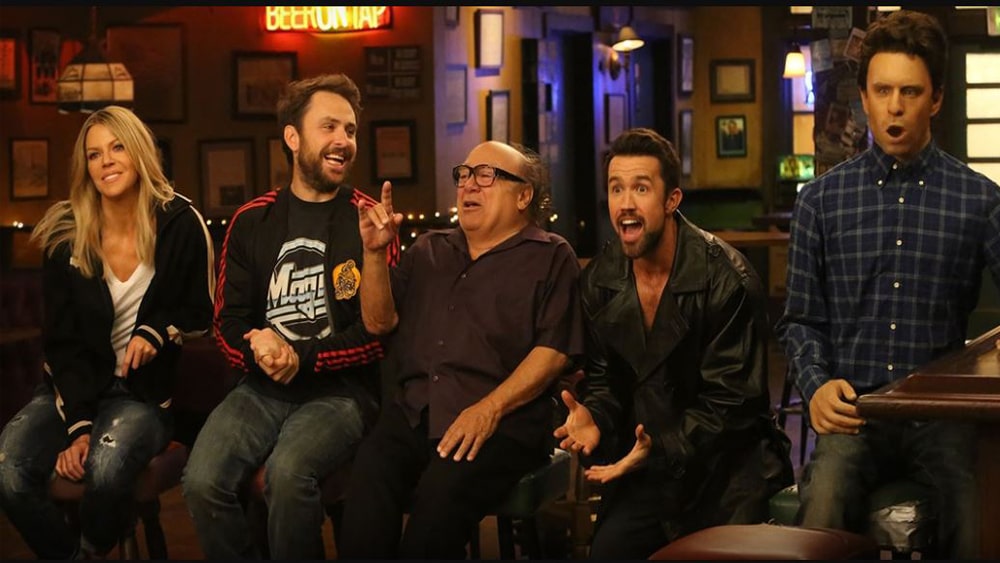 Synopsis: It's Always Sunny in Philadelphia features Mac, Dennis, Charlie, Sweet Dee and Frank, five ne'er-do-wells who own and operate Paddy's Pub in Philadelphia. Their constant scheming usually lands them in a world of hurt, yet they never seem to learn from their mistakes. As they say, some things never change. So prepare for more depraved schemes, half-baked arguments, and absurdly underhanded plots to subvert one another.
---
Also Read: Shows Like 'Lovesick' To Watch If You Miss the Series
---
Lovesick (Netflix)
Synopsis: Lovesick is an infectious romantic comedy series following the exploits of twenty-something Dylan, who must contact everyone he's ever slept with to tell them he has Chlamydia.
---
Also Read: Shows Like 'Shameless' To Watch If You Miss the Series
---
Shameless (Netflix & Paramount+)
Synopsis: Oscar®-nominated William H. Macy and Emmy Rossum star in this fiercely engaging and fearlessly twisted series. Chicagoan Frank Gallagher is the proud single dad of six smart, industrious, independent kids, who without him would be…perhaps better off. When Frank's not at the bar spending what little money they have, he's passed out on the floor. But the kids have found ways to grow up in spite of him. They may not be like any family you know, but they make no apologies for being exactly who they are.
---
Also Read: Shows To Watch If You Miss 'The End of the F***ing World' For More Dark Stories & Humor
---
The End of the F**king World (Netflix)
Synopsis: Inspired by a comic book, THE END OF THE F***ING WORLD, is a black humoured road movie-style drama with an unlikely love story at its heart. James and Alyssa are rebel teenagers running away from home. From dreary suburbia and rundown shopping malls to lush landscapes and big vistas, they're on a quest to find a better life with Alyssa's idol – her estranged father. This is an emotional coming-of-age drama where two outcast teenagers from a disillusioned generation come together and learn what it feels like to make a human connection for the very first time.