Workin' Moms is one of the best Canadian comedy series out there. The Netflix and CBC comedy series follows a group of friends who share with each other the struggles of modern motherhood, work pressure, and the chaos of life. The ensemble comedy series stars Catherine Reitman, Dani Kind, Juno Rinaldi, and Jessalyn Wanlim in the lead roles. Workin' Moms recently concluded its seventh and final season after a successful run of seven years. So, if you already miss the comedy series here are some shows like Workin' Moms you could watch next.
Life in Pieces (Hulu)
Synopsis: James Brolin, Dianne Wiest and Colin Hanks head an all-star cast in this hilarious new series that features four short stories each week about the members of one eccentric family!
---
Also Read: Family Shows Like 'Parenthood' To Watch If You Miss the Series
---
Synopsis: Featuring an all-star ensemble cast, including Lauren Graham (Gilmore Girls), Peter Krause (Six Feet Under), Dax Shepard (Baby Mama), and Craig T. Nelson (Coach), Parenthood follows four grown siblings of the far-from-perfect Braverman clan as they try to balance kids and careers, dreams and commitments, and romance or a total lack thereof. Join some of the best actors on television for a genuinely funny and heartwarming journey through the most challenging and rewarding role of a lifetime—being a parent.
One Day at a Time (Netflix)
Synopsis: A reimagining of the Norman Lear classic, centering on a Cuban-American family. Our heroine is a recently separated, former military mom (Justina Machado) navigating a new single life while raising her radical teenaged daughter and socially adept tween son, with the "help" of her old school Cuban-born mom (Rita Moreno) and a friends- without-benefits building manager named Schneider.
---
Also Read: Shows Like 'Children Ruin Everything' To Watch While Waiting For Season 3
---
Children Ruin Everything (The Roku Channel)
Synopsis: Children Ruin Everything follows a set of parents as they raise their two young children and struggle to hold on to their pre-kid life. But can one be a parent and have the strong desire to live a beautiful, easy, cool, not-covered-in-snot life?
Single Parents (Hulu & Apple TV)
Synopsis: A bunch of single parents band together to help a 30-something guy who's been so focused on raising his 7-year-old daughter that he's sacrificed his personal life.
Synopsis: Pivoting is a single-camera comedy about how we deal with life, death and all the crazy things that happen in between. Set in a small, middle-class town in Long Island, NY, the series follows three women – and close-knit childhood friends – as they cope with the death of the fourth member of their group. When faced with the reality that life is short, these women pivot, and alter their current paths, by way of a series of impulsive, ill-advised and self-indulgent decisions. These pivots will strengthen their bond and prove it's never too late to screw up your life in the pursuit of happiness.
Synopsis: The Unicorn is a single-camera comedy about a tight-knit group of best friends and family who help Wade (Walton Goggins) embrace his "new normal" in the wake of the loss of his wife. As a sometimes ill-equipped but always devoted single parent to his two adolescent daughters, he is taking the major step of dating again. To Wade's amazement, he's a hot commodity with women, and his friends explain that he's the perfect single guy – a "unicorn": employed, attractive, and with a proven track record of commitment. With his daughters and best friends rooting him on and hoping he'll find happiness again, Wade and his healing heart are ready to try life… and love… again.
Synopsis: Bridgette Bird is a smart, scrappy, young single mom trying to navigate life in South Boston with an extremely unconventional family. She struggles to make ends meet, which leads her to impulsive and at times immature decisions. Above all, Bridgette wants to make a better life for her son. SMILF takes on motherhood, co-parenting, and female sexuality through a raw and unfiltered lens. Don't miss this semi-autobiographical half-hour comedy from the creative mind of Frankie Shaw, an original and fresh new female voice.
---
Also Read: Shows Like 'Breeders' To Watch While Waiting For Season 4
---
Breeders (Hulu)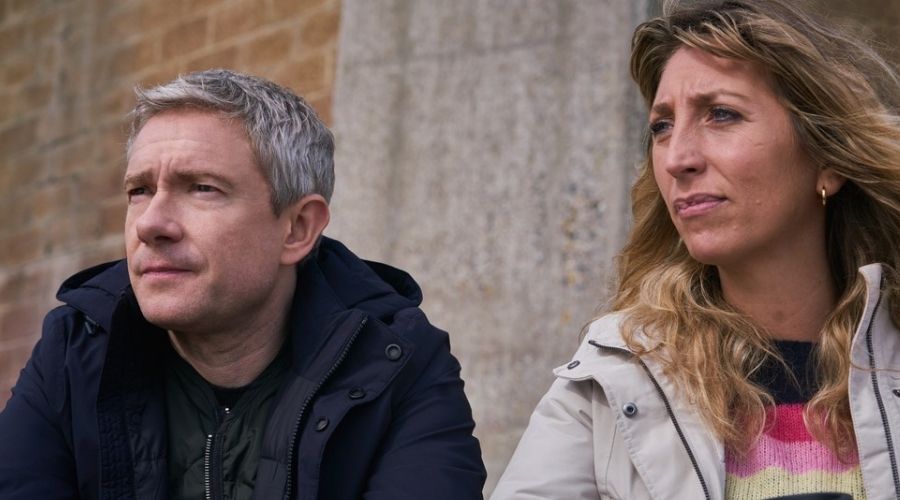 Synopsis: FX's Breeders is an uncompromising comedy that explores the lives of Paul (Martin Freeman) and Ally (Daisy Haggard) as they juggle full-time careers, aging parents, a mortgage and the unenviable curveballs of parenting their young children. When Ally's estranged father appears on their doorstep, the family essentially takes on a third child – but this one comes with baggage and opinions.
---
Also Read: Shows Like 'Better Things' To Watch If You Miss the Series
---
Better Things (Hulu)
Synopsis: A single camera comedy in which Sam, a working actor with no filter who is trying to earn a living, navigate her daughters' lives, have fun with a friend or two, and also, just maybe, squeeze in some private time once in a while. Her life is funny to watch, but you wouldn't want to live it (except sometimes).