Willow is back and this time we got him in a Disney+ series. A sequel to the brilliant and inventive 1988 film of the same name, Willow will once again follow our favorite protagonist on a new journey. Willow brought back Warwick Davis as the titular character. So, if you liked the sequel series here are some more shows you should check out next.
---
Also Read: Fantasy Shows Like 'Shadow and Bone' To Watch While Waiting For Season 2
---
Shadow and Bone (Netflix)
Synopsis: Based on Leigh Bardugo's worldwide bestselling Grishaverse novels, Shadow and Bone finds us in a war-torn world where lowly soldier and orphan Alina Starkov has just unleashed an extraordinary power that could be the key to setting her country free. With the monstrous threat of the Shadow Fold looming, Alina is torn from everything she knows to train as part of an elite army of magical soldiers known as Grisha. But as she struggles to hone her power, she finds that allies and enemies can be one and the same and that nothing in this lavish world is what it seems. There are dangerous forces at play, including a crew of charismatic criminals, and it will take more than magic to survive. Shadow and Bone is a Netflix production from 21 Laps Entertainment, starring Jessie Mei Li (Alina Starkov), Archie Renaux (Malyen Oretsev), Freddy Carter (Kaz Brekker), Amita Suman (Inej), Kit Young (Jesper Fahey), and Ben Barnes (General Kirigan).
---
Also Read: Shows Like 'The Sandman' To Watch After Binging Season 1
---
The Sandman (Netflix)
Synopsis: A rich blend of modern myth and dark fantasy in which contemporary fiction, historical drama and legend are seamlessly interwoven, The Sandman follows the people and places affected by Morpheus, the Dream King, as he mends the cosmic — and human — mistakes he's made during his vast existence.
---
Also Read: Shows Like 'His Dark Materials' To Watch While Waiting For Season 3
---
His Dark Materials (HBO Max)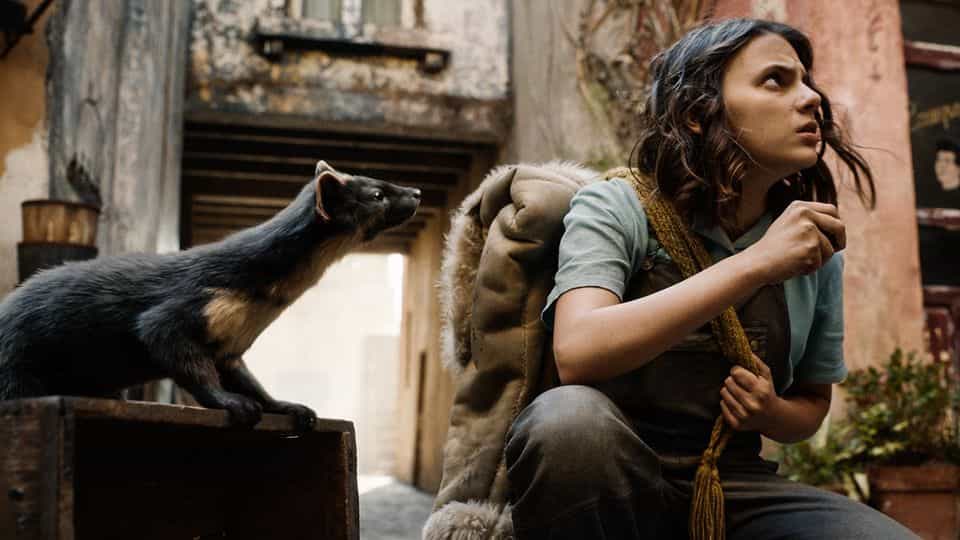 Synopsis: His Dark Materials stars Dafne Keen, James McAvoy, Ruth Wilson and Lin-Manuel Miranda. Adapting Philip Pullman's award-winning trilogy of the same name, which is considered a modern masterpiece of imaginative fiction, the first season follows Lyra, a seemingly ordinary but brave young woman from another world. Her search for a kidnapped friend uncovers a sinister plot involving stolen children, and becomes a quest to understand a mysterious phenomenon called Dust. As she journeys through the worlds, including our own, Lyra meets Will, a determined and courageous boy. Together, they encounter extraordinary beings and dangerous secrets, with the fate of both the living — and the dead — in their hands.
Sweet Tooth (Netflix)
Synopsis: Ten years ago "The Great Crumble" wreaked havoc on the world and led to the mysterious emergence of hybrids — babies born part human, part animal. Unsure if hybrids are the cause or result of the virus, many humans fear and hunt them. After a decade of living safely in his secluded forest home, a sheltered hybrid deer-boy named Gus (Christian Convery) unexpectedly befriends a wandering loner named Jepperd (Nonso Anozie). Together they set out on an extraordinary adventure across what's left of America in search of answers— about Gus' origins, Jepperd's past, and the true meaning of home. But their story is full of unexpected allies and enemies, and Gus quickly learns the lush, dangerous world outside the forest is more complex than he ever could have imagined. Based on the DC comic book series by Jeff Lemire, SWEET TOOTH is executive produced by Jim Mickle, Beth Schwartz, Robert Downey, Jr., Susan Downey, Amanda Burrell, and Linda Moran.
---
Also Read: Lone Wolf Fantasy Shows Like 'The Witcher' You Can Watch While Waiting For Season 3
---
The Witcher (Netflix)
Synopsis: Netflix, "The Witcher" is an epic tale of fate and family. Geralt of Rivia, a solitary monster hunter, struggles to find his place in a world where people often prove more wicked than beasts. But when destiny hurtles him toward a powerful sorceress, and a young princess with a dangerous secret, the three must learn to navigate the increasingly volatile Continent together.
---
Also Read: Fantasy Shows Like 'The Wheel of Time' To Watch While Waiting For Season 2
---
Synopsis: The lives of five young villagers change forever when a strange and powerful woman arrives, claiming one of them is the child of an ancient prophecy with the power to tip the balance between Light and Dark forever. They must choose whether to trust this stranger – and each other – with the fate of the world before the Dark One breaks out of His prison, and the Last Battle begins.
---
Also Read: Shows Like 'Merlin' To Watch If You Miss the Series
---
Synopsis: Merlin will one day be the greatest wizard that the world will ever know, but for now, he is just a young man, geeky and awkward, who must keep his talent hidden in a kingdom where magic is banned or face certain death. In this ambitious and action-packed drama, the myths, monsters and magic of the legends are revitalized and given a modern twist in preparation for their inevitable destinies.
Synopsis: Orlando Bloom (Pirates of the Caribbean) and Cara Delevingne (Suicide Squad) star in the Amazon Original series Carnival Row, a one-hour fantasy drama set in a Victorian fantasy world filled with mythological immigrant creatures whose exotic homelands were invaded by the empires of man. This growing population struggles to coexist with humans — forbidden to live, love or fly with freedom. But even in darkness, hope lives, as a human detective, Rycroft Philostrate (Bloom), and a refugee faerie named Vignette Stonemoss (Delevingne) rekindle a dangerous affair despite an increasingly intolerant society. Vignette harbors a secret that endangers Philo's world during his most important case yet: a string of gruesome murders threatening the uneasy peace of the Row.
---
Also Read: Epic Shows Like 'The Lord of the Rings: The Rings of Power' To Watch If You Liked the Series
---
Synopsis: Set thousands of years before the events of J.R.R. Tolkien's The Lord of the Rings, this epic drama follows an ensemble cast of characters, both familiar and new, as they confront the long-feared re-emergence of evil to Middle-earth.
The Shannara Chronicles (Tubi)
Synopsis: The Shannara Chronicles is based on the best-selling fantasy novels by Terry Brooks. Set thousands of years after the destruction of our civilization, the story follows an Elven Princess, Amberle, a half-human half-elf, Wil, and a human, Eretria, as they embark on a quest to stop a Demon army from destroying the Four Lands.